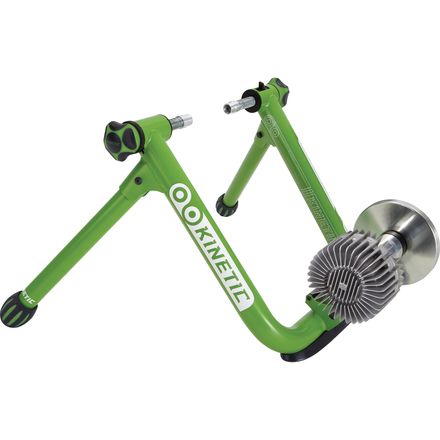 Description
Making inside more like outside.
It seems like every trainer on the market purports to provide a 'more road like feel,' but living in Utah, we ride more than our fair share of trainers, and we've found this to be less than true. The Kinetic Road Machine 2.0 Fluid Trainer is the exception to this experience, though. Its heavy flywheel, silicone fluid, and massive array of cooling fins add up to a trainer that provides an incredibly consistent power curve. In fact, it's so consistent that Kinetic includes a chart that shows exactly how many watts you'll have to generate to attain a specific (though still stationary) speed.
The thing that really sets the Road Machine apart, though, is its lack of a driveshaft –a notorious point of failure in most trainers. Instead, Kinetic uses six pairs of rare earth magnets on the flywheel and impeller. The magnetic strength of these paired magnets mean that the flywheel and impeller are spinning at the same speed at all times, without any mechanical connection.
Silicone fluid resistance
Rare-earth magnet pairs in place of a driveshaft
Consistent power curve
Top quality trainer, super stable, gives a great workout!
Amazing trainer, I was wrestling with getting this one or the Rock & Roll. This one works well for my needs. May splurge and get the Rock & Roll at some point in the future. Solid product, easy on and off, feels very stable even during maximum power workouts. Highly recommended.
kinetic is the best!!!
Familiarity:

I've used it several times
This is the only cycle trainer to consider unless you want higher end that is computer controlled. I have been using this trainer for a couple of weeks and have found it much more enjoyable, realistic, and more sturdy than my previous trainer. I used to use a Cycleops Supermagneto Pro trainer.
Sturdy and quiet
Familiarity:

I've put it through the wringer
My Road Machine has been great so far! Its quiet and I can hammer without feeling like I'm going to fall over or flex the thing apart. Its heavy, so I may keep my cheap Travel Trac for crit warm ups, but I can see the Road Machine lasting years.
Works so good and hurts so bad!
Familiarity:

I've put it through the wringer
Trainers have come a long way and the fluid resistance unit is key area to why they have improved so much. The wattage and speed charts Kinetic provides is a great reference to have. I always know how out of shape I am! Much quieter than my old magnetic trainer too.. family appreciates that!
Awesome trainer
Familiarity:

I've put it through the wringer
Used to have a cycleops magneto, the kinetic is hands down the best!!!
Fantastic fluid trainer
Familiarity:

I've put it through the wringer
Purchased the KK Fluid 2 trainer to keep my cycling fitness up through the winter and to be able to ride on summer days if it's raining or too windy (for example we had 85 mph winds here yesterday). Prior to this purchase I borrowed 2 different trainers from friends: 1) A magnetic trainer, which was not enjoyable to use at all. 2) Cycleops Fluid2 Trainer, which was nice and convinced me I wanted a Fluid trainer, but did not seem very durable and I did not care for the way you secured and removed the bike from the trainer.



I went for the KK trainer because it was more stout and the online reviews raved about this model. I can concur that the KK Fluid 2 is very stout and easy to mount your bike onto and quickly remove. I also purchased the riser block and mat and went to the extent of purchasing a cheap rear wheel and trainer specific tire so I'm not using my good wheels or wearing out good tires.



This trainer is IMO quiet, provides a near road like feel, and is very sturdy even when I'm up out of the saddle cranking away. I've used it for almost a year now and cannot find any faults with it.
Good Machine
Familiarity:

I've used it several times
The ride is smooth and relatively quite. You don't need to max out the volume on the tv or with headphones. It is still a little loud for the neighbors below if you are in an apartment. It also has a really nice feel to it when riding. I would be interested in trying the larger flywheel to see how it changes the feel of riding.