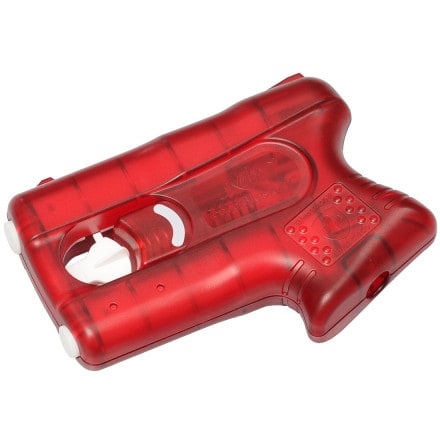 Description
Liquid pepper.
For those situations where a confrontation is imminent, the Kimber Pepperblaster 2 gives you powerful protection in the form of a highly concentrated projectile of liquid pepper. Much more effective than traditional pepper spray, the Pepperblaster 2 shoots 13 feet at a blistering 112mph, disabling oncoming attackers for up to 45 minutes. Its super-hot ball of pepper concentrate easily hits your target, even when you're shooting directly into the wind, which is something that regular pepper spray can't claim.
The Pepperblaster 2 gives you two shots, just in case the first misses your target. And since it's not pressurized like aerosol spray, it won't lose pressure over time. In fact, it has a four-year shelf life, making it effective for years to come. Additionally, you'll find its recessed trigger prevents accidental discharge when you're carrying this in a cycling jersey pocket, backpack, or handbag.
Two blasts of highly concentrated pepper liquid
Recessed trigger prevents accidental discharge
Shoots 13 feet at 112mph
Four-year shelf life
Share your thoughts
What do you think of the
Kimber
Pepperblaster 2
? Share a...