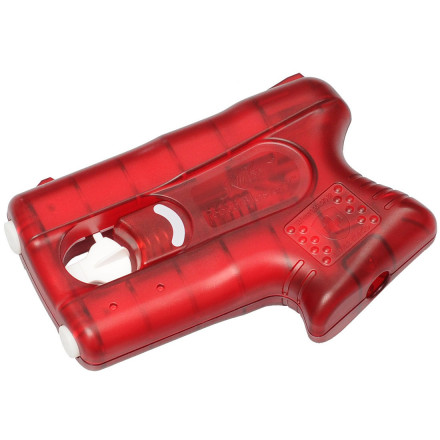 Description
Liquid pepper.
For those situations where a confrontation is imminent, the Kimber Pepperblaster 2 gives you powerful protection in the form of a highly concentrated projectile of liquid pepper. Much more effective than traditional pepper spray, the Pepperblaster 2 shoots 13 feet at a blistering 112mph, disabling oncoming attackers for up to 45 minutes. Its super-hot ball of pepper concentrate easily hits your target, even when you're shooting directly into the wind, which is something that regular pepper spray can't claim.
The Pepperblaster 2 gives you two shots, just in case the first misses your target. And since it's not pressurized like aerosol spray, it won't lose pressure over time. In fact, it has a four-year shelf life, making it effective for years to come. Additionally, you'll find its recessed trigger prevents accidental discharge when you're carrying this in a cycling jersey pocket, backpack, or handbag.
Two blasts of highly concentrated pepper liquid
Recessed trigger prevents accidental discharge
Shoots 13 feet at 112mph
Four-year shelf life
It saved me!
Familiarity:

I've put it through the wringer
I was trail running yesterday and was charged and chased by a very aggressive Badger. I pointed and pulled the trigger twice while running. The first blast hit him in the face, second blast stopped him. He was about 6-10 ft away when I got him. The blaster is super accurate, and absolutely no blow back. That Badger meant business. Thankful I had it with me.
Lightweight and Small
Familiarity:

I've put it through the wringer
Cool little device for anyone to have stashed in their bag or car. The trigger lock is perfect, I think the coolest part of the entire sprayer. Can be used right or left handed.

I bought the red color to try and make it not look like a real gun. It obviously still looks like a gun.

2 shots then you have to buy another one. Really though, if you have to Pepper Spray people that much in your life, whats going on?
Is this two blasts and throw away? Or is it possible to reload? Thanks.
Best Answer
The two charges are fired separately, but cannot be reloaded once fired.
Don't mess with me
Familiarity:

I've used it several times
I carry this in my pocket/pack when I'm hiking or biking or walking home in the dark. Thankfully I haven't had to use it yet.
Peace of Mind
Familiarity:

I've used it several times
Thankfully, I haven't had to use this. It has served its purpose of providing peace of mind. I throw this in my pocket when out for a run and have brought it camping. lightweight, out of the way, but from what I've read can produce a powerful blow. Hopefully, I will never have to test its power!
Can this product Fly? Checked or Carry-On

Is this legal to carry outside the USA - EU, Canada, Aus?
Best Answer
As of right now you can check it with you luggage but not have it as a carry-on.



Eric Watford

Expert Gearhead

800-409-4502

Ext. 6069

ewatford@backcountry.com

Instagram: @ericwatford
Are people carrying this in bear country...
Are people carrying this in bear country instead of pepper spray?



also once the two capsules are fired is the gun a throw away or are there replacement pepper capsules?



Thanks!
Kimber does not offer replacement capsules for the Pepperblaster II and you would need to purchase a new gun after it has been used.



I have a friend who regularly takes the PB with him on extended trips in bear country but has never needed to use it, though I have to believe it would be effective.
It's possible this would be effective against bears, though it's worth noting that civilian pepper sprays (like for use against muggers) are basically useless against bears. Most bear sprays have a blend of capsicum and other irritants. I'd check with the manufacturer, and if they don't explicitly recommend it for bear, don't bring it.
Best Answer
I would not trust this to protect me from a bear. An average can of bear spray has roughly the same concentration of capsicum, but at least 4-5 times more spray, and a much longer reach.
How many time can it be used. Is it...
How many time can it be used. Is it refillable?
You get two shots with this product after which the whole device needs to be replaced.
Small price tag for some peace of mind
I recently picked this up for my lady. She's a server and I wanted her to have something to pack around with her after late nights at work till she can get her concealed weapons permit. I did quite a bit of research into non-lethal protection and this one was the best options I could find. The next best thing was several hundred dollars. At that price a small pistol would be preferred in my book. This little guy is lightweight and user friendly. Just push the safety tab through the trigger pull and squeeze. The pyrotechnic charge unleashes a fiery blast of fury at your attacker. It has two shots of concentrated oleoresin capsicum in a gooey mixture that leaves the barrel at 90 mph. The goo is nice because there won't be any aerosol pepper mixture left lingering in the air to possibly blow back in your face. The first shot fires from the bottom barrel, second from the top. The first shot seems to fire a little lower as you can see in some of the reviews online. Makes for a thoughtful gift and $40 isn't much for a little piece of mind. There are some review links below.

http://www.youtube.com/watch?v=XMmiLCdPckk

http://www.youtube.com/watch?v=fC41Ak7Dm6Q

http://www.youtube.com/watch?v=jqKYyuIPQhM


What colors are available?
What colors are available?


Red and Grey. You can pick the one that suits your fancy from the drop down menu above.
I gave 2 as gifts for Christmas.

If you are worried about accidental discharge, there is a safety device you slide out of the way of the trigger and pull.

If you're worried about getting spray on your fingers or in your eyes..this is for you.



This comes in a metal case with a fit to size cushion inside you you can pack it and not worry about malfunction due to movement.



I even bought a 3rd I plan to take on bike rides, camping, or just keep around the house for added protection.
What is the shelf life of the cylinders...
What is the shelf life of the cylinders used in the PepperBlaster II?
Best Answer
Ronnie, the Pepper Blaster II has a 5 year shelf life. The one I just ordered says Dec 31 2017. While the operating system does not go bad and the OC Pepper solution does not expire, the alcohol carrier can break down after 5 years. I think $40 every 5 years is a small price to pay. :)