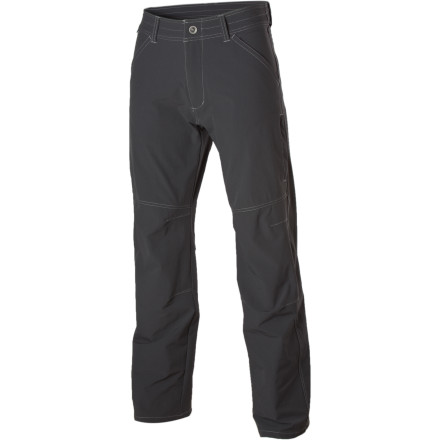 Detail Images

Community Images
Description
A pant on a mission.
The casual style of the Kuhl Renegade Pant betrays its true nature. Super-durable Tufflex construction can take a beating but never dishes one out. the kuhlair vent system keeps you from overheating and the UPF 40 rated fabric protects you from the sun's harmful rays. The Renegade's gusseted crotch and articulated knees also add durability and a natural feel, and the 3D cell phone pocket keeps your people close at hand.
Most Comfortable Pants Ever
Familiarity:

I've used it several times

Fit:

True to size
I really love these pants to both hike and knock around town. They are extremely comfortable and light. I wouldn't say they are the most durable pants, however, so I wouldn't wear them to do any climbing or scrambling. But if you're keeping to the trails, especially in warmer weather, you'd be hard pressed to beat these pants. I own them in carbon, khaki, and breen and I wear them all the time.
Fantastic Pants!!
Familiarity:

I've used it several times

Fit:

True to size
The fabric is about perfect. Great stretch, feel, and cut. The stretch allows for comfort in all situations, and range of motion is amazing. Cell phone pocket could be a bit bigger, but it's certainly not a deal breaker.
Good Buy
Familiarity:

I've used it several times

Fit:

True to size
These are great pants if you're looking for ample mobility. The quality is good, but I question the survivability of these pants. My concerns may well be unfounded. I love Kuhl they've really become my go to for outdoor clothing. They've been great for bouldering and even make for a good hiking pant seeing as theyre effortlessly light.
Great stretchy pants
Familiarity:

I've used it several times

Fit:

True to size
These pants have great stretch - very useful when using stairs/steps that are too big such as on the Mist Trail in Yosemite NP. These pants are baggy according to some but fit great on me because I have big legs from soccer and bicycle racing. Needed to have them hemmed to a 28 inch inseam (I'm 5' 4" with a 27 1/2 inch inseam, size 49 cm bike with a comfortable standover height of about 70 - 72 cm.) Not sure about durability of fabric - haven't gone bushwacking or rock climbing with these pants, hence the 4 stars. Okay to wear in temps below 85 deg F, anything higher than that will cook your legs (just like most stretchy pants with the same type of fabric). Using these in hot and humid climates may also heat up your legs. I don't think the fabric is very breathable. I own OR Ferrosi and Marmot Arch Rock pants and these pants are not as breathable as the Ferrosi. However, these pants have a thicker material than the Ferrosi or Arch Rock pants and may be more suitable when in colder temps. These pants run true to size. I wear 32 in just about everything and these are right on. The OR Ferrosi was a tad big in their 32s and the Marmot Arch Rock were also true to size.
Too baggy and not very breathable
I love the look and style of these pants, but they were just too baggy for my liking. Also , the fabric did not allow much airflow and they got really hot. I ended up with a pair of Zion Stretch pants and love them. Much more of a fitted look and feel and a little more breathable. Returned these.
Comfortable but Lacks durability
Familiarity:

I've used it several times

Fit:

True to size
My first hike out with these pants in Alaska, I caught a branch and ended up with an inch hole in the right leg. I enjoy the fit of the pants, however I am looking for durability and quality and these fell drastically short.
Sweet Pants bro!
Familiarity:

I've put it through the wringer

Fit:

True to size
These pants are great for everyday hiking, although I would say not heavy enough for winter hiking (unless you have a baselayer). They have been great for hiking, backpacking, camping, bumming around the house, yardwork, dog training, etc. I've hiked in the rain & snow with them and they'll definitely keep you dry and warm (as long as it's even mildly balmy out!) I have a pair of NF Paramount pants and I would choose these over those for sure in terms of comfort, they feel like you're wearing sweatpants. The NF pants are probably more durable and warm based on the material thickness, but if you're looking for just a stylish, everyday hiking pant that's best suited for use in spring, summer & fall, than these are great pants and you won't be disappointed.
Light weight stylish pant
Familiarity:

I've used it several times

Fit:

True to size
I bought this pant thinking I ordered the jean in the same cut. I decided to try it out. After wearing several time indoors - I ended up loving the light weight feel of the pant. They are very comfortable and I love wearing them. I actually had to run in them one time due to not bring any running pants on a trip. It was raining and they performed great in a pinch. Love the pants.
Absolute garbage! Buyer beware!
Familiarity:

I've put it through the wringer

Fit:

True to size
I have used these pants for two seasons in a row working in the backcountry for trail work, backpacking, general hiking. The material is light and awesome, but tears EXTREMELY easily. If you plan on being anywhere near granite prepare to carry around a hefty duct tape kit.

Most importantly, the stitching is abominable! First, they are way over stitched (to make them look cool and high tech I presume). Secondly, I think dental floss would have been a thousand times stronger than the stitching they use. Amongst the group of about 10 people I work with every single pair of pants was falling apart within 2 weeks. I have never purchased an outdoor product that failed so completely, so quickly under what I consider pretty standard conditions for the supposed use of the pants (backcountry activities). Honestly, I would run not walk from these pants. They only real use of these is to cruise the mall or look cool hopping out of an H3.

I usually don't write review but the total frustration I had with these pants warranted a response.
Best pants next to wearing no pants
Familiarity:

I've put it through the wringer

Fit:

True to size
I have used and abused these pants for years now. I work in them (Personal Trainer), play in them in the mountains, relax in them at home, wear them in summer and winter. After years of use and washes they have some pilling but I am surprised that they have not ripped, faded or fallen apart in any way. I have 3 pair of pants and 3 pair of the 12" shorts. I also have Prana Zion pants and shorts and those come in a not so close 2nd. There is no 3rd place though. Just these pants and shorts - all the time. Plus they are a great company doing great things. Buy a few pair.
One Cool Dude with Style
Gender:

Male

Familiarity:

I've used it several times
Yea!!! When Alf clothing changed to Kuhl I was a bit concerned, but during the years following I've been so impressed with this little Salt Lake City company. They produce some of my best clothing and the Renegade just plain rocks!



They have breathability, loose fit (great for climbing), Stretchability, pockets galore and style for those in the city visits. There will be more Kuhl pants in my closet and on my bod.
Leave you feeling drafty
Familiarity:

I've used it several times

Fit:

True to size
The wind moves through these like there's nothing there. So great for warm hiking. The fabric holds up well and stretches a little. The stretch and cut lends itself well to bouldering or anything like that. Gotta be the most comfortable pants around. If you run warm all the time, these will keep you from sweating all day.
Awesome Pants
Familiarity:

I've used it several times

Fit:

Runs large
These are some of the most comfortable pants I own. They work great for hiking and look great around town as well. I am normally a 34x32 but had to exchange for a 32x32 so they run a little big. I am 5'10 175. I have the carbon color and they look like the picture.
Amazing and Durable
Familiarity:

I've put it through the wringer

Fit:

True to size
I'm a filmmaker and have two pair of these pants. I wear these when I'm on set and when I do documentary work. They are very lightweight and when I'm in very warm climates they protect my legs as well as keep my cool.



Another great aspect is the stain resistant material. I've had coffee, soft drinks and wine spilt on them yet not a stain on them! The wick water very easily and dry very quickly. This is important to me as there are many instances where I'm filming in inclement weather so at the end of the shooting day I need them to be ready by the next morning!



Because they are lightweight material packing these pants take up very little room. I'm able to take two weeks of clothes in a single carryon size piece of luggage thanks to these pants. Highly recommended!
perfect for everything
Familiarity:

I've put it through the wringer
I absolutely love these pants! i use them for everything, from climbing in the gym to backpacking on the AT and going around town in every season. They keep you nice and cool and when its cold just wear some long underwear. super stretchy but also tough. mine looks pretty beat up on the knees and thighs but it still works like a champ!
great pants
Familiarity:

I've put it through the wringer

Fit:

True to size
I have several pairs of Kuhl pants . these are my favorite.
Great Hiking Pants
Gender:

Male

Familiarity:

I've used it several times

Fit:

True to size
I recently bought these from KUHL's website since Backcountry.com does not carry them in a 34 inch inseam. They're extremely flexible, true to size, and the pockets are right where you'd expect them to be. I have only used the Renegades a few times, but I can already tell that they're by far better than my Marmot, and North Face hiking pants. They also look great when going out to casual restaurants/bars etc...

While I also love my Columbia Cool Creek pants, I place these slightly above them because there is a little extra room (width) in the legs, which provides greater flexibility/movement. It may be because I have chicken legs, but still for someone who's 6'1, 180 pounds with a 33 waist they fit great.
Survived Yosemite
Familiarity:

I've put it through the wringer

Fit:

True to size
Although I held grave fears for these pants due to their comparatively light feel, they held up well to chimneying, cracks and some decent approach/descents...they are a great climbing pant. Only some seam sewing have worn or abraded away, the fabric has stood up well...
Khul Renegade Pant
Familiarity:

I've put it through the wringer

Fit:

True to size
Khul is an amazing company. I think they figured something out a long time ago when they started to incorporate articulated knees and a gusseted crotch in their pants. These simple features make the pants move with your body. This is something a lot of others don't do. This particular pant is, in my opinion, ideal for warmer weather. They breathe just as good as your body does. Apart from a convertible pant these are the one's you want on your body when your hiking in the summer, or hacking your way through a rain forest in the jungle. The cell phone pocket is perfect for an iphone or android. I have never had issues with it falling out. The Khul line of pants is solid as a whole. You won't go wrong with any of their products. All of that being said if your looking for a non-convertible pant for warmer weather it's hard to beat this one.