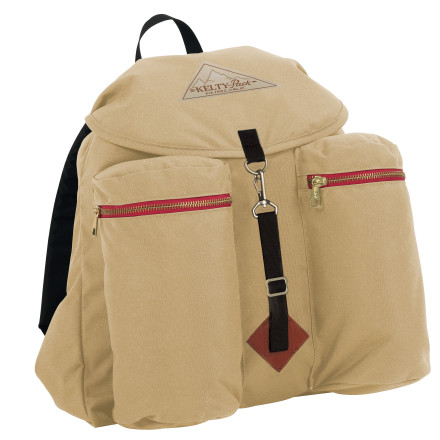 When the wind starts to pick up and you are reminiscing about your wandering years, pick up the Kelty Wren Backpack. This vintage-style backpack will bring back nostalgic thoughts about the time you hitchhiked through the southwest or the time you spent as the caretaker of a fire look-out in the North Cascades. Pack a lunch in the main compartment and slide water bottles in the two zipper pockets.
What do you think about this product?
Have questions about this product?
Love the look of this pack, reminds me of my uncles vintage bags from Norway. The green color with the red piping is so classic looking. The bag is perfect for smaller day hikes or shorter trips. For anything longer it would be a little uncomfortable. The straps are narrow and there is no back padding, so if you have anything thats a weird shape (shoes, food containers, etc) it will dig into your back if you dont pack your bag carefully. The bag has great pockets and its super light and great for traveling and day hikes. The fabric appears thin, but seems durable and the zippers are tough and strong. Well made bag.
The Wren backpack is a lot more attractive in person than the photo would lead you to believe. Great hardware, great color (although the 'tan' is much closer to a light olive), great retro design, and not too big. It is, however, a little on the flimsy-feeling side; it seems well-put-together, but there isn't one bit of padding or reinforcement to protect stuff like a tablet or a small laptop. I picked up a padded laptop sleeve so I could carry a laptop in this; otherwise I would be afraid it would break the first time I set the pack down.