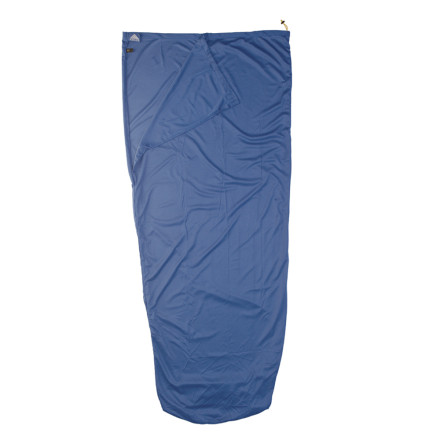 The Kelty Wicking Mummy Liner can be used on its own for travelling between the huts in the White Mountains this summer, and it can be used to add additional insulation and moisture management to your sleeping bag in the winter. This liner can add 5-10 degrees of warmth to your bag, and it's easy to clean so you don't have to wash your mummy-bag as often.
What do you think about this product?
Have questions about this product?
Great stand-alone for hot climates
I have been using this liner in Central Africa (hot and humid) for several years and it has functioned well. Often I just use it to cover my pad, but it gives just a bit of warmth when needed in the pre-dawn morning.
Velcro with this fabric is a very bad idea
Too heavy for backpacking and the fabric is very fragile. The velcro tab snags every time its opened and leaves either a run or a hole which spreads. Velco on this was a very bad idea. Use small snaps like the ones used to attach it to the bags inner loops.
Unanswered Question
I'm looking to put together a winter bivy...
I'm looking to put together a winter bivy set and wonder if this would be helpfully with condencation that may occur? The warmth is a added benefit but not what I need it for....worth it or not?