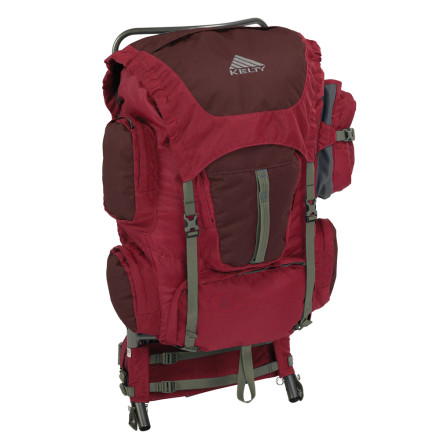 Community Images
Description
Disconnect yourself and experience life again with the Trekker.
Turn off your laptop, shut off your cell, and pack up the Kelty Trekker Backpack for a weeklong adventure in the wild. With its upgraded, indestructible design the Trekker takes you deep into the wilderness for some camping, hiking, fishing, and a much-needed break from the technological world.
Strong, durable fabric and construction ensures you'll be using the Trekker for years to come
An adjustable external suspension system gives you a just-right fit
A removable foam waist-belt for comfort and support, and load-lifters for stabilization
A sleeping bag compartment gives you easy-access to your sleeping bag
A plethora of pockets helps you organize your gear
Torso fit range: [S-M] 14-20in (36-51cm); [M-L] 16-22in (41-56cm)
Excellent and Heavy
Familiarity:

I've put it through the wringer
Got this to replace a Jansport that fell apart on the first trip out.



First, this thing is heavy. But, for that penalty one gets the ability to comfortably carry loads that would destroy light and ultralight packs and loads that would be quite uncomfortable in a frameless pack. If you need to haul very heavy loads (for whatever reason) - this is your pack. Weight distribution is right on; plenty of padding in the belt and straps.



Second, this thing is bombproof. The materials will take a beating and heavy use. You're not going to rip this in the backcountry or bushwacking or the old "I ripped my lightweight pack by setting it down on a rock"; it does not require constant, careful attention.



So, if you're after a pack that will take heavy gear miles in and stands up to real use, get one.
Will a Coleman bear canister fit in the...
Will a Coleman bear canister fit in the top portion of the pack without interference from the hold open bar? Thanks.

-- Barry Abshere
I'd suggest carrying the canister outside and on top using straps from the top of the frame. Bungee it around the top to the lower frame. You can use that to keep the canister from bumping up and down, and you can use the bungee to hold other objects like a drying handkerchief.
Is the Kelty Trekker Backpack waterproof...
Is the Kelty Trekker Backpack waterproof or does it require a rain cover? 420D polyester?
Best Answer
Hey Garry,

While the 420D will offer durability and some protection from the elements, any sustained exposure to rain will soak through the pack. I suggest a rain cover.
Has anyone used a 3L platypus with this...
Has anyone used a 3L platypus with this pack? I heard the 2L works but I'd really like to know if a 3L fits... thanks!
Best Answer
I don't own this pack myself, but I am almost 100% positive that if you know a 2L platy will fit in this guy you could also fit a 3L platy. They aren't that different in size, and a pack this large shouldn't have any issue accommodating a bladder of that size.
I own both the Kelty 3900 trekker and a 3 liter 100 oz platypus, it does fit although the pouch is very wide, so it may slide around if not packed tight enough. I'm sure it could fit even bigger if there are any bigger, it's a big pocket.
Great Pack
Familiarity:

I've used it several times
I bought a Gregory Baltoro, the Cadillac of packs, and used it for a trip or two. It was very good, but the heat buildup was still there like almost any internal frame. I sent it back and decided, with the free returns, I ought to try this inexpensive little guy before going to the other top of the line brands. I fell in love.



Ventilation, organization, comfort, all get five stars. my only critique is the lack of hipbelt pockets, but I sacrifice that gladly for all the benefits. Great pack.



My college's outdoors club is now totally outfitted in these.
Which is it? The listed tech specs indicate...
Which is it? The listed tech specs indicate no sleeping bag compartment. The description lis t indicates there IS a sleeping bag compartment.
Best Answer
Hey Will,



Yes, it does have a sleeping bag compartment, as shown with the zipper on the front panel. Although, whenever I've used an external frame I prefer to compress my tent and stow it internally and use the lower area for my sleeping bag and ground pad. Therein lies the versatility of this type of pack...you can almost infinitely rig it how you want it. Hope this helps.
can I get this pack in a different color...
can I get this pack in a different color ? Brown or black, or even green //
Unfortunately we only carry this in the Java colorway.
Trekker 65
Gender:

Male

Familiarity:

I've used it once or twice and have initial impressions
My only gripe with this pack is the lack of water bottle holders and when in conjunction with the strange bladder pouch staying hydrated becomes a little tricky. But, when using my Platypus reservoir, 1.5L Nalgene and strapping another Nalgene outside the pack it works! Great pack, durable, super comfortable, adjustable to any body, and lifetime warranty!! You wont be disappointing by this pack if you were looking for an external frame pack as I was.
Hydration bladder?
Gender:

Male

Familiarity:

I've used it once or twice and have initial impressions
The hydration bladder pouch on my pack is horizontal and I'm curious which bladders work well with this pack?
Good Pack for a Long Trip
After using internal frame packs from Kelty, i am returning to the External Frame pack for one primary reason: There are significantly more ways to position your gear in and around this pack.
I am 6'2" and getting to be wider in the waist with age. Yet this pack was fully adjustable to fit me and my tall & wide body frame.
I can carry multiple tents, sleeping bags and pads for the adventures I take my young children on. The pack holds double what my large internal frame pack holds and it is easier to distribute the weight and placement of the extra gear I choose to carry for my young children.
I do have a few complaints, hence i am only giving 4.5-stars. CONS: not enough exterior pockets for beverages or water bottles. The bladder area inside the pack for my camelback bladder is wide and short, not tall and narrow. it will not be fully functional for me to suck water out of my bladder with the bladder having to lie side-ways. I would have liked mesh pockets on both sides instead of just on one side. I would also like to see more utility in the design for the zippered pock of the Bimini cover. Right now it is too thin and not designed for quick access once the pack is all packed and ready to go. PROS: Room for lots of gear, adjustable for small to tall people, adjustable for wider people, comfortable waist-belt. More air ventilation for Desert Backpacking activities.
I am going to philmont this summer and the...
I am going to philmont this summer and the waist belt broke. I was trying to find a replacement but I have been having difficulty. Any recommendations on belts or where I could get one?
Any standard 2 inch dual side release buckle should work fine. I couldn't find one on Backcountry.com so call the Kelty warranty/repair line and they should be able to get you one. 800-535-3589.
Best Answer
That pack has a lifetime warranty so like Morgan suggested call that 800# and they will be able to get one out to you.

Enjoy philmont.
I love this pack. There is just enough space for my Thermarest Trail and Chinook 35° down bag in the sleeping bag compartment. My 2L Platypus fits perfectly in the hydration pouch. The main compartment is plenty of space for my Jetboil, cookware, food, toiletries, and clothing for weekend backpacking through the fall in the NH White Mountains. In addition to that, the many outside pockets are more than enough space to house all the supplies and gear you can think of. The extended frame at the bottom makes the ideal place to strap my tent, and multiple adjustment options allow customization to any shape of person. This pack has been durable and light so far, and seeing it in my guest bedroom makes me want to get out and hike!
Have used internal frames but nothing has been really comfortable on my lower back and hips. Big retailers have custom fit my internal witih only limited success. Decided to try the Trekker because of all the testimonials about how much more comfortable externals are. I can't believe the difference! I can finally haul 50 pounds with 0 back or hip pain. Not the lightest pack on the market, but you can't beat Kelty's, quality construction, organization, and price! If you're not planning on doing a bunch of scrambling or bushwhacking, there is absolutely nothing you won't love about this pack!
Great First Backpack - 2002 Model
I got this backpack almost 10 years ago as a birthday present from parents. It has seen quite a bit of use since then and it has held up quite well. Originally it was used mostly for scout trips, but since then I've used it for a lot of hiking in Colorado and Utah. Everything about this pack has been durable and I was able to adjust the pack as I grew. This is a great first backpack, especially for scouts or anyone who doesn't want to drop a lot of money on an internal frame pack.