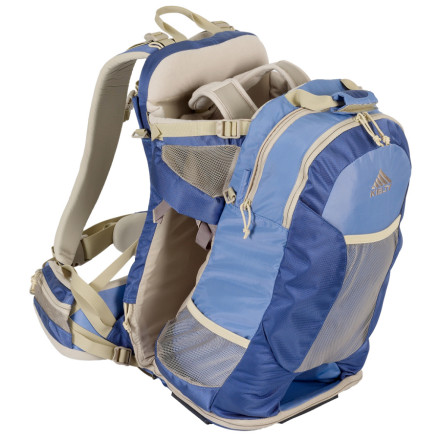 Detail Images
You don't always need an expedition-ready kid carrier—when you prefer something low-profile and lightweight, look to the Kelty TC 2.0 Kid Carrier. Great for errands or shopping, the TC 2.0 also has the comfort features you need for a day hike, like fully padded shoulder straps and a comfortable hip-belt complete with a handy storage pocket. When it's time for your partner to shoulder the load, a torso-length adjustment feature dials in a custom fit. A five-point harness holds your child securely in the padded cockpit. The carrier's extra-large, zip-off cargo pack holds all the essentials and just-in-case items.
get it for less at kelty.com
kelty web site is selling this now for $90
Would this work as a carry on? Or would...
Would this work as a carry on? Or would it be too large?
Yes, it is carry on size, granted this is airline dependent as they all have their own guidelines but most use a 51" linear measurement and this is 45" linear.
I've seen a lot of parents get away with a gate-check for kids stuff (strollers, baby seats) so while we can't confirm anything, that might be an option.
The Best & Safest Backpack Carrier on the market
I'm not just saying it because I have one, I'm writing this as a seasoned engineer and a cautious father of 3. I've been on my endless research for a practical/safe/affordable/versatile backpack carrier that provide comfort for both the baby and the parent. This is it.

The frame is sturdy yet light-weight and well-cushion. Both the baby and the parent won't feel it. Yet get the total benefit of a sturdy carrier. I've left my baby in and to see if it can be standing on their own on carpet/hardwood/grass/tile... it does stand very well.

Many pockets of course, it doubles as a diapers and snacks backpack when you go outdoor! Excellent value!
Happy wife, happy kids, and we did a lot of hiking with this thing. My one concern would be how fast my kid grew out of it. But definitely recommend it.
Exactly what I was looking for
Went snowshoeing and hiking with my four month old son (15 lbs). Straps are great, he was very tightly secured. Weight was distributed nicely and there is plenty of room for other stuff in the pack.