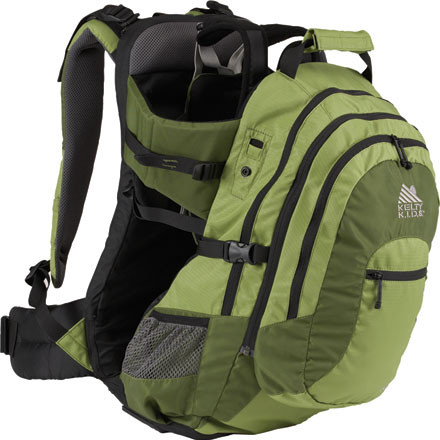 I love it! My cousin let me borrow hers. And she told me she wanted it back, because of her second child. I loved it so much, I wanted one of my own. So now I have a second child as well and plan on using this everywhere as I did before. I used it on walks, hiking, grocery shopping, everywhere. It is simple, light, and easy. I recommend this kid carrier to everyone with a new lil peanut (new baby)!!
Does the rain hood attachment fit on the...
Does the rain hood attachment fit on the TC 2.1?
Yes. As long as it is the TC Rain Hood (http://www.backcountry.com/store/KEL0512/Kelty-TC-Sun-Rain-Hood.html) and NOT the FC Rain Hood. They attach to the packs differently.
This product is pretty much what it's made out to be - a baby carrier that does the job and doubles as a backpack. I wanted something not very bulky for carrying my 20 month old boy for places which did not easily allow a stroller. Narrowed down my choices to the Kelty and the Deuter Kangakid (which looks like a good product too). Ultimately I chose the Kelty for the fact that it could carry up to 18kg, has a removable front pouch, and torso adjustment. Anyway, back to the Kelty. The torso adjustment is a great feature, allowing you to try different positionings for a more comfortable carry. Everything appears to be good quality, well made, including the adjustable seat height for the baby (to get him to the right comfortable level to view above your shoulders). It has a good base as well, which means you can better ensure everything is in order on the ground or on the bench, before you carry baby/bag onto your back. In essence, I like this product for several reasons: 1, its serving the need its supposed to - used as a bag when needed, and for carrying the baby when needed, for short distances (for long trekking, you are better off with a specialised carrier). 2, everything about it appears of reasonable quality (including the hooks to adjust seat height, the easy-fasten waist belt, etc). 3, my baby seems quite comfortable in it! The first time he fought strongly and wailed, not knowing what this is about, but once forced on, he was very happy to see the bag, knowing it meant a walk was in short order. 4, over the Deuter, it carries up to a heavier weight. 5, kept as a bag, it serves a purpose (unlike a true blue carrier), and is more easily stored away. For the occasions of a nice, short Muir Woods kind of nature walk, its ideal. Only thing is, I still haven't found the perfect adjustment to make the weight less 'felt'. I can go around only up to 45 minutes before feeling the weight...and I am a relatively fit guy! In the army, an equivalent 25 kg backpack seems to hurt less. Ultimately, if you need a convenient bag that does not serve just one purpose, this bag does the trick.
Great idea but too large for the purpose.
I was/am still looking for a child-carrier for occasional use by my 3 year old. For example, the last bit of a hike when she doesn't want to walk anymore or at a crowded fest when I want control of her with hands free. I thought this was it but I didn't realize it had a solid base piece that gives support when the backpack is sitting on the ground. For wearing the backpack, just in case I need it - this piece makes it too big. I wanted a more simple trailpack style that converted when necessary to the child carrier. This one is not simple, it hardly has any advantage over the full frame child carrier that we own and love but is too big to carry around for the occasional 'just in case' usage.
Does anyone know the difference between...
Does anyone know the difference between the TC 2.0 and the TC 2.1?
just an updated version with narrower profile and different colors/fabrics
Anyone have an opinion about the Kelty TC...
Anyone have an opinion about the Kelty TC carriers versus Deuter Kangakid? Specifically, if either one fits long torsos better, that would be a selling point for me.
I'm answering my own question because I went ahead and tried the Deuter. Everything about it is great EXCEPT it just doesn't work well for long torsos. (A big 'except' for us.) We are 5'11" and 6'3" and we can't get the balance and weight distribution right, so it doesn't carry well for us. We're returning it and going to try our second choice, the kelty TC 2.1.
so now that you have bought the kelty tc 2.1 can you tell me the differences? thanks indecisive mom