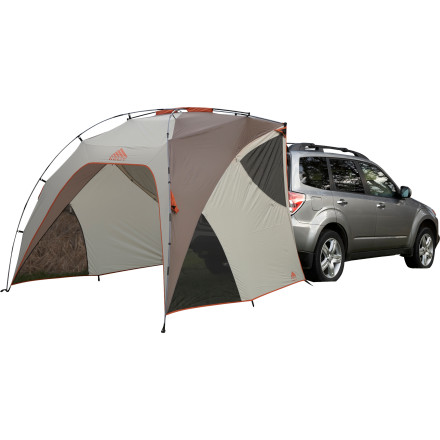 Community Images
If car camping means sleeping in the back of your mid-size SUV or wagon, extend your shelter with the Kelty Tailgater IPA Shelter. The fully-taped fly material shades you from the mid-day sun and shrugs of afternoon thundershowers while the three pole design and color-coded clips make setup a breeze.
Designed for mid-sized wagons and SUVs
Compatible with any style of roof rack
Fully taped seams and tough polyester fabrics keep you protected from rain and sun
Three DAC Pressfit poles and color coded clips make for fast and easy set-up
Multiple guyline points increase performance in windy and rainy weather
Internal storage pockets keep gear and supplies close at hand
Noiseless-zipper pulls won't disturb wildlife or other sleeping campers
Guylines and stakes included; does not include sandbags for setup in parking lots
The "Kelty" Tailgater was pulled from market because they are being sued for TM infringement. They copied the idea and even sold them with the name "Tailgator" on them which is a Registered Trademark of Tailgator Sunahde llc. Tisk Tisk. Try finding one online now.

Look it up

Plaintiff:

Tailgator Sunshade, LLC

Defendant:

American Recreation Productions, LLC and DOES 1-10

Case Number:

1:2015cv11066


Great gear addition.Fits my Jeep perfect
Familiarity:

I've put it through the wringer
This is a great piece of gear. It definitely holds up to strong and nasty weather. This is perfect for lazy car camping days, or nasty days where you do not want to stray to far from the car, but also have the luxury of being able to cook and stay dry!. I was skeptical at first due to my Jeep not having a hatchback, as all the reviews read that you need a hatchback. Wrong. Even without a roof rack this tent fits to my jeep like a glove and stays really sturdy through rough weather. I highly recommend this product!
Is size compatible with a Mercury Mountaineer? Does the 'door' zip closed to provide privacy or will I need to rig up something for that?

JDL
No it does not have a door that zips to close. You will have to rig something up. It is not a bad task, I actually just used a small tent footprint or tarp and rig it were I can just drop it anytime and make a "door"
Best Answer
CoastalDreads228,



This shelter is built wide enough to accommodate a wide variety of SUVs. I would think that a Jeep Wrangler will be a nice fit. keep in mind that there will most likely be a small gap between the shelter and the SUV.
I figured that. Without a hatchback on the back of the jeep, will it still be as sturdy just tied to a roof rack minus a hatchback?
How tall is the opening that goes over the...
How tall is the opening that goes over the hatch? I want to put the shelter in front of the door of my Cricket trailer. The top of the door is 74 inches from the ground. I'm also wondering about anchoring the shelter to the trailer.
Val! This one is a little tricky. So since the tent has two points that touch the ground that gives room to tilt and accommodate larger vehicles. When the tent is level the entrance is 50" and the car side is 66" from the ground. I would venture to say that 74" is a stretch. Give me a call and lets discuss.



Eric Watford

Expert Gearhead

Ext. 6069

ewatford@backcountry.com
Familiar with those cool Rpod campers?...
Familiar with those cool Rpod campers? They are tall, about 8.5' with a curved track on the roof.. Do you think this shelter would work?

Thanks! Nicole
Your question is all about the measurements. If I assume that the measurement of 82 inches here is height, then the shelter is just under 7 feet high --- at its highest point -- so your 8.5footish camper would not fit...
Will this work with a Toyota Sienna Mini-van?...
Will this work with a Toyota Sienna Mini-van? It would be perfect for dog trials.



Thanks Wayne !


Best Answer
Hey Judy,



The concept is pretty simple and the fit doesn't have to be precise. The idea is pretty much just to secure the shelter to the back of your vehicle and open up the back hatch.



Here is a copy of the attachment instructions if there are any questions:



http://www.kelty.com/images/2013%20Kelty%20Tailgater%20IPA%20PI_attachment.pdf
When using this with an SUV will it still...
When using this with an SUV will it still stand with the hatchback closed? I'm thinking if we use it while car camping then at night you would want to close the car up.. is that possible or does the whole thing have to be taken down every night? Thanks!
Looking at the photos and videos of it it looks like you could make it stay up even with the hatch closed but the car side will get a bit saggy. That is to say it won't collapse but it will lose some of its rigidity. That being said I suppose you can just deal with that for the night and then have the thing regain its form the next morning when you pop the hatch. That being said, if it is a really windy night I would likely take it down as it may get torn or otherwise messed up without the added support and rigidity of the hatch.
Will the IPA Shelter stand without a vehicle...
Will the IPA Shelter stand without a vehicle in case you wanted to drive away for an outing and then come back. Thanks!!


Best Answer
Eh, it's not exactly what I would call "freestanding". The car side relies on the tailgate being up and guy-lines, but there is no pole support. Without any wind, you might be able to honk the opposite guy-lines at the entrance to the shelter and keep it reasonably upright and secure, but that, in my opinion, would be sketchy.



Kelty does have a video on their website of the set up, and here's the link:



http://www.kelty.com/p-720-tailgater-ipa.aspx?category=tents-shelters
Works with a Truck with a Camper shell
Gender:

Female

Familiarity:

I've used it several times
We have a 2013 Tacoma with a camper shell and wanted something to extend our 'living' space that was quick to set up. Although the description said for SUV's we found it to fit perfect and gives us enough room to have a couple of chairs and has enough stand-up height to cook on the tailgate. There are side zipper windows for when you need a little more breeze or visibility. The only wish is that it had a door to keep the rain out from the end. A plus,plus to this shelter is that 1 person can set it up.