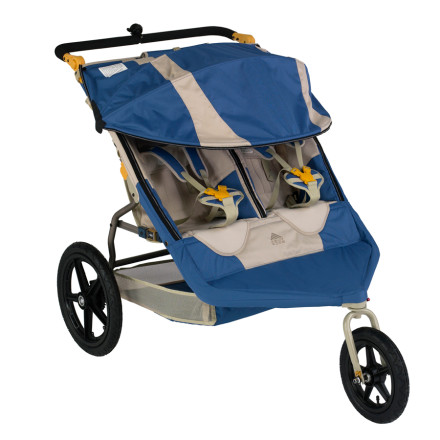 Take the twins for a spin with the Kelty Speedster Swivel Deuce. This performance stroller features side-by-side seats with five-point adjustable harnesses to keep the little ones secure while you get your daily jog or just cruise through the park. Kelty included plenty of storage space for kiddie essentials, and the portable design makes it easy to take along in the car.
Front swivel wheel with lockout option for easy maneuvering
Rear-wheel brakes, safety bell, and runaway leash add extra measure of safety
Handle height adjusts to the most comfortable position for your
Adjustable sun/rain hood keeps the kids comfortable as you get your exercise
Water bottle holders help you stay hydrated
Reclining seat encourages napping
Seat-back storage pocket and under-seat storage bin lets you bring along snacks and other necessities
Quick-release wheels and folding design make for quick transport and storage
Reflective accents enhance your visibility in low light
I bought this stroller at the Kelty website for the sale price of $349 plus i had a 20% off Kelty coupon and also received free shipping so this stroller was an AMAZING deal and it is a great stroller.

I have to disagree with one reviewer because i use this jogger six days a week for jogging intensive activities like Stroller Strides [4 days/week] and 10Ks[2 days/week] and i find it is perfect! I have no problem jogging in swivel-mode so i can see if jogging locked mode that turning would be more difficult. At Sale Price, it is a great alternative to a BOB!! I highly recommend it.

I also want to say that Kelty has PHENOMENAL Customer Service and go above and beyond for their customers. I wish all companies had such exemplary standards!

PROS:
+Super, super light-weight!!!!
+MASSIVE storage underneath!
+Folds compactly and fits into my small, awkward trunk space [Jeep Patriot].
+Large, comfy seats and leg space [my 4yr old is 43" and 36lbs and he fits wonderfully!]as well as a large foot well which was KEY in my decision.
+Back wheels are quick release.
+Useful pockets for cups/bottles [VERY important]and extra easy-access stuff.
+Adjustable handle like the Baby Jogger Elite & Mini GT.
- Lifetime warranty!!!

CONS:
-Does not turn nearly as smoothly/tightly as the BOB or Baby Jogger.
-Front wheel is NOT so "Quick Release" like the back wheels are.. its a total pain in the butt to remove [but i don't actually have to ever remove it so i guess it doesn't matter]!
-Folding it is easy... once you can undo the two yellow Locking clips which really clips on tightly and can be challenging to un-clip [but safety is most important and that certainly makes it safe!].

Suggested Design Improvements:
- Duel Sun Canopies.**
- Removable Kid food tray [ala Bob/BabyJogger] .**
- A more sturdy Brake system like the BoB.

** I knew when buying this stroller that i was giving up some of these amenities but for the price i paid, it was well worth it. I didn't anticipate that the single sun canopy would be an issue for my kids, but my older son likes the sun, and my younger doesn't and so it can be a battle sometimes.

I do want to say that for Kelty's full retail price, i would NOT buy this stroller. You can get a BOB Revolution Duallie for between $520-$650 and it has a HUGE resale value.. you can get easily $300-400 for a used BOB. So hopefully if Kelty continues to make strollers they will consider duel canopies, optional car seat and kid tray adapters.
If you are a serious runner who has to train with your kids in tow sometimes, this is NOT the stroller you want. The tires deflate on sharp turns, it is hard to turn, the wheels are WAY to small. Basically, this a stroller for mom's who want to take their kids to the the park. Don't waste your money on it if you plan to really run.
I really wanted a Bob Revolution Duallie for running with my 3.5 and 1.5 year old kids, but the price is ridiculous. I got this Kelty Deuce on sale for a great price. It has some great pros including:
Very lightweight, even for a double (lighter than the Bob by far)
Sturdy aluminum frame
Comfortable for my tall kids
Easy to push and maneuver
Reclining seats
Easy to fold
Easy to assemble (just snap on the wheels)


All those qualities are amazing, but it had two MAJOR cons that made me send it back:
It is just barely too wide to fit through a standard doorway. That means if you took it anywhere besides running outside you'd have to leave it outside. If you only want to use this for running that shouldnt' be a problem for you.
Also when you flip up the sunshade it sticks straight up! At 5'4", this means that when it was filpped up I couldn't see over it.

Kelty - fix those two issues and I think you'll get a lot more buyers~!

Other minor cons (not deal breakers for me) include:
The seat doesn't completely recline (But does recline enough for a nap
No carseat or tray adaptors like the Bob has
I have the Kelty Deuce Double Jogger without...
I have the Kelty Deuce Double Jogger without the swivel wheel. Can you add a bar for a carseat? Is it available?
Placing a car seat in this stroller is not advised as it was not designed to hold one.
We've tried every double jogger! This one is decent.
Kelty Deuce Swivel Review


We bought this stroller because it has a height adjustable handle and is very lightweight for a double. It fits my tall husband quite well. The way it handles is 4 stars, but aesthetic reasons plus the folding process knock it to 2. So, 3 stars overall. I'll start with the cons so you know how you might improve the stroller. Note that many of the cons are just aesthetic in nature, and there are many pros I'll get to eventually, too!

The footrest is cloth-like material (with some white near it) that could get dirty. You need not have a heavy plastic footrest, but a vinyl material by the feet would have made me feel MUCH better about my purchase. Imagine muddy shoes and wet snow boots. The black material in the seats collects dust as well, from day one.

There are not independent sunshades for each child. On a high-end stroller that's becoming the norm. The sunshade sticks up when not in use, and it's very high. This slows me down.
The footrest is very narrow and poorly designed in that two (older) kids cannot easily rest their feet, and my almost 3-year-old has his feet hang slightly off the side. Again, most high-end strollers have better, individual footrests.

In locked mode I could not turn the stroller by pushing down on the handle (whew, it was tough and I tried!). I feel I'd break the handle or my back before I could lift the front wheel up. I can push my foot onto the back bar to 'pop a wheelie' if I must turn on locked mode, but that's very difficult. I jog in swivel mode, and I'm slow. I can't imagine using locked mode unless you are on a perfectly straight path (which is rare!).

Folding/unfolding is not the easiest. It involves a lot of bending over and unhooking lock clips, and some parts look dangerous for fingers with pinch hazards. The yellow clamps look like they could catch my skin when I lock them into place, and I am terrified of this happening.

My biggest complaint is that when folded, it does not stand up. It can rest on the handle and back wheels, which takes up lots of space and could damage the handle material. Also, the fold/unfold process is sloppy in that I worry about scraping the stroller on the ground. I need a stroller that folds/unfolds with ONE hand in a trigger style, like many of them available today. I also want to be able to carry it easily. This stroller is difficult to carry. There are no good grasp points, and it won't stay folded totally.

The soft padding on the handle could be higher quality and thicker.

In addition, the bug/sun/rain nets go over the footrest, so since my child's feet hang over a bit, I don't see how those nets would stay secured unless you had kids under 2 in it.
But, considering we needed a stroller that worked for tall parents, and that the swivel mode is easy to push for jogging, this stroller works for us. I would never take it to a mall, just for jogging or walks in the neighborhood. No jogger is lightweight, but this one is quite light for a double. This stroller is a keeper for us. We've tried them all!

The pros are (and these are very important to us) that I can jog on swivel mode (I'm not fast), it was easy to put together, the harness is comfy and easy to use, the sunshade is awesome and goes down quite far, and it reasonably fits my 3-year-old (38 lbs., 40 inches) with room to grow, just not so much with his feet. It also perfectly fits my 19 month-old.


Thank you!