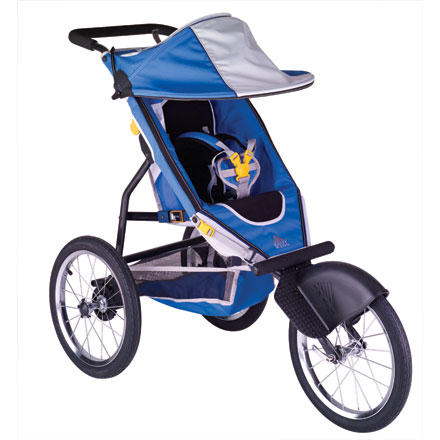 The Kelty Speedster Stroller is streamlined, easy to use, and loaded with features for parents traveling over rugged terrain. Kelty added a five-point harness to the Speedster Stroller to keep your child secure. Rear-wheel brakes allow you to park the Speedster while you load and unload your infant or toddler. The Speedster's full-coverage fender protects your child from splashes, and a canopy shelters from precip and the sun. The Speedster folds quickly and easily for when you need to store it or throw it in the trunk on your way to the zoo.
I bought one of these for my use and my parents use for my nephew. This thing is pimp. Very sturdy stroller. Huge wheels which can go over a variety of terrain and works very well while jogging. The attached wrist strap is great in case you take a spill while running and don't want your stroller to go flying down the street. A lot of space to store items, easily will store a small backpack in the under seat bin. The suspension/strap system for the child seems to be very comfortable for them and highly adjustable for differnt sizes. I would give this stroller a 6/5, just an overall great stroller. It can be kind of heavy to lift into a trunk or into a cargo box for a smaller individual but folds fairly small so that it will stow easily.
I've used it a couple of times with our daughter and my wife has used it many, many times. We got the rain/windshield with it. It's been great. We can even bundle of the little one and go running in the winter. It's a smooth ride for your kid and is easy to collapse and set up for easy storage.
A friend of mine purchased the Kelty double stroller and liked it, so I decided to give this one a try. To give you some background this is the first time I have ever ran with a running stroller. I was really surprised how smooth the stroller is and I was pretty much able to run with my typical stride and form. I'm 5'10'' and the handle was at a perfect height. I've read some reviews that the brakes can break easily, so I'm just taking extra care of those. Between my wife and I, we've use this stroller 10-15 times and we both are very happy with it.
Unanswered Question
how old does a baby have to be to use this...
how old does a baby have to be to use this while jogging
Unanswered Question
Has anyone tried this stroller with a...
Has anyone tried this stroller with a bigger child? I have a 4-year old daughter who weighs 34 lbs., but is 42 inches tall. I still want to be able to jog, but need something that will accommodate her height.
Thanks,
Dawn
Is the front wheel fixed? Is there an...
Is the front wheel fixed? Is there an option to have it fixed or swivel?
I have this stroller and yes the front wheel is fixed and there no way to have it swivel. Thats only thing i don't like about the stroller is when I'm not jogging I would like to have it swivel, there are other joggers out there that have the swivel wheel.