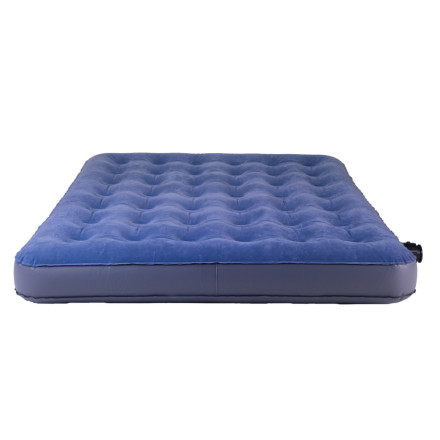 The Kelty Sleep Well Airbed lives up to its name by delivering mattress-like comfort, whether you're spending the night in a tent or on the floor of your buddy's living room. The mattress inflates easily with the 6V pump that recharges in the wall or with a car charger; once set up, enjoy the comfortable flocked top for a good night's rest.
I've returned this airbed 3 times now
Familiarity:

I've used it several times
I first airbed I bought lasted for about 6 months before one of the seals popped and it created a big hump right in the middle of the airbed. I returned it and the new airbed starting leaking after about 3 months of using it. The last i got started leaking air almost immediate and wouldn't even stay inflated for one whole night's sleep.
Leaks after one night of use...
Familiarity:

I've used it several times
Wish I'd heeded the advice of other reviewers. First time out - great. Second night - I'm out of air every hour. Used only on carpeted floors, so it's not like it was punctured by a thorn or anything.



DO NOT BUY!!
After that, leaks terribly. Ours was firm the first night we used it, but it must have developed a tiny hole somewhere that now results in waking up to a mattress that is only 60% inflated. The repair kit (included) would do the trick if only... we could find that tiny hole. I've tried to find it for months. Try a different brand.
Glad I can pass this on. What do I do about this bed that needs air ev. hour or so? All weekend my visiting friend woke me as she used the inflater. Please advise. BDGibson