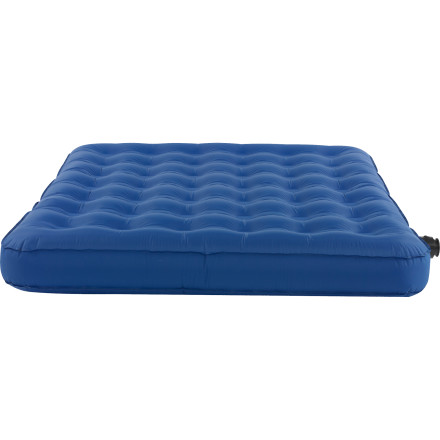 Colors
Description
Sleep soundly outside.
Kelty's PVC free Sleep Eazy Air Bed will have you loving life in the woods. It fits nicely in your trunk next to all your camping supplies and blows up with a 6V home and auto rechargeable pump. The Sleep Eazy also comes with a Kelty Binto for ease of storage whether you're taking it out to enjoy the lake this summer or putting it to use for unexpected house guests in your living room.
What is the R-value? Does anybody know of any queen size mattresses that are insulated like the smaller backpacking ones are such as the NeoAir? These things get COLD but I can't seem to find any insulated ones in larger sizes.
MuskyElk,



What are your primary uses for this? If it's car camping, you can use a mattress topper to increase the R-Value.



Shoot me an email anytime you have questions!



Jared D.

Expert Gearhead

801.736.4336

jdowns@backcountry.com


Unanswered Question
Has anyone found out where to buy a replacement pump? I can't seem to find a compatible one anywhere.
does not hold air, will be returned
Familiarity:

I've used it several times
Bought this for a week's stay with relatives away from home. Two adults (185lbs, 160lbs) tried to sleep on this the first night, had to refill after <3 hours. Tried again the next night, same result. Mattress completely deflated less than 10 hours after inflating, the final 5 hours without anyone laying on it.

The pump is fast and convenient to use, just wish the mattress actually held air. Should also note that I called Kelty before buying it, to ask about the pump attachment - the rep raved about this air mattress, said he owns 2 and uses them all the time. Maybe I just got a lemon. Seems nice other than this one notable flaw. Will be returned.
I like it a lot
Familiarity:

I've used it several times
I've used it for a week, it did require to add some air on the first few days, but that was not a problem and it hold enough air to be still firm in the morning.



The way the pump connect to the mattress is very convenient. It stop the the flow when disconnected, preventing that pull the pump and close the mattress maneuver.
My old air mattress had a built in pump...
My old air mattress had a built in pump that worked off the cars cigarette plug. When I needed to top off the mattress I could plug in my little foot pump which has a couple of different adaptor sizes to blow things up. Is there any way to add air to this mattress without using the pump itself? For example, can you attach a foot pump to where the rechargeable pump attaches?
Best Answer
No there isn't. The pump screws in and can be charged either from a wall outlet or from a car light outlet. There is no other means to put air in it say with a bicycle pump -- which would have made a lot of sense!

I lost my wall charge and was able to find an adapter at Best Buy on line so I could use the 6-volt charge indoors with a wall outlet.
Big Investment for a Non-Repairable Pump
Familiarity:

I've used it once or twice and have initial impressions
Be aware that this has no direct wall pump. The pump is a 6 volt battery pack (not repairable and maybe not replaceable). You must charge it 12 hours before every use per Kelty and maintain in between uses.



I have lost the electrical charger and am now trying to get more information to find a replacement (after one use). It is a lot of money to have few options to air the mattress up.



Otherwise adequate for it purpose.
I purchases the queen mattress and after...
I purchases the queen mattress and after one use have misplaced the AC charger for the pump. (No teenagers are fessing up!) I found a picture of it on Rei but can't make out the output in volts on the adapter so I can charge the battery pump using a universal adapter.

What is the output in volts and mA for the wall charger?

Do you sell replacement chargers?

Does Kelty have a regular electrical wall charger that can be purchased that doesn't have to be charged TWELVE HOURS before each use? That would make a lot of sense!



I am now questioning the investment into a product that seems doomed to fail in time. :(
Input is a 7.5V DC, 250 mA. Center is +ive, the outside is -ive.
Ordered this in a twin size for some car camping in the Gros Ventres and Big Holes. It's so close to being perfect but I had to return it.



First of all, it's super comfy. Probably more comfy than my regular mattress. It comes with a neat little jumbo stuff sack-esque bag that fits the pump and mattress with ease. Could probably shove a small thermarest pillow in there as well. The fact that it's extremely compact (for a vehicle) is a plus.



The mattress is definitely slick. I didn't try to put a fitted sheet on it because for the price I didn't think I should have to.



The pump, I have mixed feelings about. It's super easy to use. Inflates the entire mattress in...a minute? 90 seconds absolute tops. The downfall is that it doesn't seem to pack very much of a punch. When I sit on the mattress it folds enough to make getting on it slightly awkward. The simple remedy for this would be to slightly over inflate this to make it more firm. The pump just didn't have the juice to continue inflating. When you're laying on the mattress it definitely does not feel as if it's under inflated...but the fact that I couldn't fill it as much as I wanted to was disappointing.



Having said all of this, I really liked the mattress. If it felt just a little more stable I probably would have kept it.
Lightweight, compact and stays full
Gender:

Male

Familiarity:

I've used it several times
This is not a 40 lb. home air matress that sleeps like a Serta perfect sleeper, but it did great for a family camping trip and we were still sleeping on air when we woke up. The genius of the Kelty Sleep Eazy is that it is really compact and doesn't take up much space when packed. For the price I think it's awesome and will dramatically increase comfort at your base camp.
We bought two of these for our camping trip this year- one for us parents and one for the girls. We were so surprised at how quickly they filled up-like maybe 3 minutes. It's so nice to have them power deflate also. Over three nights, I only topped up our mattress once(being slept on by two adults). I picked these mainly because they are PVC free and feel really good about that. No creepy smells. The girls slept on one for the rest of the week- no complaints. Love Kelty quality.
I have really enjoyed this air bed in the month that I have had it. To combat the slick issues that another reviewer mentioned I actually just put a fitted sheet over it like a real mattress and it seems to do fine, but obviously not everyone camps with extra materials like that. I was impressed by the fact that despite temperature fluctuations from 80f when I originally inflated this bad boy down to roughly 20f at night, it retained a comfortable amount of air and I haven't had to do much refilling. When I do refill/vent the attachment is a lifesaver. I've never found a really amazing air bed and assume that this one will have its problems but I would recommend buying it from backcountry due to their amazing return policy.
Thought I'd rue the day I traded in the sleeping pad for an air mattress, but his was the only way my wife would go with me. Matress was nice, and it only needed a touch up of air during our three day camping trip. The pump was the best piece of equipment, charged a couple of days prior to use, easy to hook up and remove, rapid deflating and inflation. Biggest negative was that it was like sleeping on a sheet of plastic, it needs some type of covering or the nylon sleeping bags will slide off. Tried sleeping onjust the mattress with the sleeping bag ontop and that just caused sweat to pool as, one would expect, on plastic. It did the job, but I'll try getting my wife to use the Nemo next time, but she said she'll just bring a sheet.
What is the difference between the Sleep...
What is the difference between the Sleep Eazy and the Dream Eazy Air Beds besides the type of charger and the weight, are there any other differences? Quality?
Sandie, it appears the weights here are incorrect.

Twin- 5lb 5 oz
Queen 6 lb 15 oz
The Dream Eazy is built specifically for REI, it is the same PVC free material as the sleep eazy but with a different pump.

The Sleep Eazy pump is rechargeable with included adapters for your wall plug in your your cars cigarette lighter. This pump also attaches to the bed in either inflate or deflate mode.
Some sites have the weight as 6 pounds and...
Some sites have the weight as 6 pounds and 15 ozs (REI) is the weight on here incorrect or is REI not including recharger weight?
Hey Sandi,

Twin: 5lb 5 oz
Queen: 6lb 15 oz
Does the pump run on batteries? It seems...
Does the pump run on batteries? It seems like it (4 x 1.5 V), just want to make sure!
6V rechargeable pump with car and wall charger
do you sell the caps for the twin beds
do you sell the caps for the twin beds
Hadiyah - I'm not sure what you are looking for - the cap to the air valve?
Write your question here...Where is this...
Write your question here...Where is this product manufactured
, ☃bcs_badge_alumni_label☃