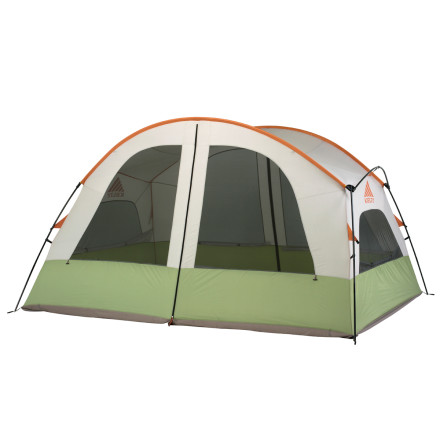 Community Images
Grrrr … damn pesky mosquitos! Let the Kelty Screenhouse come to your rescue when the bug population is at its prime. This classic mesh tent covers your picnic table so you can sit, relax, and sip lemonade outdoors while other folks combat those blood-sucking little critters with bug spray and clothing. Pull-down shades offer protection from the sun and make the Screenhouse a convenient, multi-purpose tent that's sweet to have whether you're chilling in your back yard or car camping.
Easy clip-sleeve construction helps make set-up a cinch
Taped seams help keep you dry during a quick rain shower
Closeable mesh panels offer superb ventilation
Noiseless zipper pulls keeps things quiet when the kiddies are taking a nap
Does it require 2 people to set up, or can...
Does it require 2 people to set up, or can it be set up by one person?
Best Answer
Having 2 people would definitely be beneficial. I feel like you could get it done with one but it would be difficult.


I put it up by myself all the time. I won't say its cake, but I keep doing it so it's not that hard.
Will this fit over the larger picnic tables...
Will this fit over the larger picnic tables in some campgrounds?
Best Answer
For the large, the measurements are 132 in x 156 in x 76 in (or 11 ft x 13 ft x 6.3333 ft) so I would say you would have ample room to pop this over a large picnic table and still have room to move around the table without worry of whamming your shins against the bench seats among other things.

Hope this helps.
Our home away from home
Familiarity:

I've put it through the wringer
We got this screen tent to take around to festivals and other car camping trips. Thankfully, we were able to put it to the test during our cross-country road trip down to a festival in Georgia.



First off, it's a breeze to setup. 4 super durable poles attach easily to each other, and then the rest just snaps into place. I did, however purchase some heavy duty stakes to anchor down the corners as the ones included seem a bit small.

We were confined to a 10x30ft area at the festival, and the medium fit just fine. We used it to sleep in, and it seems like 4 people could fit in there just fine. There's plenty enough headroom as well.



We weren't expecting much bad weather on our trip, but we got a hell of a storm during the last day of the festival. Torrential rain and howling winds for several hours put the festival on hold and had us taking shelter within the tent.

While water had come up and flooded the ground, the tent stood fast and kept us safe from the rain.



Huge mesh panels keep the air flowing, but you can close all of them up when it's time for some privacy.



Step up your glamping game by powering your base camp with some solar panels and solar powered generators too. While our festival neighbors are sitting in the dark like cavemen, we dined and partied in style using speakers and strings of LED lights powered by our Goal Zero Nomad 15 panel and Yeti 150 generator
The best Screenhouse I've ever owned..
Gender:

Male

Familiarity:

I've put it through the wringer
Let me start by saying that for a $115.00 you will not find a better product for the money.. Our Kelty Screenhouse has been the best piece of equipment that we have ever bought, we have set it up and used it in 50MPH winds and it held up like a champ without any bending or folding of the shelter, little did we know when we bought this that it would become one of our most valued pieces of equipment, when we were at June Lake, Ca (April 2014) it started to snow and we rode out the storm nice and warm inside with our propane lantern as our only source of heat, the inside warmed up in about 10 mins flat, as the night wore on, we knew that it was going to be freezing outside so we had an idea of putting this over our tent as a secondary cover and to our surprise in wind gust up to 50 MPH this shelter didn't even move at all and was sturdy, even with 2 inches of snow on top it held up fantastic! As a result it kept our tent underneath at least 30 degree's warmer. So now we use it as a screen house in the day and a top shelter over our tent at night with room to spare for dressing in the morning. The poles are excellent and thick, it sets up very easy - in about 7-8 Mins, and with double doors and windows you still have a view of everything around you, it fits right over a standard size picnic table with room to spare and it's tall enough for a person 5'10 plus to stand in without any problems. This weekend we set it up in the backyard with our Glass outdoor table underneath with our lantern on top and had dinner with 6 friends inside and it was wonderful.. This is one piece or gear I will never go anywhere without if I can help it.

My wife love's it and says it is the greatest thing ever, so that being said, I will be buying 3 more, one for the house and one for each of our mothers homes. So the bottom line is, you will not find a better built roomy top quality screenhouse for the money, do yourself a favor and make your other half happy, and just buy one! :-)


Does it have a bottom to sleep on ?
Does it have a bottom to sleep on ?
Hey Jeanie,



The Screenhouse is more of a shelter and has a open floor design without material on the bottom.
What is the weight and pack size of the...
What is the weight and pack size of the medium sized screenhouse ?
Minimum weight: 14 lb 5 oz / 6.49 kg. Packaged diameter: 8 in / 20.32 cm
Packaged Length: 24 in / 60.96 cm
What is the weight and pack size of the...
What is the weight and pack size of the medium sized screenhouse ?
Here you go

Packed Size: (medium) 8 x 24 in, (large) 8 x 26 in
Weight: (medium) 14 lb 5 oz, (large) 17 lb 2 oz
Good quality but a bit low
We failed to set it up the first time. It's not very intuitive and we struggled for about 15 min under rain (and we set up many tents before). We tried again at home a few days ago, and worked it out. It seems it needs 2 people to hold at both end of the side poles to squeeze it up into position.

The quality is very good, solid materials and strong poles, seams are tight woven (not sure if all water tight) and should last for years. The downside is the height. I'm 5'7 and my head could touch the center area when standing inside. Of course if you are sitting inside and cooking stuff, it's not an issue at all.

Give it 4 star because of the setup instruction wasn't clear enough, and it could be higher inside.
The screenhouse does a great job of keeping out the bugs. I just got back from a mosquito-heavy trip in the Uintas, and we were always able to take shelter in the Screenhouse to keep from getting bitten. Very effective at keeping out the bugs. And quick to set up - it took about 10 minutes to set up the first time, would probably be under 5 minutes in the future.

I've deducted 1 star b/c the tent can get hot (i.e., hotter than outside) when there's no breeze or just a light breeze. This is because the mesh is a very dense, which probably helps keep all the bugs out, but it also blocks light breezes.

Also, this is definitely best for car camping as it's quite large and heavy.
I looked high and low to find a good screen shelter as an accessory for our Teardrop Camper. Most that I saw were too cheaply made, too small, too big, too difficult to assemble or didn't provide privacy.

Being that our teardrop camper is small and mainly for sleeping; I was looking for a shelter that could double as a dining area and also provide us privacy while changing. The interior flaps allow us to easily convert this screen tent into a privacy shelter.

The quality is first rate – equal to equipment of much higher price. The shelter can easily be assembled and dismantled in minutes even by one person…and have done so many times. Assembling the shelter is even easier with two of us at the task.

I've used the shelter a couple of times and am very pleased. Based on past experience with tents of lesser quality, I anticipate many years of use with this shelter.
Good sunshade, May not hold up to weather
I took this on a camping trip recently where we experienced relative high winds (20-30 mph). I used all the down guides, which worked pretty well. It didn't blow over. I knocked off one star because the roof is "droopy". If it rains, the water will pool up. I have a multi-purpose aluminum extension pole that I will use (with a towel balled up on the top to prevent tearing) which should solve the issue.
What are the "roll down shades"? Are these...
What are the "roll down shades"? Are these nylon covers that fit over the windows and do they provide privacy? Are they installed from the inside or the outside of the shelter?
Best Answer
Laurier,
These are nylon flaps mounted on the bottom inside of hte screen that can cover the entire screen portion on each wall. They can provide prviacy and some protection from the wind and low-angle sun. If you look at the image above you can see them rolled up at the bottom of ecah screen portion.
My initial impression of the Screenhouse was impressive! Previously, my family had been using a WalMart bought, pop-up shade canopy. The transition to the Screenhouse significantly reduced the cargo capacity needs of our vehicle and significantly increased functionality. Now, when rain, wind, sun, bugs, cold become issues, we simply close up the Screenhouse and the whole family is protected. Additionally, we can now move all car camping gear into the Screenhouse when we depart for the days events with much less worry of damage or disappearance.
Vertical walls on the two door sides and near vertical on the ends. Usefulness of all interior space was incredible!
Overall stability of the Screenhouse was amazing. Between the exoskeleton and the abundant stake-out points, stability was never a concern.
Setup was a breeze. The exoskeleton was easy and very self-explanatory.
Happy wife happy life. Need I say more????
How do you keep water from pooling on the top of the screenhouse when it rains? I'm afraid the weight of the puddles are going to break the frame. It snapped the 3 way corner, but did not break it. Completely useless in the rain unless you can stand inside and continuously push the puddles off.
What are the dimensions of the medium and...
What are the dimensions of the medium and the large units?
(medium) 108 x 132 x 74 in, (large) 132 x 156 x 76 in
(medium) 108 x 132 x 74 in, (large) 132 x 156 x 76 in
(medium) 108 x 132 x 74 in, (large) 132 x 156 x 76 in
Is this the medium or large thank...
Is this the medium or large thank you
Sean.maguire79@gmail.com
It is for both. Use the select options to choose which one you prefer.