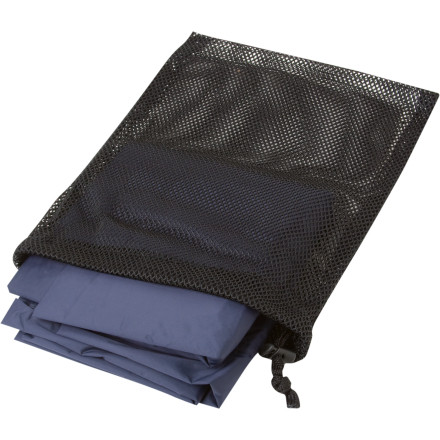 What do you think about this product?
Have questions about this product?
This footprint is ok and does its job. First of all, it covers most of the floor of the tent besides the edges which is ok. Second of all, like Michael Wellman said, it has 4 buckles that could in theory be used to pitch the tent lighter using just the fly but they don't match up to the fly. It's annoying and looking back I would have probably just purchased a lightweight tarp and cut my own footprint to also include the vestibules...oh well.
The footprint has 4 female buckles on them that have no purpose because they do not fit any of the male buckles on the tent or fly. It seems that the buckles were put on for a fast fly option but after contacting Kelty, they confessed it was a worthless design. Size and weight were fine. I used an old tarp I had and cut it to fit the footprint and the vestibules. Much better option because it keeps your gear off the ground while under the vestibule. If you make your own be sure to keep it just shy of the actual size so rain doesn't puddle underneath the tent.
Why do you not disclose the size of these...
Why do you not disclose the size of these foot prints. I have an older tent and would like to get one close to the floor size. This is impossible without the dimensions of what you are selling
I agree, the dimensions of the footprint should probably be listed. I'll see if that can be updated in the future. If you are looking for a specific footprint for an older tent try a google search or call the Kelty warranty dept at 800-535-3589. Hope that helps.