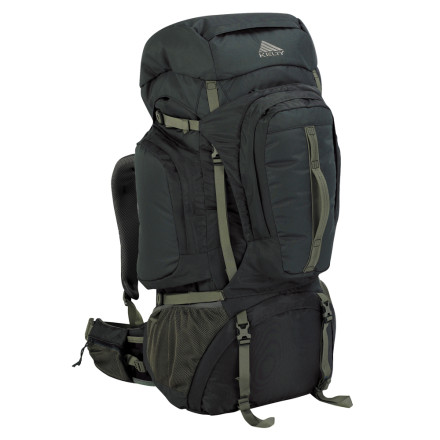 Community Images
When the time comes to take everything, including the kitchen sink, into the backcountry, you'll be able to pack it all into the Kelty Red Cloud Backpack. This massive bag is designed to hold all the gear and food you need for an expedition.
Cloudlock II suspension lets you carry heavy loads in high comfort by allowing the weight to move with your shoulders rather than against them
Quick adjustment torso system enables you to easily fit the pack to your shape and make changes as needed
Large front pocket accesses the main compartment so as to make gear organization simple
LightBeam aluminum stays evenly distribute the pack's load
Zippered side pockets keep snacks and rain layers handy
Top-loader removes to convert to a summit-day lumbar pack
Hydration-compatible sleeve and mesh water bottle pockets so you don't go thirsty
Stabilizer straps keep the pack's contents from shifting
Great until it fails - soon
This is the least rugged pack I've ever owned. I bought this after two back surgeries, so I'm carrying the least in my entire life. The biggest problem is that the internal frame rests on their thinnest nylon, totally not reinforced - even a little. So if you hike a lit, the rubbing action makes the frame stick out the bottom and the pack fails. I've included a picture.

And lots of the stitching around the zippers has come undone.

I sent it back for repair, and they told me that they couldn't fix it. So I'm using my old pack.
First trip using my Red Cloud 5600-6665cu in. I backpacked 15 miles total, and I packed it to the brim, bag, tent, mess kit, 1st. aid kit, food,fishing gear, H2o bladder, Platypus H2o purifier etc., and man those load lifter straps and pads work my shoulders didn't hurt one bit when i got home, make sure you fit it when you recieve it read all the instuctions. you'll be happy
Awesome pack
Gender:

Male

Familiarity:

I've put it through the wringer
This pack is a perfect pack for enthusiastic hikers that don't want to break the bank. I have had several packs and this is by far the best one by far. It is perfect for a 2 day hike or a 5 day hike. The straps and frames are very user friendly when comes to adjusting them. This is a very tough pack that is meant for rugged terrain.
Just Right!
Gender:

Male

Familiarity:

I've used it once or twice and have initial impressions
This pack is a work horse! Tons of room and the 2 side pockets and the sleeping bag compartment is why I chose this over the Coyote 80. Only 1 pro and 1 con. The pro outweighs the con though. This pack is so comfortable once you get it dialed in. Took it on a 7 miler packed with about 20 + lbs to try it out so I could decide if I was going to keep it. Super comfortable. The con is this:about every 200 yds the waist belt needed tightening and the shoulder straps also. Not sure if the 14 degree temps had anything to with the grippiness of the straps though. Love this pack and I'm keeping it!
I bought this pack for a week long trip and it's great. I could fit enough clothes, food and fuel necessary, along with climbing gear. It is comfortable even when loaded with 70lbs. This pack does not fair too well on shorter trips. When loaded for a weekend outing, the load shifted pretty badly, and the top pouch moved around a bit too much. Also, it is hard to find rain covers that fit over this pack. Overall I love this pack for long hikes and camping trips.
I've had this pack for a while, in Charcoal. It is my go to weekend trip bag, I love it.
I have had my RedCloud 5400 since 2003. The pack is very durable and can hold a LOT of gear (if you fill it, you probably packed too much). I have used this pack for Philmont and many scout trips when I was younger. Now, the majority of my trips are week-long trips and it has held up through them all (Grand Canyon, Shenandoah, Rocky Mountains). This pack is a great backpack for those new to backpacking. The downside to this pack is it is heavy compared to the more expensive packs (Osprey, Gregory, etc.)

This pack is very easy to adjust the straps and I feel it has the right number of compartments. The hipbelt is very heavy duty and I find the pack to be pretty comfortable.

All in all, this pack is a great backpack for those new to the hobby. I think the bag is certainly on the big side if you will only be doing weekend trips. I would go more towards 4000 cu in. But, this will last you a long time. I know there are better backpacks, but I just can't part with the RedCloud. If you are an experienced backpacker, you probably realize there are lighter, more comfortable bags on the market which will cost a bit more $$$.
Can anyone tell me if they have had any...
Can anyone tell me if they have had any trouble with the mesh water bottle pockets on the side? I've had troubles in the past, and since switched to packs that have different material and this is the only real issue I can seem to find with this bag.
Zach,
The current design has very easy to use bottle pockets. It even has a small tab you can grab if you can't slide a bottle in. We also reinforced the bottom with a tougher material so the mesh itself wasn't abraded when you put the pack down.
Best Answer
I've had a lot of trouble with the mesh water bottle pockets. On my previous model of the Red Cloud, the mesh started ripping pretty soon after I bought the pack, and didn't really survive a summer of backpacking. Kelty has since replaced that pack with their new model of the Red Cloud (very nice of them!), but their mesh pockets are now sewn in half, rendering them useless to me since I can't fit a nalgene in them. I ended up taking a seam ripper to them so that I could actually fit a nalgene, but now the mesh is already coming apart. Very irritating. One of my few major complaints about this pack. It is a significant one though, I've long wished kelty would move away from the mesh
Does it have a rian fly or the option of...
Does it have a rian fly or the option of a rain fly?
It does not come with a pack cover but you can purchase one separately as long as it is big enough to cover a 6500+ cu in. pack.
I understand that this is a huge pack, but...
I understand that this is a huge pack, but can I fit all of my clothes and gear(sleeping bag, etc.) as well as a four person tent into it?
Best Answer
I can't imagine a trip, short of a full-on arctic expedition, that you couldn't pack for in this pack. I mean, the thing is almost 110L! Unless you're talking about bringing one of those steel-framed Wally-World tents that packs down to the size of a Volkswagen (and maybe even then) you will be scraping the bottom of your drawers to find enough clothes to fill the Red Cloud. You may have to pay a hobo to hop in as well. It's that big.
Dave is correct. With the 110L version you shouldn't have any space issues. The 90L will probably work just fine as well.
As previously mentioned, this pack is HUGE. It definitely causes me to be a much lazier packer, as I can just throw everything I want helter skelter into the pack, and not worry about running out of room. I lead scouting treks in the summer, so this pack is great for all my gear for two weeks (tent, sleeping bag, thermarest), as well as around 15 liters of water and half the personal gear of the chubbiest kid in the group. If your back can handle it, the Red Cloud can pack it.
This pack sure holds a lot of gear! I take 3 of my children out backpacking every summer and haul 2 tents, all the food and utensils and gear except their sleeping bags and pillows and clothes. This pack takes it all. It is easily adjustable to keep from getting too many hot-spots along the back, hips, or shoulders. The hydration bladder compatibility is very nice too.
I am a 6' 150lbs male that is looking for...
I am a 6' 150lbs male that is looking for an entry level expedition backpack with out overspending and quality in mind, is this a good fit for me?
Thanks
This would make an excellent pack for you, it has all the pockets and features that any backpacker would need.

The top pocket is removable with an integrated waist belt to turn it into a lumbar pack, side pockets for stashing smaller items, front pocket with organization to place items that are needed readily through out the day, hydration compatible, and an adjustable torso to fine tune your fit.

I would suggest the m/l size for you.

Kelty products are incredibly durable,well built and come with a limited lifetime warranty.
Best Answer
I agree, this pack should be big enough to fit anything you can think of inside it! This (the 5,600 version) was my first pack and I was happy with it. Kelty makes a durable, rugged pack that will stand up to the challenge. Also, these can usually be found for cheaper, at least when I got mine they were. Mine was listed at $199 but I ended up getting it for $129.
What are the options for strapping things...
What are the options for strapping things to the outside of the pack? My tent, while small, is a little long and narrow and I would prefer to be able to attach it to the outside of the backpack so I can have more room on the inside.
There are 4 viable options. A tent can be easily attached to the side using the compression straps. However, you will lose the use of that side pocket. Outside or underneath the sleeping bag compartment using the vertical compressions straps will work. You can also attach it under the top lid.
You can also slide the tent poles underneath the side pockets, and then put your tent in a compression stuff sack inside the pack.
I got a cheaper pack and it is large too. I have wanted a Kelty and found it cheaper than anywhere elsewhere else. I transferred all my stuff over to new Kelty and was shocked with all the area that I had left for other things now. It is packed with usually stuff and I have more room that I need. So I am happy... It travels well without much shifting after everything is tighten down. I would recommend this backpack to anyone. I am about to go on a 15 day trip in the Canyon in another state and I know I have the room to pack the needed clothes, food and equipment now. Get one it is well worth it.
I need to carry near 100 lbs. in this pack....
I need to carry near 100 lbs. in this pack. Will it handle it? Am I going to notice torn seams after a few expeditions? Is there a pack that's even sturdier than this? I just need something that will consistently handle 50 lbs. every single day, and 100 lbs. in a pinch.
This is right up there with heavy duty load handlers. Other alternatives would be the Gregory Denali, Arcteryx Bora 95 or the Osprey Argon 110. I know the Bora and the Argon really well. Both are brutally large, carry well with partial loads (100lbs vs 50lbs) and are two of the toughest made.
Any pack carrying 100lb loads is going to fail at some point, given that Outward Bound is starting to use Kelty packs, so that should say something to the durability.
The Gregory Denali Pro is the most widely sold expedition heavy hauler around. Check its customer ratings on a variety of sites; no other pack has ratings as high as this one. The Mystery Ranch Kodiak and NICE 7500 are also extremely rugged, but are heavy and very expensive.