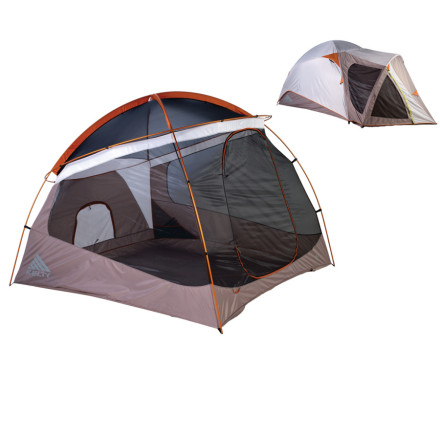 Detail Images

Community Images
When the nights are hot and sticky, the large mesh walls of the Kelty Palisade 4-Person Tent provide crucial ventilation and air circulation. On those warm, clear nights leave the fly off and teach the kids the major constellations. Since the weather isn't always cooperative, Kelty designed the fly with a spacious vestibule to keep gear dry. There's enough room in the vestibule for one or two people to escape swarms of bugs or watch the rain fall.
Color-coded clip-sleeve design makes assembly simple and quick
Tent features gear loft, loops to hang lantern/light, and internal storage pockets
ArcEdge floor design keeps the taped, wall-to-floor seams high off the ground to prevent the possibility of water penetrating
Tent fly has dual-door access, vents, and cup holders in the vestibule for convenience and comfort
Vented, vestibule area for gear or room for one or two people to relax under cover
Freestanding design makes set-up, placement, and cleaning easy even for novice campers
This tent totally rocks. Once set up its a very spacious tent with lots of head room. It was a little tricky to figure out the fly but that was the only issue i had. It rained alittle bit on my trip and everything stayed dry. The one thing i was amazed was that during the nite i accutally got a breeze thru the tent which was nice. This tent is totally worth the money. The vesituble is quite large. I got lots of comments on this of how nice it looks and how big it is. Get this tent u wont be dissapointed at all.
Moab Trip, Not the best tent
This tent was extremely hard to set up, and I dont believe that one person would be able to set it up alone. While on a mountain bike trip, camping in Moab in May, it was really really windy and this tent did not do well at all. It flattened down like a pancake more then once, and one of the poles broke in that wind storm (the circular pole). Not only did it not withstand the wind,but it filled with sand 100 times, because the entire tent has mesh side walls and the fly does not do a good job of securing it. I believe it is just too big to camp in and sort of wind.

This tent is big though, and has tons of space, and I believe it would be good on a camping trip where you know for sure there will be NO wind.
The only complaint about this tent is that it was hard to put up, and I don't know if one person could put it up alone. The wind was strong and I didn't stake it the best but I had gear in it too, and the wind blew it 15 feet over and it still held its shape.
We purchased this tent after reading many reviews. It is hard to put up, falling apart after just a few uses, and flattened like a pancake in a wind storm. It is so not what I would have expected for the price. Save your time and money and go with a different tent!