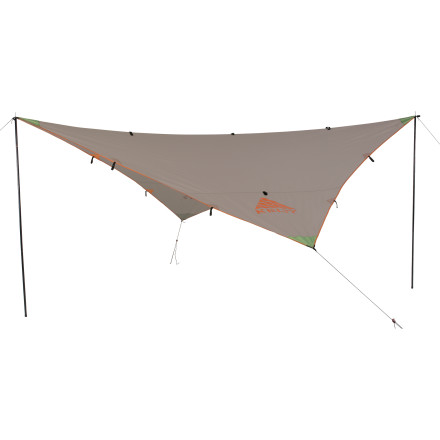 Colors

Community Images
Although the Kelty Noah's Tarp won't shelter two of each animal in the forest, it's certainly spacious enough to shade a couple of weary hikers from the mid-day sun and offer protection from unexpected rain showers. Whether you stretch it between two trees in an alpine meadow or utilize a couple of extended trekking poles in a sparse desert landscape, the Noah's Tarp provides versatile sun and weather protection you can count on.

Taped seams and tough polyester material protect you from the sun and rain
Multiple guyout points provide versatile set-up options
Guyline adjuster helps you keep the tarp taught
Poles not included
Our last hiking camping trip was a success because of the Kelty Noah's tarp. We had two nights of down pouring rain and we stayed dry and comfortable having a great place to sit and keep our extra supplies dry as well as dry firewood for the morning campfire. We will not be camping without this great tarp from here on out!
GOOD QUALITY PRODUCT!
Familiarity:

I've used it once or twice and have initial impressions
GOOD QUALITY PRODUCT!
Good quality product!
Familiarity:

I've used it several times
I bought the 12' Noah's Tarp for a very specific use: camping with my Cessna 172 airplane. I used it for 6 days straight, draped over one wing and supported by two Kelty Staff Tarp Poles. These are steel poles that are heavier but less expensive than the folding aluminum poles that are recommended for use with this tarp. This setup worked great, and provided valuable sun and wind protection to my under-wing campsite. Once the tarp was taught, there was no stretching, and it seemed very well made! Included stakes are of high quality. The only thing I found lacking were the quantity and length of included guy lines. There are more attachment points than included guy lines, and for my purposes I needed to use more lines and stakes than were provided. Anticipating this, I had extra line with me, so it was no big deal. However, setting it up over an airplane is a unique use, and for most setups, I think the number of lines included is probably adequate.
Used the 12' version for a group of 6 during a canoe trip this spring in Canada. Perfect size for 6-8 people to have a dry spot during meals in wet weather. You'll need a length of paracord to serve as a ridge line, and to ancor the two lower ends. 50' is more than enough. Wish it was a little lighter but overall the quality makes up for the weight. Will easily cover over a tent to set up in rain if you have that kind of luck.
Purchased the 12' size days before a backpacking trip in mid-Missouri with rain forcasted for both days of the hike. Pitched it over my hammock and it kept things nice and dry. Easy to set up, but if you're using it for a hammock rain fly, select the 9' size and pitch it on the diagonal...the 12' size was just too big and heavy for backpacking.
Nice for the weight
Familiarity:

I've used it once or twice and have initial impressions
I just bought this thing today (5/25/15) so it may be too early to talk but it is perfect! I set it up in my backyard over my hammock and it sits amazingly. The packaging it comes in is really nice but do not stuff it in, you definitely have to fold it before putting it in the packaging. The little pocket with velcro for the stakes and guylines is perfect sized. I love this product and Kelty will be a go-to for future investments.
Fantastic tarp all around.
Familiarity:

I've put it through the wringer
I bought the Kelty 12 to use in conjunction with my hammock. Instead of hanging it on the diagonal, I hang it "taco" style with it draped over my ridgeline. With the tarp hung this way, I can close the ends of the tarp in if it is windy or cold and make a fairly good shelter.



I used this tarp in the mountains hammock camping one night and it did a great job keeping the snow off of me. Many times it has done an excellent job keeping the rain off and working as a wind break.



Getting it back into the case is not a problem if you fold it and don't stuff it. The case is nice because it keeps the tarp small and carries the stakes, guylines, and the paracord that I've added for more guylines.



I don't go camping without this tarp because it is handy to have and a breeze to set up. If you want a great tarp that keeps the rain, snow, wind, and sun off, this is the tarp to get.
Awesome Tarp...and it's not gray!
Familiarity:

I've used it once or twice and have initial impressions
For once I'm glad something wasn't as advertised. This tarp isn't gray at all, but more of a brown color which means the giant Kelty logo doesn't stand out so much. That being said, I think the tarp is great. The 9 is the perfect size for the hammock and it seems really well put together. Mine came with stakes rather than the figure 9 guy-line adjusters which was disappointing. I see a lot of other comments saying they got them, so I was kind of expecting them. Other than that, I'm pleased with the purchase.
16 footer is surprisingly strong.
Familiarity:

I've put it through the wringer
Carried the 16x16 on a boy scout trip--their first "backpack" style outing, so I brought the tarp as a backup. Glad I did: the sky absolutely OPENED UP. Hardest rain I've ever seen... and the tarp took it like a champ, channelling gallons of water. (No joke: at any given time it might have have 5-8 gallons of water weighing it down because of my not-terribly-neat-but-oh-no-the-sky-is-falling pitching job. Impressive.



Around town, I've strung it up in my backyard to provide shade during cookouts and large family gatherings.



Bottom line: this tarp is surprisingly strong and though heavy, not too bad for its size. The 16x16 is HUGE and only about 3lbs. Lots of tie down spots, solid stitching, taped seams. The cordage is extra thick/strong and there are tensioners on all lines. And I even like the color.
packable!
Familiarity:

I've put it through the wringer
I use this in The BWCA in northern mn...and it gets rainy up there alot..Great wind break on dry days as well..no poles. but has eyelets for some pcord and a figure 9 around a tree.. great product...just keep up on re applying waterproofing!
is this waterproof? i.e. all day/night...
is this waterproof? i.e. all day/night rain?
Best Answer
Yes, this is a waterproof tarp and will keep you and your gear dry underneath, unless there is flooding at which point I suggest finding a boat.
Its waterproof for a while. if you don't keep up on spraying campdry on it it will slowly become water resistant...i have it and i use it every trip..i have never gotten wet under it but it does get damp!
error in description
Familiarity:

I've used it several times
Good shelter, a little heavy though. Used it a couple times and my only major gripe is the description lists figure 9 for the guy lines. Doesn't actually come with any.
9ft is just about perfect
Familiarity:

I've used it several times
I just picked up the 9 foot and it is pretty sweet. Great sunshade/rain protection. Lot's of set up options and styles. Tons of guy points.
Great for just about anything
Familiarity:

I've put it through the wringer
I take this tarp backpacking and it works great. If you are in a wooded area you don't need any extra poles. I usually hang this from 4 trees if available. I have the two main ends (the ones with poles) over my head and the other two ends about low face level. It gives me a nice big usable space underneath and does a great job letting rain run off. It is nice and lightweight for backpacking.



You can see in the picture the dry ground underneath.
This is a good entry level trap. I've used the 9x9 as a bivvy shelter on a few occasions now. On one of those occasions it was for three days of non-stop rain and it behaved just as expected (dry).

There are much more expensive tarps, but unless you are counting grams and not dollars this is a fine option.
Anybody use the 16x16 for base camp tarp?...
Anybody use the 16x16 for base camp tarp? How sturdy are the poles on this size tarp in moderate wind?
Poles are not included on this tarp, you have to buy them separate if you want to use them. I personally just tie mine to some trees and it is pretty stable. If the wind starts to kick up you can add some additional guy wires and stakes. As you can see from the picture this tarp has several other places to add additional lines to keep it in place.
Best Answer
I have a 12x12 and a 16x16. I've used the 16x16 tarp about 8 times last year. It's amazingly strong for it weight. Had 3 days of strong cold wind that broke several tent poles in the camp with up to 35 MPH. I folded it in haft " like a taco" and used if for a wind break in front of my tent. It held up great. The other camper were amazed. It was no big deal with all the optional guy points. I'm on line now thinking of getting a 8X8.
My kitchen/playroom/bivouac
When I set up camp this is our kitchen. When the weather's a bit undesirable the boys, 3+6, love to play under it. Which is cool cause me and mom can go play in the tent. Plenty of connection points so set up is only limited by your imagination. It comes in a great little pouch with its own stakes and lines. Good piece of gear. This is not the lightest but to get that spend another hundred (or two) and enjoy the 4-5oz weight loss. Ken