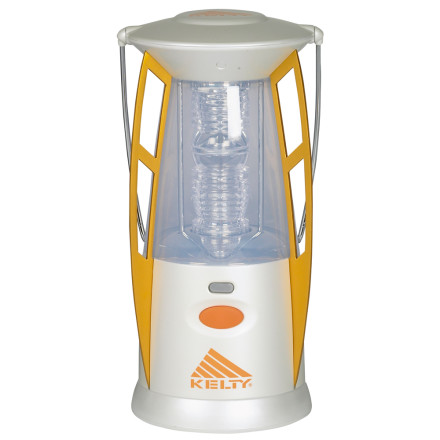 Detail Images

Community Images
Whip out the Kelty LumaCamp Lantern when you arrive to your campsite after dark and need some light to set up camp and make dinner. This weather-resistant lamp has a hook-shaped bail allowing you to easily hang the LumaCamp from a branch. Its two Cree LEDs enable the LumaCamp to throw off a maximum of 170 lumens of light, and can last up to 172 hours. An advanced rheostat switch also enables you to dim the light to your desired level, so you can either bright up the whole campsite or turn it down when telling scary stories.
Requires four D batteries, not included
The photo says 170 lumens of light, and...
The photo says 170 lumens of light, and the description reads 392 lumens... Am I missing something?
Best Answer
Hey there,



Sorry for the confusion. This lamp has a max output of 170 lumens. We'll get that fixed right away.
Awesome lantern
Familiarity:

I've used it several times
Great for camping or when having a campfire. It is a bright light but also has a dimming option which is nice. I love the look and is pretty light weight.
Excellent light
Familiarity:

I've used it several times
This light is BRIGHT. Yeah it requires 4 D batteries, so what? If you're buying this light then the chances are you're car camping, and if you're car camping, then why worry about things like gigantic batteries? Don't second guess it, just buy this bright ass light and put on an epic puppet show---or whatever you're into.
this is a large bright lamp super nice in a big cabin tent. Light for what it is.
This light was perfect for my camping trip. I didn't have to worry about a propane lantern this year or worry about the light getting too hot. It is easy and convenient. Perfect for finding your way around the camp ground in the dark.
4 D batteries? That is crazy. At about 200...
4 D batteries? That is crazy. At about 200 grams a battery, I will be at 1 lb in batteries to take?
Best Answer
Dwayne, yeah its more of a car camping lantern due to the weight and size:
Weight: 26.8 oz / 760 g
Height: 9.8 in / 25 cm
Width: 5.1 in / 13 cm
Depth: 5.1 in / 13 cm
Also you would actually be carrying almost 2 lbs of batteries if they weigh 200g/battery (1lb=448g)!

Pick something else if you are using it for backpacking...
Yeah, I have a black diamond, that is very light, but I like to leave that one in the tent, I was kind of hoping to find something for the fire/food prep area, any suggestion?
Hi Dwayne, I recently discovered the uco flip lantern. It is a small led lantern, a little smaller than the black diamond apollo and lets off an amazing 185 lumens off of 4 aa batteries, lasts much longer than the apollo on the same # of batteries, and is lighter as well. It also has the ability to "flip itself" into flashlight mode by rotating the inside upper assembly which houses the led, allowing it also to be used as a diffused lantern when hung upside down in this configuration. In my opinion, this rugged, waterproof lantern is the best out there hands down, and I have researched them for months. I have one and love it so much im buying two more. I Wish backcounty would stock this item. Check it out, and good luck!
, ☃bcs_badge_alumni_label☃
Packaging Info