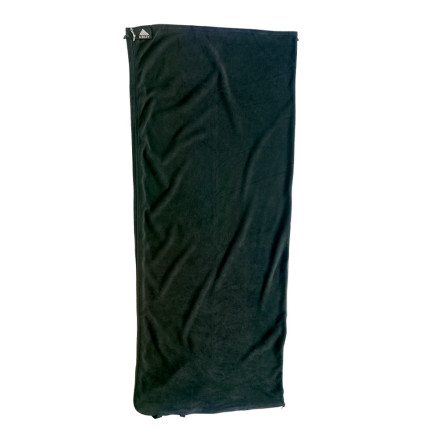 You don't need a full quiver of sleeping bags for sleeping outdoors in different seasons; the Kelty Fleece Sleeping Bag Liner adds insulation to expand the functionality of your existing sleeping bag. The wicking, quick-drying Sleeping Bag Liner keeps you 10 to 15F degrees warmer in cold weather; it can also be used as a lightweight alternative to a sleeping bag on hot August nights.
External snap loops help you attach the Liner to the inside of your sleeping bag
Full-length zipper allows you to vent if it gets too toasty, or to unzip it all the way to use it as a blanket
Integrated roll-up straps and an included stuff sack make it store and transport
What are the packing dimesions?
What are the packing dimesions?
Can two fleeces be zipped together to make...
Can two fleeces be zipped together to make one family bed?
Yes, 2 liners can zip together to form one big liner.
This is bulky, roomy (5'4",115lbs) and not terribly warm. But it's amazingly cozy.
Zooming in I took a shot that it would mate to my summer slumberjack diablo sleeping bag and it does. It uses a #8 zipper which is pretty standard. I ride a motorcycle cross country and encounter many temperature changes so I wanted to have a light summer bag to carry and use this as a liner to increase it's temp rating which is does nicely. So nicely in fact that my 40 degree extra wide summer bag has been toasty down to 18 degrees. Although it was helped with wool socks, long johns and a technical top similar to under armour (Sub Zero).

This is NOT a thin "liner" like some others. Which you can see by the stuff size and weight. It is very thick and plush which is exactly what I was looking for. It is also a tad wider than most at 34". But it is stretchy.

It's useful as a ~50 or so degree liner as long as you're out of the wind. This fleece is not windblocker fleece.