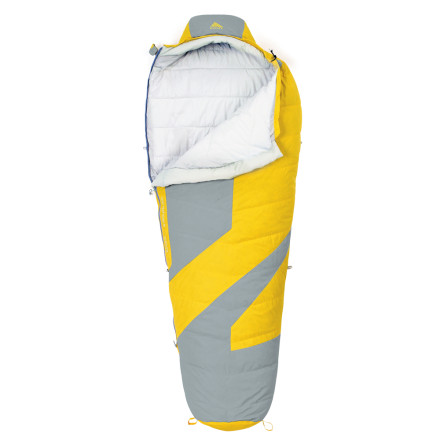 Lightweight and ready for summer trails, the 40-degree down Kelty Light Year Sleeping Bag maintains your body's warmth as you sleep under a cathedral of peaks. At just two pounds, the Light Year lets you cash in on the packability and insulating power of 600-fill down without breaking the bank, busting your budget, or forcing you to siphon off funds from your kids' college fund.
Rated to 40F, this bag is best suited for cool summer nights or for spring and fall use in milder climates
Tough nylon ripstop outer shell withstands trail abuse
Chevron stitching and slant baffle construction prevent the down from forming cold spots
A zippered draft tube, an adjustable hood, and ground-level side seams seal you off from chilly air
Two-way 3/4-length zipper reduces weight while allowing easy entry and exit
A zippered chest pocket stows your headlamp in case you have to get up at night
Ultralight compression stuff sack packs the bag down to 7 x 11 inches
This bag compresses very small, and is lightweight. Perfect for summer nights and even fall/spring on the right night. What more can you ask for? It is comfortable and for the price it cannot be beat. I would highly recommend this bag. I'm not a huge fan of Kelty products, but this bag simply can't be beat for the price and for the role of a lightweight down summer bag. I am 6'3" and the large accommodates me well.I have only used it 3 times, but it seems like it will hold up for a long time.
Used this on the Appalachian Trail in 2012 as my summer bag. Had it sent to me in Damascus, VA and changed back to my North Face Blue Kazoo 15 degree in Hanover, NH just before starting the Granite State! Nice and light for backpacking and held up well for 3 months. There were some nights in PA, NJ, NY and CT where it was too warm to sleep inside, so slept on top in my liner, but was glad to have it as even in the summer months we got a few thunderstorms that left me drenched and it was great to climb inside to warm up. A few nights it did dip down low enough to actually climb inside in the middle of the night. Great summer bag and nice and light. I'm 5'9" and have broad shoulders and the regular was perfect. Also, I have the prior model, but I think the only thing that has changed is the print scheme on the outside (mine is all yellow).
Packs down really small making extra room in my backpack and works well right down to temp rating I suspect. The coldest it got when I was using it was 45, but I was sleeping naked in the bag and was completely comfortable. 3/4 zip is nice for warmer nights...I guess full zip would be preferable, but it does the trick. I wasn't sure why there was a big bag attached to the inside of the sleeping bag at first, but recently realized that it is for storing the bag in the long-term. The compression bag works great and it is cool to show off how small the bag packs down, but don't leave it in there all the time because it is bad for the loft. The big bag is also nice for stuffing your clothes in so you don't have to search for your socks in the morning. I bought this bag after I had already purchased the Lightyear 20 and realized it was way too warm for most of my adventures. Together these bags will work great for a wide variety of weather conditions while still costing less than a single high-end down bag.
Why is it that the long sleeping bag is a...
Why is it that the long sleeping bag is a tiny bit MORE expensive than the Reg? Just curious
Best Answer
More material, more down, slightly more labor.
Sorry. I asked the wrong question. That's what I would normally assume, however this bag is more expensive in the Regular size than the Long length bag. Why so?
That changes things a bit. Might have been just a screw up, and BC might have fixed the discrepancy today, but the price is now $119.96 for the reg and @127.96 for the long. Seems right to me.