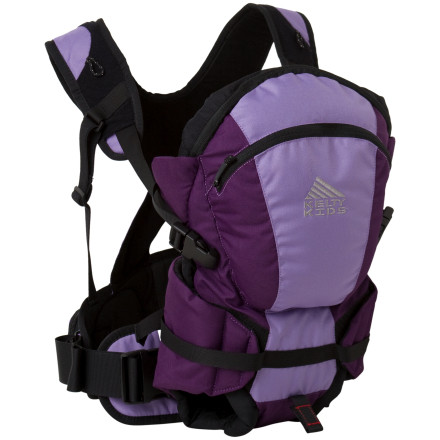 Detail Images
Excellent baby carrier....
This is an excellent baby carrier. I used it with my daughter until she was about a year and a half. As she grew she enjoyed the forward facing feature. It is very easy to get your baby in and out of the carrier alone. I shopped around for a carrier before purchasing this one and found the Kelty was high quality with ample padding. The padding is generous but not bulky.
I bought this to carry my nephew around when hiking. It's an overall awesome kid carrier, highly durable, a decent amount of storage space for say a Probar or other snacks for the child. I just wasn't able to get a good fit with it at all. I'm a bigger guy, 6'2 and about 270 and this fit with no room for the child to get into the carrier. I ended up having to give it to my sister to use since it just didn't fit me well. Just know if you're a bigger individual this probably won't work for you. I'd suggest going with something that you carry on your back.
can this use on 30lbs kids?
can this use on 30lbs kids?
The maximum load is 25 lbs for the Kangaroo.
Couldn't get it to fit right
My wife and I both tried to figure out the harness system. We could never get it to sit on our hips. It always transferred all the weight to our shoulders. We had to send it back. Really nice pack and really wanted it to fit.
is this product good for newborns...8 lbs...
is this product good for newborns...8 lbs and up?
Absolutely. They may not be able to see out very well, and there's no neck support, but it'll work just fine.
This carrier is very comfortable on my sixty-one year old back. Adequate support and padding keeps it comfortable, even on warm days. The pullout sunshade is very effective in protecting my granddaughter from the direct, overhead sun. What could be better? Hard to say ... though it would be nice to have the ability to shift a child higher or lower with out adjusting the back support straps. What you get with this product is a very good solution to carrying an infant. I use it for about an hour and ten minutes of continuous walking daily.
I'm looking for a smaller and lighter pack...
I'm looking for a smaller and lighter pack that I can use everyday when we go for a walk or when I bring her older brother to the park, etc. It is for a 7 month old--any suggestions?
, ☃bcs_badge_alumni_label☃
This would be perfect for that purpose./
Nothing is better than an Ergo, for the purpose you stated.