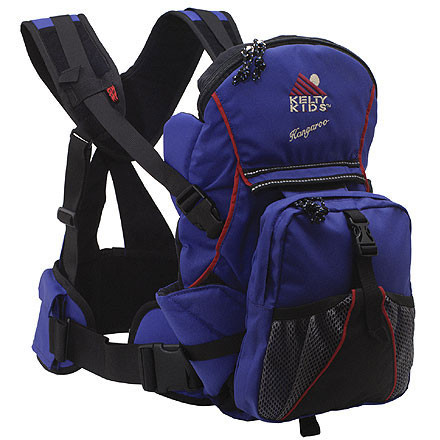 I couldn't be happier. Nothing comes close to this carrier, I wished I had it for all of my kids. My baby is coming in March and we are very active people with BoyScouts and GirlScouts and hiking, fishing and so on and this carrier is going to be a wonderful addition to our baby supplies.
I recently purchased the Kelty Kangaroo Kid Carrier and loved it. It was comfortable to wear and the pack on the front came in handy to carry the camera and some diapers and other baby stuff. The shoulders straps are padded so that the straps don't dig in to your shoulders. And you can strap the front down so when you baby faces away from you the front doesn't keep popping up and smacking your baby in the face. The pack is great for when you go out for hiking and only want to be a few hours.
I did a lot of research on infant carriers. I am a big guy who is very active, and I didn't want to leave my new little guy at the home. This thing fits me 6'0" 280, and my wife's 5'3" 125. It is that adjustable, and he loves it. It is very comfortable for all parties.
We love the Kelty pack. We borrowed one for older son and liked it so much we bought one to use for our younger son. It's very comfy for babe and mom, especially in hot weather. We use the adjustable straps for various positions—from walking to eating out!
So far I really like this carrier, although I have only used it for walks around our neighborhood. Here are the pros and cons that I see for the Kangaroo. Pros: love the hip belt, my daughter is 12lb and still facing me so I like the fact that if she falls asleep I can easily unclip her and lay her down without taking her out of the front part, the pockets are nice, we have used the pull-out cover to protect her from the wind and light rain, and it holds my baby more securely than other carriers do (especially when she was smaller). Con: it sometimes pulls on my neck and shoulders (it will be interesting to see if this bothers me too much as she gets heavier).
He likes it, he really likes it...
I didn't like what I saw at the baby stores so I decided to look online. I found the Kelty Kangaroo and liked the features. I received the Kangaroo three weeks before my son was born so I needed to improvise. I used a teddy bear as a substitute. Everything was fine, but I knew that it was nothing like the real thing.

When I did try it with my son, he loved it. He falls asleep in the carrier as soon as I begin to walk around. I won't say that I can't notice him when he's in the carrier, but it's a lot more comfortable than having to carry him.
I had not considered much about baby carriers because I had seen nothing that impressed me untill I spotted an older Kelty Baby Carrier. WOW!!! It was so cool. It has everything the rest are missing. Storage pack, adult harnes vest making baby detachable from adult, zip out head protection, pockets for parent.
What is best about the Kangaroo is that now baby can ride facing in or out.
Child carrier that both parent and child will enjoy
Our family takes 2-3 mile walks several times a week and though we have a stroller, I prefer the Kangaroo carrier and so does our son. We have tried other carriers, but this is the best one we have seen. It has a support harness that distributes the child's weight onto the hips, and away from the back. The feature that makes this carrier stand out from all the rest is the support harness. The Kangaroo is designed for children up to 28 lbs, and we have used it now for well over a year. The design is well thought out. One adult can singlehandedly strap in a squirming child. The child can face in towards the chest, or once the neck is strong enough, face forward. The child support pouch is comfortable and roomy for the child and has pockets for baby items and cold hands. The carrier is great for outdoor trails that are not built for strollers, and it has found use on shopping trips and other family outings year round.
Nice carrier. Fits the gap between stroller and the big pack carrier. I used it for about two hours at a local mall and she did fine and so did I (she weighs 18+pounds)
I have yet to use the carrier because our baby isn't here yet. But, I have compared the Kangaroo to practically all the popular carriers and feel that this will be the most comfortable and useable one for both adult and child. The independent adult suspension resolves much of the back pain problems the other carriers have.