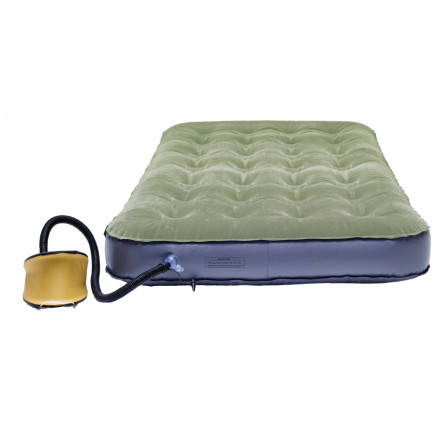 Feel a little bit closer to home when you stretch out on the Kelty Good Nite Airbed w/ Foot Pump. When a sleeping pad doesn't whisk you off to dreamland, the five inches of air and suede-like top should. Great for everything from your first night outdoors to your fifth night in your Aunt Rita's basement, the Good Nite is your one-way ticket to Snoozetown. The Good Nite includes a foot pump so you don't pass out before you ever get to fall asleep.
Nice mattress
Familiarity:

I've used it several times
We've been using these inflatable air mattresses for several years now. They are the best thing we've found for comfort. This one was comfortable and comes with a nice carrying case. The air pump that comes with it is almost useless. Make sure you have something that will work better.



All that said, we've had problems with them popping. This one was no different. Thankfully it comes with a repair kit. However, next time around I'm going to consider trying a cot so I don't have to worry any more about springing leaks.
50/50 chance for comfort
Familiarity:

I've used it several times
We bought two Twin Airbeds. The first night camping one was great and the other one went flat. The patches provided didn't work so my husband had to use his Mtn. Bike patch kit. Success! There truly is a 50/50 chance for inflation. They are very comfortable to sleep on when inflated.
mine cant stay inflated
Familiarity:

I've used it several times
good idea but not that great in practice. the foot pump is weak and annoying to pump but gets the job done. mine will not stay inflated and I do not use it anymore because of that.
mattress is good, the pump is busted
good mattress but the foot pump is amateur and it bust at the seams after second use. luckily backcountry's return policy is solid.
Interestingly enough probably what I like most about it is the case it comes in. Most air mattresses you have to figure out how to deflate it enough to cram it back into the deteriorating box but this comes with a nice roomy case which I was pleasantly surprised to find. The mattress overall is great.
The only thing keeping this from being 5 star is the foot pump. It is not like the pump pictured, but instead is incorporated into the top of the mattress bag. The mattress itself is nice and holds a set pressure all night long. Deflating is simple and quick.
Will the Coleman Rechargeable QuickPump...
Will the Coleman Rechargeable QuickPump work on this mattress?
Yes, electric and rechargeable pumps will also work with this mattress. The integrated foot pump is very efficient and unlike another reviewer, I really appreciate it being hooked to the storage bag. I own two of these beds - the first was purchased used on CL and liked it so much, bought another for my wife.