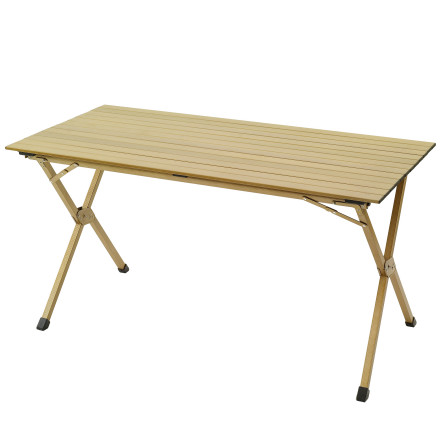 No need to rough it when you're dining al fresco with the Kelty Deluxe Roll-Top Table. This portable table transports easily, sets up quickly, and features adjustable legs that level the top on uneven terrain. When you're done with your campsite feast, the anodized top cleans up easily.
Why is it that the descriptions don't seem...
Why is it that the descriptions don't seem to include sizes? Knowing this stuff is important.
Most people don't care... even though they should.
Chris, is there something other than the listed specs that you are looking for?

Material: aluminum Dimensions: 55 x 27 in Height: 27 in Carry Sack: yes Weight: 15 lb Recommended Use: car amping, tailgaiting Manufacturer Warranty: 1 year
I've always wanted a rolla table, but thought I'd give this a try instead, and really like it. Used this for the first time tailgating at the drag races in Vegas, and you can put out a nice spread on it. Where it seems another square rolla tabel is always needed, this one makes for the perfect amount of space. When packed, it stows easily whether in the trunk, on your boat, or anywhere else while enroute to your next adventure. The carry strap on the bag is adjustable, so packing it over to the beach, or just out to your backyard is a breeze. If you're looking for a table for camping, and tailgating, this one does the job of 2 smaller square ones, sets up quick, and packs easy.
Kelty Deluxe Roll - Top Table
, ☃bcs_badge_alumni_label☃
Dimensions:
Length: 55" / 150 cm
Width: 27" / 69 cm
Height: 127" / 69 cm
Frame Diameter: 25 mm