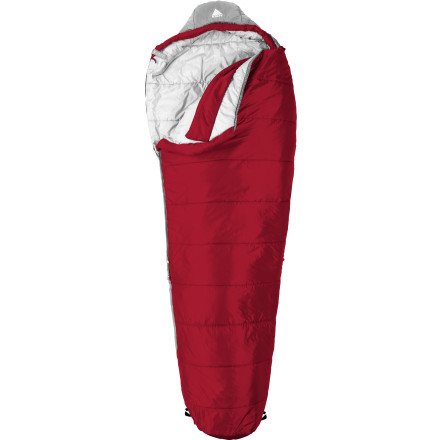 Clear, cold nights in the wilderness reveal the sky's great white Milky Way, and the Kelty Cosmic 0-Degree Sleeping Bag ensures you don't have to suffer to get such a view. As you slip between this mummy bag's baffled layers of synthetic CloudLoft Pro insulation you can let your pondering of the cosmos morph into dreams of galactic travels instead of staying awake and chattering your teeth.
Rated down to 0F, this bag is best suited for camping in damp winter conditions or spring and fall nights in the mountains
Synthetic insulation is more water-resistant and quick-drying than down for damp conditions
Polyester taffeta outer shell withstands trail abuse, while the two-layer offset quilt construction prevents the insulation from shifting or clumping and causing cold spots
A zippered draft tube, adjustable hood, draft collar, and ground-level side seams seal you off from exceptionally cold air
Internal liner loops and external sleeping pad loops allow you to attach accessories (sold separately) that can increase the bag's insulating power
Two-way, 3/4-length zipper reduces weight while allowing easy entry and exit
I hate the cold but this bag works
Gender:

Male

Familiarity:

I've used it several times
The darned thing works as advertised. As others mentioned it is a bit large for most backpackers but worth it with a stuff sack and a little imagination.

Usage Colorado and NM mountains.

6ft and 165lbs happy with the long.
Even summer in Utah has some pretty chilly nights and this bag fights the cold off. I am 6'3" and have fairly wide shoulders and this bag fits me fairly well. I will always complain that there is not enough shoulder room, but I'm a pretty big guy. Warm, easy to compress down with compression sack, and lightweight for a zero degree bag.
Any idea what size compression sack would...
Any idea what size compression sack would be good for this bag?
Best Answer
I use a 20L compression sack for mine. Specifically, this one in large: http://www.backcountry.com/sea-to-summit-event-compression-dry-sack
Much to my dismay, this bag was much too big for my winter trips this season (wouldn't fit on the outside of or inside my XS Gregory pack, let alone in the sleeping bag compartment...) Maybe a compression sack would help, but this bag is really just huge. Warmth-wise it's great, but size is really the killer here. I'll definitely be returning it since it unfortunately won't be suiting my backpacking needs. Cold-weather front-coutnry camping would be just fine with this though.
Great for my skinny girl
Gender:

Female

Familiarity:

I've used it once or twice and have initial impressions
My 14 year old has very low body fat, and gets super cold super fast. This bag kept her toasty and warm on a 40 night. Not sure we'll try camping in weather much colder (cause Mom's a wuss) but hopefully the 0* rating is true! Thanks Kelty, great bag!
not as light as a down but for a first bag or car camp bag its cozy and warm.
Get a good night's sleep in this bag
My son has exactly the same problem as the reviewer below -- bad memories of camping thanks to sleeping bags that didn't deliver anywhere near their rating. There's probably zero chance that he'll be taking it out in temps below 20F, but won't have to worry about 35F nights like he did with those other 20F-rated bags. Sure it's big--on top of the insulation, it's cut a little roomier, which he liked, too--but he's going to get a compression sack to pack it down a little. Best for car camping or short backpacking trips where size/weight is not a premium.
This is an awesome sleeping bag, hands down!! I got this sleeping bag because I froze my butt off in the the middle of the summer in the mountains, and I decided that I was going to let if happen again. It really helps to sleep warm before a long day of hiking and fishing, and with this sleeping bag it will start your day off right.

Pros; the pros of this sleeping bag are that it is warm, I have yet to get cold in it and I have slept in it with my tent was flooded from a full night or rain, I've woken up with frost on it and still being warm. Its hard for a sleeping bag to keep up with me since I live at 6,000ft and hike and camp close to 10,500ft. Another pro is that it has loops for a sleeping bag liner and loops for a mattress.

Cons: All in all I really like this sleeping bag and I don't have anything bad to say about it but it helps to show its cons. One con would we be that its a bit heavy 4-5 pounds top not bad, and it doesn't even feel that much. I havent been able to find a mattress that has loops but I use rope to keep me on my mattress and it works like a charm.

Other then that its a great sleeping bag would recommend it to anyone, just bought a pillow for it and I'm excited for the snow to fly so I can go test it and see if it is possible to get cold in it.
Pretty Good Bag - light enough, value priced
I bought this right after buying a Northface 0 degree Snowshoe sythetic bag.

This one isn't quite as light or as nice as the snowshoe but it's less money and the differences weren't that huge. I'm pleased and you will be too.

One glaring omission that you'll want to correct is the omission of a compression sack. It does come wth a regular sack, but when compressed it squeezes down nice and small - same as the more expensive bag(s).

For around 4 lbs in this price range, this is pretty good - especially if you already have a compression sack you can use to get it down to 'down' bag size in your pack. Go ahead, buy it.