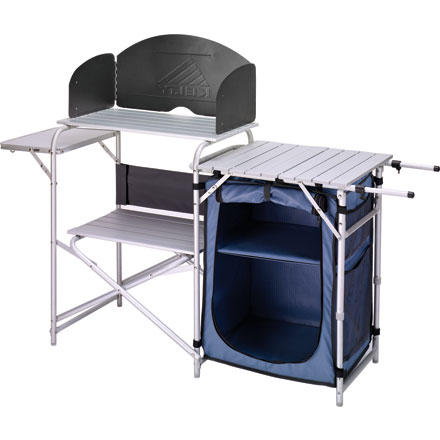 Community Images
Cooking on a handy flat rock loses its luster after a few days, so make your camp more comfortable with the Kelty Basecamp Kitchen. Whether you're hanging out in a Peru base camp or chilling with your family at the lake, the Basecamp Kitchen makes breakfast, lunch, and dinner a snap to prepare. Multiple platforms provide a place for stoves, plates, bowls, and anything else you need to prepare a serious wilderness feast. Thanks to durable aluminum construction, this Kelty kitchen holds an impressive 100lbs, not like you're ever going to put 100lbs of food on it, but it's nice to know you can.
Unanswered Question
I would like to know the height of the...
I would like to know the height of the main shelf that the windscreen sits on please. I know the specs list 31" as overall height measurement; but I would like to know for certain if that is the height as measured to the tabletop/shelf--or did they mean to the topmost part of the windscreen?? I would like to know if the cooking surface will be at a comfortable working height for us. If the height to the other table surfaces is known, that would be welcome information also. Thankyou!!
I got this setup because the reviews were killer. The disappointments started when it was delivered. Backcountry ships the Kelty Kitchen box in another brown box just slightly bigger than the Kelty box. Well, the Kelty Kitchen is packed pretty tighly in its own box (not to mention quite awkwardly as well), so when shipped, I'm sure tons of boxes get stacked up on top of it, and it cracked the top of the table before it made it to my door. I needed the kitchen that same week though, so I tried it out with the crack anyway. I'm glad I did so I didn't have to return it twice. The functionality is way off. I love the size and the idea of the setup, but if you're going to use this to cook with an outdoor stove, you CANNOT fit a stove on top with a small propane tank, and use the windshield. I don't care what kind of stove you have - the logistics just don't work. You could run a line to a large propane tank, and just use the stove and windshield up top, but unless you have an extra, large propane tank in the woods with you when you realize the small one won't work, you're SOL. We ended up having to cook sideways so it wouldn't topple backwards off the kitchen top. The bag is very thin and cheap, and tore way too easily. All around hated this set.
Just right
Gender:

Male

Familiarity:

I've used it several times
Just read the reviews. Does the job perfectly. Everyone in our group was suitably impressed. Sets up easy, has a place for everything. Take down and re-pack is easy for an experienced camper. You can serve off it or use it as a bar. A Camp Chef Rainier fits perfectly in the opening. Breakfast of eggs and sausage was just like cooking at home. I use the small shelf for my Jetboil for coffee and hot drinks. Very convenient. Lots of storage for food or condiments or pots and pans. Much better than the old 'card table kitchen'. Highly recommended.
great kitchen
Familiarity:

I've used it several times
We used it for a big beach camping weekend a while back and we cooked for 40 people. It is actually surprisingly compact when folded up for how much space you get. (we own other table that is only a table and it is almost the same size when folded up.) We also ordered some of the Binto Cooler bags to go with it and they work great as a system or by themselves. It is easy to set up and take down. I used old livestrong rubber bracelets to hold the table together when you put it in the bag so they don't unfold. We use this for 4x4ing, beach camping, car camping



My other table is made out of the same thickness of aluminum and I warped it when I cooked with a MSR whisperlite on the table, so be careful with those types of stoves. They project heat downward and might wreck the table..
I have a coleman 2-burner stove. Will the...
I have a coleman 2-burner stove. Will the attached propane tank fit on this table?
Yes. I have a Century brand 2-burner (should be the same size as the Coleman) and it fits. Worst case, you might need to take down or move one of the side wind panels.
I used this kitchen set up for a 4-day trip and it worked exactly as intended. Its very stable, easy to set up, and good surface area.
Kelty comes through again
This is another great quality product from one of the leaders in camping equipment. I bought this for many different uses from summer festivals to weekend get aways. It provides a designated place for everything related to cooking. The shelf space is wonderful and the pantry is perfect storage. It is a sinch to set up and has it's case is just big enough to fit the parts. My only complaint is that there isn't a specific place for all its parts to fit together and it can be a bear to get into it's bag. Pay attention to the set up when you get it and try to replicate the way Kelty put it in. You'll be good! Great product!
Kitchen prep, cooking, and clean-up all became a single integrated process on the Basecamp Kitchen. Having all necessary items in one spot made the task of cooking as pleasurable as cooking at home. It also helped reduce concerns of little hands getting into things they shouldnt as it allow my wife and me to focus on one spot of concern the Kitchen instead of having all these things sprawled out over a campsite.
Overall stability of the Basecamp Kitchen was amazing. Adjustable legs help in the leveling of the Kitchen.
Setup was a breeze.
Seriously! For car camping, this is the best thing ever!! So fun to have everything organized without having to go in and out of your "kitchen box". Convenient, super sturdy, lightweight, easy to put together, quick and oh so sweet! :) totally well worth every penny!
I like being the social hub of the camp scene so when I roll up to the crag and deploy a full kitchen everyone knows where the best dinner, coffee, and laughs will be had. Plus they know exactly where to get it since it isn't lying around strewn about. Using my Brunton two burner as well as some Binto bags to keep it all tied together. Super easy to assemble and disassemble with plenty of support for your stuff. It's car camping people, lets not kid ourselves. I bring everything and the kitchen sink!
Every inch of this thing is well thought out. Loved the wind guard on the stove, the hooks for utensils and pot holders, storage, etc. It it well sized so you are not bent over while cooking. And the zipped up storage was great. A great addition to any campsite.
Initial report, prior to use
I will be putting this to use first on fathers day weekend in the Uintas with my family. However I will state this. So far so good. I purchased it yesterday after asking for the "3rd" dimension that even kelty does not mention it on their website. After I took it apart and repacked it, it still measures the same as it did when I pulled it out of the box.... 32x19x6... I was surprized at this... Measured it several times, even placing it against a flat wall and for a reference to make sure, but it is only 6" wide. WOW. Is that nice for packing up. Setup is easy takes just minutes... most of it is attaching the velcro tabs around the cabinet.

As for repacking.... Randy had issues repacking theirs. I always try to pay close attention and usually take photos incase I space it on repacking alot of items like this or my springbar tent. Try this, but if you need, post a question asking for more help and Ill host pictures or do a youtube video or something.... For this, remove the windscreen and cabinet. Then pop off the 3 table surfaces. Slide the legs on the bigger (right, as you stand at it) side table up into the themselves. Then fold them down. Next fold down the small (left as you stand at it) side table. NExt fold the middle section together. Just before it closes up, take the 2 table tops from the middle of the kitchen (the ones NOT marked with the fancy "kelty" logo across the top) and clip the smaller one on the top upright inside on the left (against the folded legs of the larger table extension) and the other on the right (next to the small table extension). fold it up the rest of the way and face the little table up

Take the cabinet and fold it up like a accordian, straight down, as it sat in the kitchen. Tuck it under the small table extension. Flip the unit over and roll the "kelty marked table top" up so that 2 slats are folded over on each side. Then clip it into the upright you see on top. Take the windscreen and fold it up, and lay it on top.... this prevents the last table top from unrolling and curling up in the bag. Then just lay the bag down infornt of it and slide it all in. You have plenty of excess in the bag... atleast I did.

Features I liked. I like how there is a bungy under the small table extension to secure a roll of papertowels. It also presses the roll "up" into the bottom of the table surface to prevent them from unrolling in the breeze, however it may make it a pain to use in the wild. Ill find out soon. Windscreen is nice, but my colemans already have one so it is overkill. But this is for car camping, what is 10 oz more with no "real" extra space requirement? The size.... WOW again. I own a Cables Deluxe camp kitchen and while it is GREAT it is also a dam BEAR. Packed up it is 42x24x14 and weighs more than the canvas on my 7 person springbar... @60lbs or so. So less than 1/4 the weight, and many inches on all 3 axis... WELL worth it to me. Last is Backcountrys AWESOME service. Ordered it yesterday at 3PM it was here this morning at 11AM... @ 20- hours later for free... yes 20. And yes they are local but did not have in the shop/ local warehouse for me to pick up.

Things I do not like... the price. They could cut off a few dozen dollars IMHO. The cabelas kitchen I bought approx 2 years ago for $90, it is now sitting large at 180. But as stated is bigger and "better" in many ways more so on week/ multi week long hunting trips. Wish they would come down on it a bit. The little fishnet cubby between the center table and lower shelf. It is streched to the max. It actually wants to unvelcro itself from the unit. I hope it will strech some overtime, we'll see.

I will repost after the first real use of this kitchen but it appears to be a great item. Watch back for this review in about 4 weeks.
when packaged, how big is it. Kelty.com...
when packaged, how big is it. Kelty.com says 8"x32"x???? what what is the 3rd measurement? Thank in advance.
Packed up it measures 8"x32"x19". Roughly suitcase sized.
Also, here's the shelving dimensions: The stove top area and it's shelf below measure 26" x 14", the pantry measures 20.5" x 18.5" and the side shelf measures 16" x 11.5".
Kelty provided the dimensions inside the windscreen as 12" x 24".
Does the binto bar fit on the center shelf?...
Does the binto bar fit on the center shelf? I do understand that even if it did fit, it would not be possible to use the food preparation surface of the binto bar.
Best Answer
This fits binto BINS but is not designed to fit the entire binto bar. To get a better idea of its dimensions and what it looks like when fully loaded, check here: http://kelty.com/kelty/products.php?type=12&cat=94&id=379&image=487
Thank you Laura - this helps!!
I bought this from back country and think this is a really well thought-out unit. Nice balance of features and ease of setup/take-down. Regarding the previous reviewer's complaint about take-down, agree that it would be almost impossible to return it to the as-shipped configuration for storage, but I found with a little patience that once you disassemble and fold up the main unit the table tops can be folded in half and stored inside the frame. This leaves plenty of room for the binto (canvas storage piece) in the bag. I can now assemble and dis-assemble in about 5 minutes, which was a key concern for me. Also, the feet on the 6 table legs do unscrew so you can level the table. I found the wind blocker to be redundant with the built-in features of my coleman stove so I leave that piece behind. Also, I don't use the binto bag ("cabinet") for food storage - bad idea where I camp but it is perfect for storing your pots, plates, pans, silverware - keeps them clean, dry, out of the weather. Very pleased.
I have been both tent and camper camping for years..i have tried several combinations of items to make a good kitchen....this one is great...i do recommend using a clip to hold the two zipper claslp together on the storage unit...the racoons unzipped mine and walked off with a new box of cereal..but with the zippers clipped together..i won the food stealing battle !!!.....all closed up it fits great in my tiny camper and in my tent gear box. happy camping