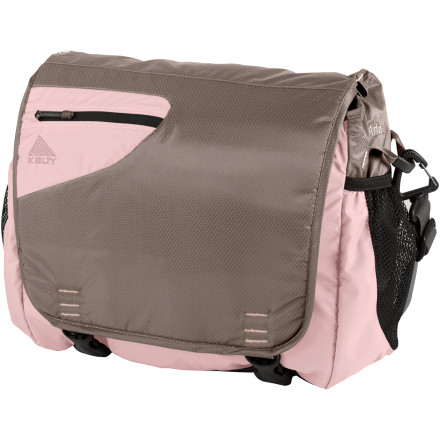 What do you think about this product?
Have questions about this product?
This bag is wonderful! I bought it for school and it holds all my books and binders! It has plenty of pockets for pens and extra room. I carry it around to all my classrooms and love it! At the beginning of the school year i fit all my supplies in it and it makes everything feel lighter!. Sometimes it slips off my shoulder when i'm wearing a rain coat and sometimes if it's not clipped, all my pencils fall out; but that's my fault. Other than that, it's my favorite backpack!
I bought this because my backpack was more and more often not being seen as a personal item on domestic flights (never mind international...which are even stricter). I don't use this bag for a laptop and would not recommend it for a laptop unless you had the laptop in a separate case. I don't think the bag would protect the laptop well. That said, I fit an awful lot into this bag for my travels so far. I like that it has the two waterbottle holders. I also love that I can slide the bag easily over the handle of my rolly luggage so there is no need to carry the bag on your shoulder unless you want to. My biggest complaints are that many of the pockets/storage areas cannot be secured. They are just open without velcro, snaps or zippers. So things can easily fall out (or be nabbed) when not closed using the main flap. I may go to a tailor to have this done. Also, though there are three main larger compartments in the bag, there is no rigidity in the separation of the three compartments.