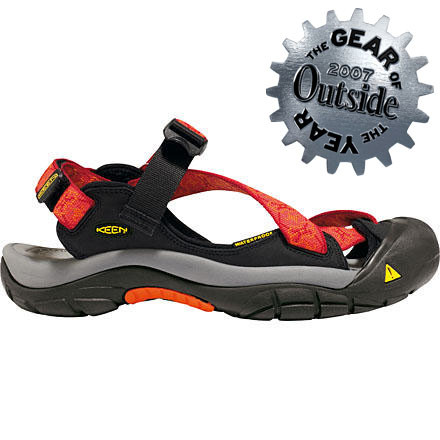 Detail Images
They are great! Good arch support and toe protection. Used for some tropical hiking while carrying a baby (ie can't see directly in front of you) and they worked out great. The toe cover does hold onto a fair amount of sand but worth it for the protection
I like these sandals. They're comfortable, even for walking fairly long distances. The toe box is a great thing, for those hikes where you're worried about kicking or tripping over rocks or roots. They're very attractive. But still, they haven't replaced my Chacos.
Love these shoes! These are my 4th pair of Keens, and my favorite so far. I usually wear a 7 1/2 or 8 in most shoes and ordered an 8 in the Zerraport...a 7 1/2 would have probably been better, but you can adjust the straps to fit like you want 'em. They were comfortable from the first time I wore them. I highly recommend them!
Excellent grip on wet boat decks
I do alot of sailing and these sre the best deck sandals I have ever had. They are also extremely comfortable for everyday wear on land. I have two pairs. I am constantly complimented on the style. I normally wear a size 8 in most shoes, but in these the 7-1/2 was the perfect fit.
The arch support is in the right place and the shoes are fantastic for power walking. The Keens float in water is great fr boating/sailing. The only down side is that toe area discolors toe nail or socks for the first few wearings.
Great all-around sandal!!
This is my 2nd pair of Zerrasports! They are great for biking, hiking, swimming and whatever drives you!! They stay on and dry easily. The sandals also look great with shorts or jeans.
I live on the Colorado river and use a Hobie SUV pedal Kayak. The open sandal is great for sloshing into the water to launch the boat, and the closed toe is what I've needed for peddling.
I have to admit to wearing them everywhere else too. They're good with shorts...make your feet look smaller :)
I really love this sandal. I've been everywhere in it...on the AT, farming, in the water... The only downside is that they don't smell that pleasant once they get wet. Other than that, I find the fit very comfortable, and they look great!
Unanswered Question
has anyone used them for moderate workouts?...
has anyone used them for moderate workouts? I'm looking for a sandal I can use in the gym on business trips.
This is the most comfortable sandle i ever had. I wear them all day long and they are very comfortable. I loved them so much I bought a second pair in another color. True to size and good fit.
These are so comfortable and cute.Everything you would want in a waterproof sports sandal.
Love them, look great too!
These shoes fit great. Feel like having comfy, sturdy soles strapped to the bottom of your feet. Went walking/hiking all over Molokai and Maui and had no foot problems. I get lots of great compliments too!
Runs small, Toe box doesn't keep toes in!
This shoe runs small. I am always a straight 8.5 but my toes were pushing at the front on this one. Toe box does not fit right. Toes on the outside come out and catch on the box. Footbed was comfortable.
Is there a piece in the toe box for between...
Is there a piece in the toe box for between your big toe?
Big toe fits fine, little toe peeks out a bit.THERE IS NO PIECE BETWEEN YOUR BIG TOE AND OTHER TOES
I enjoy the toe protection and it is great for relaxed boating. I have a little difficulty keeping the shoe on is competative sailing (might need exact size, not 1/2 size bigger). My foot is coming out in the middle above the toe box, but I'm really scrambling over the cabintop during competative sailing and tough on the shoe. I got no blisters though. The toe box is hot as well, but I like the fact that it is a boat shoe that drains water well, grips the deck well, and protects under normal conditions. Other than the toe box being hot, it's very comfortable.
This is my 4th pair of Keen's, they're all very comfortable. This pair has very little strapping holding your foot in, but it works!! As with all my Keen's, I buy a half size larger. My feet stay cooler in these than in my Keen Venice or Newport's. The toe guard really came in handy while hiking through some vine underbrush. No complaints at all.
Well, they're cute and good for wet situations and nice grip on the soles, but...I got blisters on my big toes where the rubber and cloth meet. They're great with Bandaids but not so happy having to remember to use them when I wear them. So a moderate review, I'm afraid.
Lot's of compliments and comfortable
The first time I wore these I got lots of compliments on them. They are very comfortable but, like other Keen sandals, I ordered them a half a size larger than I normally wear because they seem to run small. There was no rubbing or chafing even with the first wear so this is a big plus for me! Love 'em...
I love my Zerraports! They are very comfortable and more importantly they have very good support! After two torn achilles tendons and an ankle break, It has been hard to find the right shoes! I have had other Keen shoes but these are by far my favorites!