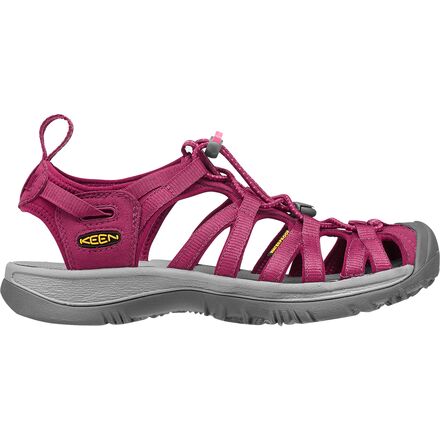 Detail Images

Videos

Community Images
Description
The class V's are calling your name.
Pull on the KEEN Women's Whisper Sandal before you take on the white caps at the Royal Gouge. Keen gave this sandal a heel strap and quickdraw elastic cord to ensure you don't lose your sandals when you step into rushing water. The polyester webbing with antimicrobial treatment prevents your feet from smelling like a river bed when you're back at camp, and KEEN's patented toe protection prevents underwater debris from slowing you down. The EVA footbed keeps your dogs comfortable for the long haul, and the grippy rubber sole helps you stay upright on slippery surfaces.
Sandal is shorter then 5 y/o one I have
Familiarity:

I returned this product before using it

Fit:

Runs small
My sandals are starting to show some wear, and I have a narrow foot, so when I saw these on sale I was thrilled. Unfortunately, while they are the same model, they must be made in a different factory b/c they are abt 1/4" - 3/8" shorter than the ones I own, My big toe touches the end of a women's 11 and they do not come any larger. They are a wonderful sandal when they fit.
Great Sandal
Familiarity:

I've used it several times

Fit:

True to size
I bought two pair of these. One for my wife and one for my daughter. My wife used her regular size my daughter sized up by 1/2 - she likes to wear socks with her sandalls. Both love the sandalls. My wife took a two week vacation and wore the sandalls every day with no blisters or sore feet - very comfortable.
Very comfy
Familiarity:

I've used it several times

Fit:

True to size
I have owned the Keen Venice Sandals in the past, and they were a little clunky feeling and wide. These Whisper Sandals are more narrow and less clunky. U have an average width foot and from the moment I put them on they were perfectly comfortable. They feel light and just right on my feet. I am between an 8 & 8.5 so I ordered the 8.5 and it's perfect.
Excellent leisure shoe!
Familiarity:

I've put it through the wringer

Fit:

True to size
Bought a pair of these to go fishing (both off the rocks and at the beach). They look great, were very comfortable from day dot and did not rub. Super easy to put on a tighten. A great shoe to take with you on holidays.

They're great for walking on the beach (on the wet sand is better. On dry sand, well, they're a semi-closed in shoe so they fill with sand!). On the rocks the grip was fine, but when the treads clogged up with a bit of sand, or it was wet, the grip quality was greatly decreased. Still a 4-star shoe - I'd buy them again.

I found they run pretty true to size. If you're unsure, measure your foot and order your size right off the sizing chart. Never had an issue doing this at all!
I'm planning a 20 miler through buckskin...
I'm planning a 20 miler through buckskin gulch & this time of year, sections of it are waste deep in water. I really don't want to carry two pairs if shoes if possible. Will these hold up?
Best Answer
Although it's wet and muddy (and frickn' awesome!), Buckskin Gulch isn't particularly technical. I wear sandals all the time backpacking and if your are comfortable wearing these with a light pack, they shouldn't be a problem in Buckskin. I would, however, recommend a pair of neoprene socks to go with it. That will keep out the sand and other debris and keep you from getting sand abrasions. And if it is cold, they will help with that too. I'm jealous!!!
The Family loves them
Familiarity:

I gave it as a gift but have feedback to share

Fit:

True to size
Gave these to my mom and sister and they just wore them on the beach the other week. Their comments were "perfect fit, true to size, no slipping or rubbing, comfortable (cushioned sole), and easy to put on."
These shoes do it all
Familiarity:

I've put it through the wringer

Fit:

True to size
I've had these shoes for a long time. I originally got them to replace a pair of Keens with the wider bands. I think the thinner bands looks less technical and more trendy. Only problem with these shoes is when they get a rock in them! It gets trapped and hard to get out. When I'm doing light summer hiking I wear these and they will sometimes trap dirt but it's just a minor irritation. They are very easy to wash, most of the time I'm rinse them off after a kayaking trip because they tend to get stinky if you don't wash out the grime.
Why do you advertise this shoe at $11.99...
Why do you advertise this shoe at $11.99 and then when I click on it to choose size, color, etc. the price is $67.46 and up to $90 . I am an 80 year old who has problem feet though I still try to do a lot of walking despite having had both knees replaced. I have been told that these shoes are the best but Social Security does not take into consideration the cost of such shoes today. I was overjoyed when I saw the advertisement and then so very disappointed when I saw the actual price. Not fair to advertise and then not so!
Best Answer
Hi Ida,



I can't imagine where you saw these shoes advertised for $11.99, but if you have a link or can give them the site where you saw that price, it might help to call customer service @ 800-409-4502 and see if there's anything they can do for you. You'll find them to be very helpful and as accommodating as they possibly can be. Backcountry is a class act. Hope this helps.
I don't know about the pricing issue, and I hope to buy one of the Keen shoes soon. But, Ms. Blumberg....if you want the best cushioned shoe out there, give the Asics Gel a try. I have both hips replaced, am a walker, and these shoes give wonderful cushion. They're a running shoe, but still have wonderful support.
great foot bed
Familiarity:

I've put it through the wringer

Fit:

True to size
From boat to shore, the high instep, and soft webbing make this a great shoe - on land and water. the capped toe saved my feet from several impromptu river swims among very hidden rocks, and the quickdraw lace up make for fast get away when you accidentally sleep past breakfast. I usually wear a size 8 in most shoes - and this was no exception. fit true to size, and i have a medium width foot -and this shoe fit great for me.
Could you tell me which stores in Regina,...
Could you tell me which stores in Regina, SK sell Keen sandals?
Hi Bonnie,

I would recommend contacting KEEN direct to get a list of their authorized dealers in your area. We unfortunately do not have a list here!
These ARE as comfortable as they say!
I was looking for a pair of sandals to wear on our Disney trips. As you know, theme parks are nonstop walking and more walking. I wanted something that was comfortable, breathable, and waterproof. Many people recommended Keens. I tried them out by walking around the fair recently. Wow! They are comfortable right off the bat and require no break-in period. The straps and the footbed are both comfortable, and they are so lightweight. I love them and would definitely recommend them to others. Can't wait to get another pair in a different color! I'm not sure if they run a little small, but I found that when I went up 1/2 a size (from 7.0 to 7.5) they were more comfortable
I bought 2 pairs - size 6.5 and 7. Both are superbly good quality and made of good material sole and all around. But the size / fitting is not good for me. My last toe stick out on both pairs, even though the sandal fits well ( will work on both 6.5 or 7) on the front, back and side. If I wear this for y river treks, my toes will get seriously hurt since I will be jammed out even more on pressure when going downward. I returned both pairs with disappointments. Backcountry is great on their customer service as usual. Thank you.
KEEN Whisper Sandal - Women's
Shoes to live in...
Gender:

Female

Familiarity:

I've put it through the wringer
I love these sandals. I have always been a big Teva and Chaco fan, but I will only buy Keen in the future. I use these when around the water, to run to the store, and when on hikes. They are by far the most comfy shoes I have owned in hiking/water shoes. One thing to be aware of is the sizing change in Keen. I noticed that I needed to move up a half size from my typical shoe size.
Keen's are the best, but ...
Gender:

Female

Familiarity:

I've used it several times
Hello to you narrow footed women, these are the sandals for you! I love Keen sandals and I wear them all the time, but each style is different. My favorites are the Newport, but I decided to try the Whispers. The shoes are fantastic (just not for me). I have a wide foot, so these were not ideal. The heel feels like it might slide off, and my feet look like they're squished in the shoes. They are very comfortable so if you can, try on the shoes first to see if they fit and look right for you.
I got these early this summer and love them! I used them for day hikes, kayaking, and just around town. They dry pretty fast, don't rub, and stay with my feet really well. Also have a pretty good grip on them. I would definitely recommend these to anyone. The only complaint I have is that I got them for about $15 less at REI
I all around love my Keen's and only want to mention that I found this style fits a little differently from the Newports I had. I wore a 7.5 in that style, but had to go up to an 8 for this one because my heel hung out the back a little. In an 8 the heel fits perfectly, but there is a little more toe room than I would normally need. Regardless they are very comfortable and great for light hiking, biking, as well as just running around.
i hike, canoe, kayak the northwoods...and i wear the whisper from early spring thru the fall all the time for everthing. i like that they are lightweight and move with my feet unlike the newports. i have an old break in my big toe and can't wear most shoes but these have a roomy toe box but still fit tight around the rest of the foot to not rub loose while hiking. they cover enough of my feet to handle all sorts of hiking terrain, great grip for jumping creek boulders, and lots of open space for draining while walking in water. plus they dry quickly. last year's pair i wore thru the whole time and they are still sturdy but now a little loose, great for wearing with socks. just ordered my third pair just so i've got a grubby pair, a clean pair and a pair with warm socks.
Write your question here...Does this sandal...
Write your question here...Does this sandal provide as good foot protection as the Newport? I have had a couple foot injuries this year (fifth metatarsal area) and would like to make sure that the sandal will protect.
Hey Wen,

The Whisper does not have the same protection as the Newport, KEEN made the Whisper for people with narrow feet (B width).

If you need a lot of protection even more than the Newport look at the Arroyo, this is our most supportive sandal.

Jerry