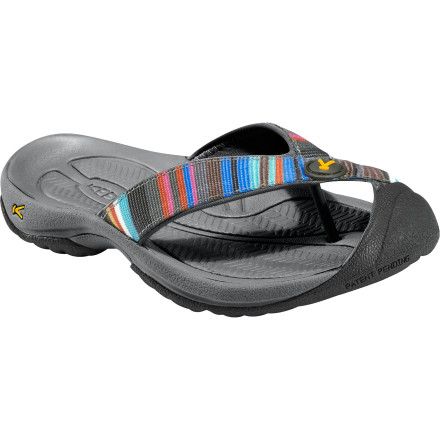 Detail Images

Videos

Community Images
Before you take off for your Hawaiian vacation, grab the KEEN Women's Waimea H2 Flip Flop. KEEN made this sandal with a colorful array of recycled rice bags to reduce your carbon footprint as you wander the beaches of Oahu. The compression molded EVA midsole keeps your feet cozy at the Luau, and the Aegis Microbe Shield prevents your flops from smelling like fish after a day in the ocean. With KEEN's patented toe protector, this flip flop goes the extra mile in offering function to match its style.
keen sandal
Familiarity:

I've put it through the wringer

Fit:

Runs large
Love the blue color as well as the comfort of the sandal. I have been living in them. They do run a 1/2 size small though. I normally wear an 8 1/2 in asics and the 8 1/2 in these were too big.
I absolutely love these shoes
Familiarity:

I've put it through the wringer

Fit:

True to size
I think they are stylish and love the color. They fit perfect and now they are my go to shoe!
KEEN Waimea H2 Sandal - Women's
I wanted the East coast durability of a better quality sandal with a West coast style. So happy Keen makes these - they're perfect for us laid back West Coast folks. Have worn them constantly for two years, and in the Las Vegas sunshine, that is a lot! I get very positive comments on them from older ladies and my middle school students who see me on the lacrosse sidelines.
They look just flip flops except they have the durable Keen trademark toe covering.
Runs a little small, but GREAT sandal
I LOVE these sandals! Great for slippery rocks at the river and they stay on my feet just fine. I did have to return it for a 1/2 size larger, which surprised me because Keen usually runs large for me.
I bought this shoe two years ago in St. Augustine. Went there last month to purchase another and they do not sell this particular shoe any longer. However... they were nice enough to get me the SKU and I located it at Backcountry.com Order two pairs and they arrived flawlessly within the week. Amazing service at Backcountry -- a new favorite on-line vendor.
These sandals are wonderful with all the comfort you would expect from the Keen brand. I love them.
I broke my toe 4 years ago and this sandal served me excellent the entire summer... even for hiking.
Since that, the Waimea H2o are the only sandals I wear all summer. They are lightweight, they float, they are washable under a hose or the sink... and most of all they are comfortable.
Best flip flop ever. Others have commented that the "thong" is a bit far back, which is true, but I have long toes, so it doesn't matter. I get compliments on them every day. My main problem with other flips was that they are too flat and have no arch support. These have great support and are the most comfortable flips I've ever owned. Just ordered a 2nd pair to keep in the back of the closet for when these wear out.
frustrated, but cute sandals
When I opened them there was some laxity in the stitching where the thong goes into the fabric, but I wore them to a couple BBQs because I didn't think it would get worse, and they are so cute. However, within a couple weeks, the stitching got looser and now a clump of threads are sticking out of the top of the sandal. Backcountry is out of stock and Keen hasn't gotten back to me about the warranty stuff. I want a new pair but I'm in a holding pattern that's lasted almost a month now.
Perfect sandal for an active mom
I have always been a teva flip flop fan but recently thought I would try out the Keen Waimea sandal. I have four children and am on the go, whether we are at the beach or park or decide to hit the trails by our house, I needed something that was not only comfortable but functional. I am absolutely impressed with these sandals!! They are a perfect sandal for all our activies and I still feel like I have the freedom of a flip flop. Good job Keen on such a versitle shoe!
Raya Stripe isn't the same on both shoes
These are really well made, comfortable shoes, and I would have given them 5 stars except for one thing. The problem is that the Raya stripe pattern is totally random...so the shoes don't look the same at all. Maybe the pair I got was particularly bad, but they are too noticeably different to wear; it looks like I got dressed in the dark and accidentally put on shoes from two different pairs. One shoe has a lot of white stripes mixed in with the dark colors, and the other shoe doesn't have any white. Totally disappointing. I did check with backcountry and they said that is the way they are--which means I'll be paying to send them back.
Rice bag needs to be broken it.
facts:
1. They fit absolutely true to size.
2. Wide enough to be roomy
3. The toe thong between your big toe an second toe has a small seem that HURTS like heck initially.
4. Waterproof

I had a purple pair for 4 years, nicely broken in that my Yellow Lab had for lunch last week. These are nicer but the toe thing hurts.
I am a bonafide Keen lover! I've been wearing Keen's since first sold at REI. I only replaced the sandals (flip flops) I had because the strap between the toes on one of them broke. Otherwise, I would not have replaced them. They were favorites. The H2's are not a favorite because they are narrower the whole foot length and a tad shorter in size. This after trying them on and then sizing them up against the others. They still fit, but not as comfortably as the others as my feet were cosier and more secure in them. These don't seem to be as wide and sturdy. There it is. Still a fan. May buy them in person next time, due to the seeming changes going on with the product. Nevertheless, Backcountry is a solid outlet that delivers!
These were a gift for my girlfriends Birthday. I haven't seen her wear anything else the whole summer so far. she loves em' good toe protection for biking around town and super stylish.
Love but took some time...
Like the other reviews, it took some time to love these sandals. I still have a nasty mark in my foot from where they rubbed and in between my front toes blistered. They still hurt a little sometimes, but I can wear them for a long time without problems now.

That being said, I love their functionality! They give me support, protect my feet from grossness (rain, mud...), and are generally comfy. I'll be getting a lot of use out of them. I love the blue/gray color and I've been getting a lot of comments on them (good ones!). Overall, this was a good purchase and although it took me awhile to get used to them, it was worth it!
Love, love, love these flip flops. They are great when pushing a stroller, they make putting on the brake doable rather than painful. Really comfortable and the top cover is great for keeping my toes dry in wet grass and it stops me from stubbing my toes. I do really like KEEN sandles and hiking shoes as well and have been wearing Keen shoes almost constantly since I got my first pair.
This is my third pair of Keen Waimea Sandals...I love Keen and LOVE these sandals in particular, so when they came out with this pattern I knew I had to have them. But let me tell you, these "RiceBag" pattern run SMALL - I have two other pairs of these that are just a regular color both in a 9 or 9.5 - I had to return the 9.5 becuz my heel literally comes right off the back! (Backcountry was awesome to work with on returns!!) Even the 10 seems a little smaller than my other keens...they definatley have a different feel than my others...but they are still A+++
this is our family's 7th pair, collectively. 'Nuf said!
I now have 4 pair and I LOVE them...very comfortable, no break in period needed....protects my big toe and I can wear them all day long.