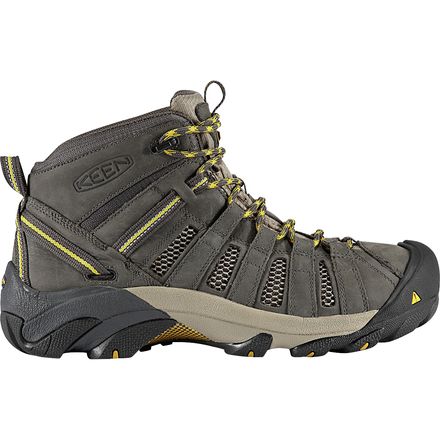 Detail Images

Videos

Community Images
Description
For all your off-road voyages.
The KEEN Men's Voyageur Mid Hiking Boots give you the support and comfort to breeze over rugged terrain like it's nobody's business. When you're hopping between boulders, this KEEN boot's mid-high cut stabilizes your ankle and its ESS shank adds rigidity and support. The aggressive outsole's multi-directional 4mm lugs provide exceptional traction over rugged terrain, while a dual-density compression-molded EVA midsole guides and cushions your feet. KEEN added lots of vent windows to circulate air, and incorporated removable metatomical footbeds so you can easily throw in your custom footbeds.
Light & Airy
Familiarity:

I've used it once or twice and have initial impressions

Fit:

True to size
That simple, I'd give it 5 stars if you knew how quickly feet dried during hikes. Super comfy light and airy, apparent support.
Perfect
Familiarity:

I've used it several times

Fit:

True to size
A friend suggested to have a good pair of hiking boots for the Kalalau trail in Hawaii. This was my choice and I really recommend it.
Pros: True to the size (I read it here and it is real), very comfortable, support (no matter how uneven, slippery and rocky it was the terrain, I never got injured), comfortable (I was able to run with it and I was surprised how comfortable and shock-absorbing it is inside), breathable (I got wet several times but it dry out fast),
Cons: I still trying to find one.
Destroyed, but perfect
Familiarity:

I've put it through the wringer

Fit:

True to size
These are my favorite shoes from all in the world. I bought them at backcountry.com in August and after 2 months, they were completely destroyed. I walked with them 850 miles on the PCT and unfortunately, they did not survive it. Probably, some other hiking shoes would make it and last longer, but these are the most comfortable shoes to wear, they are light and thanks to no waterproof fabric, your foot will be breathing extremely well in them all the time. It was my second pair, I bought the first ones in Cuzco in Peru for about 220 USD, I went with them through the Amazon jungle and they were great even for swimming in the rivers. So, my next shoes will be again Keen Voyageur Mid!




Best all around boot
Familiarity:

I've put it through the wringer

Fit:

True to size
This is my second pair, these boots are super comfortable and grippy in mud while fast on hard pack. They are very light weight yet keep my feet warm in the early winter hiking in upstate NY. They also work well in the hot summer hikes around red rock canyon NV.
Great boot
Familiarity:

I've used it several times

Fit:

True to size
* Stout, solid sole

* Wide toe-box

* Rugged but comfortable
I am preparing for a wilderness canoe trip...
I am preparing for a wilderness canoe trip in Quetico Provincial Park - 10 days of constantly wet feet, as will be stepping into water at portages to prevent canoe from touching shore, and walking into water at other end of portage to set canoe down.



I need a sturdy hiking boot with great ankle support that drains water out of the boot quickly and efficiently. Is this the best boot for this application?



Thank you.



S. James



sjames@gettysburg.edu
Best Answer
Steve,



I had the privilege of doing a sixteen day trip there, and would really recommend jungle boots. They have drain ports in them and were designed for constant in-and-out water applications. I rarely recommend military gear, but this is a rare exception. They are perfect for situations like these. Do yourself a favor and don't buy the cheap ones. I bought Rothco's, and around day 8 they started to fall apart catastrophically. Buy a good pair like Altama's, and you won't regret it.



Have fun, Quetico's absolutely gorgeous!


Steve, they would be perfect for such a trip. I did with them a "survival course" in the Amazon jungle, where we were walking though mud and rivers, and the professional ex British army soldiers, who ran it, told us that we need for it either jungle boots, or exactly the type of boots as these ones. Practically, these shoes are just sandals with some extra textile layer, so water goes easily in and out.
Great boot
Familiarity:

I've put it through the wringer

Fit:

True to size
This is my second pair of these boots. They have great ankle support and the sole system of Keens cannot be beat. These boots are light weight and the ventilation maintain a cool ride.
Fits great, but stay away from water
Familiarity:

I've put it through the wringer

Fit:

True to size
I have trekked many miles in these boots. I usually buy things online but I actually bought these shoes in a hurry the day of my back packing trip. I spent 130 which is way too much for these shoes in my mind. I knew they were not water proof, but I didn't think they were that bad. The vents on both sides if you look at the picture as well on the lacing system will let every bit of water in. I can see these shoes working great for guarantee clear weather, but who can guarantee that. My first trip in these shoes I ended up with soaked feet, and I mean soaked. I had to ring my socks when I got to the car. $130 dollars to get my feet wet. The only good thing I can say about these shoes are they are extremely comfortable right out of the box. I will now need to go buy water proof shoes. Save the money and get a water proof version. Trust me you will regret it.
So far great!
Familiarity:

I've used it several times

Fit:

True to size
I've had these shoes about a month now. I bought them for trail running because I like to ding the piggies on rocks, roots, or whatever they can find. I've run in them 2 - 3 times a week on dry ground, wet ground and mud. They have worked great so far.



It all started when I bought a pair of Keen sandals this past summer. I was really impressed by them. I then replaced a pair of winter boots with rubber tops (or whatever it is), with a pair of Keen winter boots. Then my trail running shoes blew out and I bought these.



Some people have mentioned the lack of a footbed or more cushioning. Actually, that's one of the things I like about the Keens, they let you feel the terrain.



I have heard some people mention the soles separating from the shoe...time will tell. I have a bad habit of blowing out the toes and then the soles. So I think I will be a good candidate to test the treads.
Good hiking boot/could have been great
Familiarity:

I've used it several times

Fit:

Runs small
The Keen Voyageur is a great mid boot that wears comfortably for hours. Its high/tough profile but soft feel means you can wear it even on the roughest of hikes or scrambles for hours on end. The major issue I have with this boot is the same one mentioned a couple of times in other reviews: The soles are grippy and comfortable, but they are not very durable. On my pair a couple of pieces pealed off the fringe of the sole and I ended up cutting them off. I think Keen can make these shoes even better by creating a more contiguous sole without little peninsulas of rubber that easily peal off, but then again... it was only small pieces that didn't really affect the overall performance of the boot.
The Keen is a lightweight cushy ride with plenty of air circulation. It is not a boot for all occasions. It will not keep your feet dry from outside elements but that does allow for cooler feet inside the boot.

The boot is incredible comfortable it just doesn't have the grace or power of a boot that can take on aggressive terrain season after season. But what matters is who is in the boot. The comfortable boot, with a wide toe box, works great while carrying middle weight packs on average terrain in warm climates.

the boot kind of feels like a beefed up high top

mileage into these puppies: 50-60
Comfortable
Familiarity:

I've used it several times

Fit:

True to size
Hiked in these for about 65 miles through rain, mud and many stream crossings without much of a prior break-in period. They worked a charm and were quite comfortable. When they got wet during stream crossings they dried surprisingly quickly (especially with thin wool socks). Pretty light-weight given their beefiness.



My only complaints: I can already see the glue delaminating towards the heel on one boot. This shouldn't be happening after only 65 miles, hopefully it doesn't get worse. And I do wish the toe-box were wider. If you do need a wide toe-box, these are about average, and seem narrower than other Keens I've worn in the past.
As a Keen casual dress shoe, trail shoe, boot and sandal wearer, you would think, "Well, enough already!" But no, the Voyageur Mid Hiking Boot was exactly what I was looking for to get started this year. This is a well formed and correctly sized hiking shoe that affords the luxury of extra ankle support without feeling over the top. Comfortable right out of the box and a snap to lace up and get out the door quick. They look like they'll last forever. In the past, I have found Keen sizing to be a crap shoot, both in length and breath, but they seem to have hit this one exactly right. I'm a 12 and kind of on the narrower side, and this is a near perfect fit.
KEEN Voyageur Mid Hiking Boot - Men's
Everything!
Gender:

Male

Familiarity:

I've put it through the wringer
i have used this book for anything from winter hunting to summer hiking! works great for anything! Always stay warm and dry
I bought these at Nordstrom Rack for $70 and they are my new fav boots. Held up on teo backpacking trips so far this summer above 8000ft. No blisters, no sore spots, no better boot for the cash!
These boots rock. Got me into the 100 Mile Club out in Yellowstone and I wore them everyday to work where I was on concrete all day and they did me well. Good support/cushion. Just ordered my second pair for a great deal and free 2 day shipping, win win. Hoping they're as good as the last. Thanks Keen and backcountry!
Great boots, but sole unglues
Great boot - wide enough for my foot; light; very comfortable right out of the box; easy on/off; accurate color on website (slate black/harvest gold).

However... the soles on both shoes have, in several spots, come unglued. Easily fixed with Shoe-Goo, but still...
I'm spending some time in Jerusalem and the hiking shoes I brought with me started to fall apart so I sent off for a pair of these. I walk 3km to and from work every day on the hard stone of Jerusalem and these boots are comfortable and, so far, durable.

I've also taken them on hikes in some rough, stoney terrain in dry river beds, Ein Gedi Nature Reserve, to the top of Masada, and around the southern desert areas.

They just fit well and they haven't shown any signs of wear even with the daily use and the hard weekend hikes. Three months with almost daily use and they are doing great. If I change my mind, I'll be back to let you know!