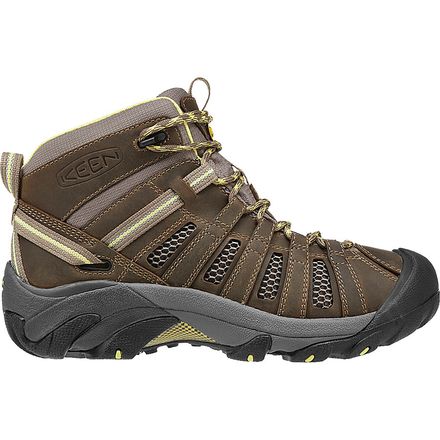 Detail Images

Videos

Community Images
Description
Because mid-height hiking boots don't have to be sweat-huts for your feet.
Mesh linings in the Keen Women's Voyageur Mid Hiking Boots let your feet breathe, while the mid-height cuffs keep the support level up when you're shouldering a heavy pack. Four-millimeter lugs on the Voyageur Mid Hiking Boots grip rough terrain, while ESS shanks provide torsional stability. Lace up these Keen mid hikers, grab your summer camping gear, and hit the trail.
Blister Free Right Out of the Box
Familiarity:

I've used it once or twice and have initial impressions

Fit:

True to size
Alright, this might be a little preempted but I love the boots thus far.

I've only taken these boots on 2 hikes, the first hike was a short warm-up hike, just 3 miles on pretty rocky/mountainous terrain and they were amazing! The boots are super light, which helped with large steps up and the soles were extra grippy, this helped when scaling dusty, slick rock.

The most recent hike was a 10 mile hike, mostly on dirt & rocks. They handled the uneven ground great plus, were completely dry after walking through streams and after 10 miles (on their second outing) I had NO BLISTERS.

So far, I have nothing to complain about with these boots!
Bought them as a gift.
Familiarity:

I gave it as a gift but have feedback to share

Fit:

Runs large
Bought these as a gift for my girlfriend. She LOVES them! Says they're super cumfy and they are in her words "cute".
Great boots, awesome daily footwear.
Familiarity:

I've used it several times

Fit:

True to size
I could not find what I was looking for shopping for hikers locally. Found these and thought they'd be okay, well they turned out to be great. Love them, they were comfortable right off the up. Now I use them everywhere I go, they feel good and look good. Met my expectation hands down. And of course they come with me hiking to my favorite places.
Wear them everyday!
Familiarity:

I've used it several times
My first pair of hiking boots and I must say I wear them everyday! I work on boats everyday and bought them for their durability and toe protection. They aren't 100% water proof but still comfortable and worth every penny.
KEEN Voyageur Mid Hiking Boot - Women's
I didn't know what to expect with this boot and all I can say is WOW! I haven't given it a real workout on trails yet but have worn it several times and love it. Very comfortable and so light you don't even know you are wearing a shoe. Have worn it with regular socks and also with hiking socks; both equally comfortable. Would recommend this shoe to anyone. And, by the way, I am in physical therapy for some balance issues and the therapist also said it was a very good shoe.
Best ever. Lightweight, supportive, just the best. Did get one small hot spot first time out, but nothing since.
One of the Best I've Had!
This is one of the best hiking boots I have owned. I have a wide foot and appreciate how much room I have in the toes! But, what initially attracted me to these boots was the style - absolutely love them.
Comfortable, lightweight boot
Didn't believe other reviewers until I tried them for myself ... these boots ARE very comfortable right out of the box. A little break in time is never a bad thing, so I started out with an easy 1-mile trek on a dirt trail. They were great, no rubbing, no sore spots. This is the first time I have ever ordered shoes online, and fully expected to need to return them to exchange sizes. But it didn't happen. I read every review I could find and listened carefully to the majority of reviewers and ordered 1/2 size larger than my regular shoe size. I have average feet ... normal arch, B width ... but do like to wear midweight socks when I hike so wanted something with a little room for cushy socks. These Keens were right on and they are keepers. Perfect fit and lightweight for my hikes with kids.
so great i bought another pair!
these boots are amazing! i got them for desert hiking after reading reviews of how they seemed to do well in those conditions. immediately, they were comfortable. prep involved a couple of 1 hour hikes, but no real break in to speak of. the big test came on a canyoneering outing that was about 12 miles long and 13.5 hours in duration. in all that heat and sand slogging i never even came close to getting a blister. while nearly every other member of my party was layed up with blisters the size of golf balls, i was ready to jump up and go for more! (after a night's sleep and a couple gallons of water). another thing that really impressed me was the incredible grip that these boots have. in dry conditions, i can be standing on a near vertical slope of rock and my feet don't slide at all. i lose my balance before my feet lose grip. now, i have noticed a downside that can be expected of soft grippy soles, and that is that they wear out faster than if they were stiff. the tread on the bottom is noticeably worn after about 10 months of heavy use. this is a small sacrifice though in exchange for such great performance. i love these so much that when the they went on sale i bought another pair so i'd have them when the first wears out.
Super comfortable from day one. I love the larger Keen toe box, and the laces hold my foot tight enough that my toes don't get crammed into the front when going down steep hills. Recommended.
I was preparing for a trip to Belize, which I knew would include some hiking. After looking at a lot of different options, I decided to go with the Keens because of their great reputation. Everyone I spoke to that had a pair LOVED them. I was very excited to receive them, and I agree with the other reviewers that they were true to size and ready-to-wear right out of the box. They handled a local 7 mile hike without issue, and I was very eager to use them in Belize. While in Belize, we went to the ATM, which includes a 45 minute hike through a nature preserve (crossing over 3 different streams, one of which is chest high) and ultimately walking and climbing in a cave for 4 hours. The streams had rocks that ranged in size from pebbles to more formidable boulders. I could feel every sharp edge of those rocks under my boots. Walking out of the stream, I could see the water streaming out of the vented areas of the boots. They didn't dry out on the hike, which wasn't surprising given the amount of time we were in the water while in the cave. After sitting out for 2 days without the insoles, they did completely dry, and they look great! Overall, I think they're just short of awesome. If they handled the rocks a bit better, I'd buy pair after pair.
My feet felt a bit tired when I put them on for the first time last night. But after an adjustment period, they were fine. I put them on first thing this morning with a heavier sock and went for my usual 3 mile hike. I really like the ankle support, and the roominess in the toe area. They also seemed to handle the rocks. However, there is no dampness barrier that I could tell, I walked through wet grass on my way home and feet were wet pretty quickly. But no worse than Gore-tex "waterproof" boots (yeah right). Also, I bought a half size smaller than my Merrill boots, and it was just fine. Wearing them on a backpack trip in July, may have more to say then.
Great boot but disappointing durability
I bought Keen voyageur boots and LOVE the fit. Definitely the most comfortable boot I ever wore and very good, secure performance on the trail.

However, within a month I noticed fraying on the blue material of the tongue. In 3 months, the inside of the left boot where my heel rests, started to come apart. Now there is a piece of plastic sticking out that rubs.

I hike a couple of miles per day walking my dog on easy trails and some longer mountain hikes on the weekends, never over 6 miles. I feel that a hiking boot should hold up better than this!
Awesome shoe. Just spent a week with the kids in Moab hiking every day. I had no problems with these boots. No break in period and no hot spots. They were great for all the ups and downs of the hikes there. The fit is perfect too even with a good thick socks.
After reading all of the glowing reviews, I was in for a pair. My first hiking shoes! I ordered a size up, after all the recommendations. When I put these on with SmartWool socks, they felt snug yet secure and comfortable. I went for a 7 mile hike on trails, and at about mile 6, I missed not having better arch support. All in all, I'd purchase again.
I was recooping with a broken ankle and a broken big toe. I went to a shoe store that let me walk across one of those mats that tells you how you walk, where your pressure points are etc. It was then that I found out I had flat feet and was also dealing with that plantar phacitis (dont know how its spelled), and that was very painful.
The gentleman recommended the Keen Voyager hiking boot for work. He pulled out the shoe type and my first reaction was, god these things are totally hideous looking, I'll never wear these. He coaxed me into trying them on. OMG, the minute I began walking in these boots, the plantar phacitis pain was gone. I couldnt believe it. GONE. He immediatly ordered the mid hiking boots for me. Ive been wearing them since, and now im looking for another pair. I tell everyone and anyone about these boots. Yes they cost a little more, but your feet will thank you in the end. I love these boots and hope to god they never get discontinued. Thanks Keen for saving my feet.
Great boot for dayhiking & camping!
I bought these boots for dayhking and camping. I use them with Superfeet insoles and Smartwool hiking socks. They've been comfortable from the very beginning and required no break in period at all. I have a weak left ankle from an injury, and they provide enough ankle support to keep me from rolling my ankle un uneven terrain. I have a pair of Lowe boots that are a little heavier that I use for backpacking, but for everything else I grab the Keen's.
Keen Voyageur mid hiking boots
Well,

I did a 12 mile hike on Sunday and Iove my boots more and more. I did not have to break them in: they never hurt. i paid much more for my previous boots and they were fine unless I hiked more than a couple of miles .

What else can I say..."I LOVE MY BOOTS."

"CJ"