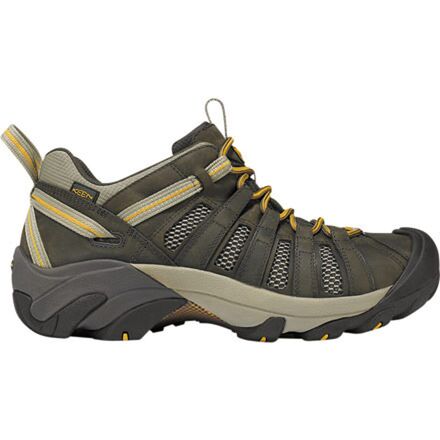 Detail Images

Videos

Community Images
Description
Drop into low, rev your engine, and climb that mountain.
The Keen Men's Voyageur Hiking Shoes are jeeps for your feet. The Voyageurs love dropping into low gear for gnarly terrain, and mesh windows let their passengers breathe on warm summer days. Aggressive four-millimeter outsole lugs grip rock, sand, mud, and scree. Dual-density EVA midsoles make the ride plush. These Keen shoes don't need roll bars, but the S3 Heel Support Structures help prevent your ankles from rolling, and ESS shanks provide torsional stability on uneven terrain. Bumpers on the Voyageurs protect the occupants' toes from ouch-inducing hazards.
Stable shoe for light backpacking
Familiarity:

I've put it through the wringer

Fit:

True to size
Used this shoe on my Honeymoon adventure this past September (2015). I enjoy Keens for my work as Haz Waste Driver, so bought these to try Keen without safety toes. First they are very light and have a nice big toe box, major plus. Fit me true to size (10)..
Good for trails, but I would switch to my Salomon's for the heavy rocky work. Sometimes you just need the extra protection around your ankles. Thats not the shoes fault. For the type of hiking or adventure they are designed for they rock. Would buy again.
Good at the moment
Familiarity:

I've used it several times

Fit:

True to size
So far I have enjoyed these on trail hikes, provide comfort and grip on wet days. After reading other reviews, a little worried these will be useless in a few months. Will update if I have the same issues as others.
Best fitting shoe, woeful construction
Familiarity:

I've put it through the wringer

Fit:

True to size
I wear these shoes because of the amazing fit for my foot. My foot is happy in them. I've been wearing them for 6 years--not one pair.



The problem is the durability and construction. The first few pairs I owned, they lasted 7,8 months. I wore them everyday and walked 4 miles to work in them. The soles were worn down by then. Ok, not too bad, definitely not great. Something happened after that. The next few pairs never even had a chance to wear out. The soles gave out. First, a side part where one of the lugs connected came unglued. I returned them. The second problem which has happened twice now is that the sole has started to separate from the shoe. I do not use these for hiking anymore. I don't trust them.




Yes the Glue is Defective
Yes the shoe is comfortable for wide feet for about a month and then it falls apart.



I was lucky with my first pair it lasted about a month and a half. When the sole finally seperated I was on my way back from a third world country where finding any shoe larger than a size 7 would have been impossible. If it had seperated a week or two earlier I don't know what I would have done. As it was I still felt like an idoit with my shoe sole flopping around the airport untill I could find a store.



Thinking that it was just a bum pair rather than a bum product I got it replaced free of charge when I got home. The second pair lasted about 4 weeks.



I think Keen should be embaresed. With every other pair of shoes I owned in my life the sole has remain firmly attached to the rest of the shoe (even when everything else fell apart) so this problem must have a known solution. If this wasn't a problem in 1985 with a $15 pair of sneakers, why is a a problem in 2013.with a $120 hiking shoe .



Given the number of compliats and returns they must be Keenly aware. Yet they coninue to distribute these things and amazingly stores continue to sell them. Don't either of them understand that they are forever losing a customer everytime one of these fall apart.



lesson one: When something falls apart don't replace it with the exact same product.

lesson two: Always bring a spare pair of shoes with you when traveling to a devolping country.

Lesson three: never buy Keens
Wide Feet Happy, but they DO NOT LAST
Gender:

Male

Familiarity:

I've put it through the wringer

Fit:

True to size
I have never trusted low-cut hiking shoes before, instead opting for boots to ferry my backpacking trips through typically rocky/rooty New England landscapes.



Not sure I'd use these with a heavy pack, but I've found them great with a day pack or on a light (overnight) trip with my larger pack.



These shoes in particular have a wide footbox (I'm an EEE). They breathe really really well too--and that may well be the key to their comfort. Very comfortable and stable.



My first outing with these was a 10 mile hike ... about 1/3 on logging roads and the rest on the AT. Nary a hot spot and nice comfy feet at the end.



With lots more miles at this point--but not enough to comment on durability--I am quite happy with them.





LONG TERM UPDATE: After not many miles, the glue gave out, separating the soles from the uppers. I'd bet I had less than 50 miles of walking on these shoes before they died on me. Totally unacceptable and I will be cautious when buying Keens in the future.






Glue on sole is defective...DO NOT BUY!
Familiarity:

I've put it through the wringer

Fit:

True to size
These shoes are comfortable but I definitely wouldn't take them hiking, as you can see from other reviews the glue is defective and the sole seperates cleanly from the shoe (some in two weeks or less, see other reviews)...looks like I got lucky as these lasted about 6 months (with pretty regular day-to-day wearing but nothing hiking, just day shoes).



I like Keen & think their shoes/sandals are comfortable (don't really use them for hiking as I like boots); but these Voyageur's are terrible & calling them a "hiking" shoe is just wrong/misleading for how non-durable they are, I can't imagine anything worse than having these split apart on you while on a hike...KEEN, you can do better...very disappointed in this item!!!
Worst shoes I've ever purchased....
I bought a pair of these at a SAIL store on the recommendation of the sales person, who praised there durability and comfort for someone with a wide foot size. After less than two weeks the sole has come completely separated on BOTH shoes, and also on the sides at the front. Now don't get me wrong, they are very comfortable, but I expect to get more than a couple weeks use out of them, especially at the price they sell for!! In this short period of time the shoes are unwearable, and they aren't even dirty yet!! Both the SAIL store and Keen will do nothing about an exchange or refund. I'll never, ever buy another pair of Keens again. I feel so ripped off!!
KEEN Voyageur Hiking Shoe - Men's
Best Hiking Shoe I Have Owned
Gender:

Male

Familiarity:

I've put it through the wringer
I love this shoe. Had my pair for 3 years now. still holding up strong. Starting to show some signs of wear on the fabric on the inside just in the last year are so. Great for hiking or just wearing around town as your everyday shoe.
Outside lowers blues
Gender:

Male

Familiarity:

I've used it several times
Having wore my Voyageurs for only 10 months during work day, usually walking on soft or uneven soil (construction sites), the lower rubber in separating. I imagine its the glue.



KEEN needs to resolve the glue issue; especially for $110 shoes!



I hope my replacement KEEN Austin Casuals can hold up to every day use as I love the comfort of KEEN shoes.
I usually buy these 3 pair at a time and in fact just ordered 3 pair. I'm just finishing my 5th or 6th pair now and I'm hopeful that Keen can get it together with manufacturing because every single pair of these I have worn (for normal everyday use) has had the lowers separate. It's a real drag because these are perfect for my feet since they're wide and allow my feet to breath and I never, ever slip on any kind of surface - wet OR dry.
These are the most comfortable hiking shoes I've ever owned. They just fit perfectly. But Keens just seem to be like that for me (unlike most other shoes). Decent for short bursts of trail running too on colder days. Not exactly waterproof, but that's not what these are for...
I bought these for my husband and this is the second pair we bought. The sole did wear out after a couple years which was a bit quick but he did wear them a ton. Comfortable and true to size.
Take some advise from someone who just turned 66 and doesn't own a car. When you are young, you are more interested in looks than comfort--forget it! After a lifetime of wearing narrow shoes, in your mature years, you will, by necessity, be more interested in comfort and the Keen shoes with wide toe boxes are essential. Avoid future problems and use wider shoes--you won't regret it! Keens are probably the most (only) comfotable shoes I have found for my wide feet. Do yourself a favor and buy them.
I exchanged the Voyageur mid hiking boots for these...good choice. The boots dug into my ankles.

I wear 11 1/2 shoes and these feel true to size. I have low arches and thinner feet (opposed to thick feet) and narrow ankles. If you have feet like mine, replace the insoles with thicker ones as the footbeds are very stiff.

The overall exchange experience and free 2-day shipping Backcountry offers will keep me coming back.
These shoes are real comfy, probably one of most Comfortable shoes I have. I will be getting another pair when these wear out.