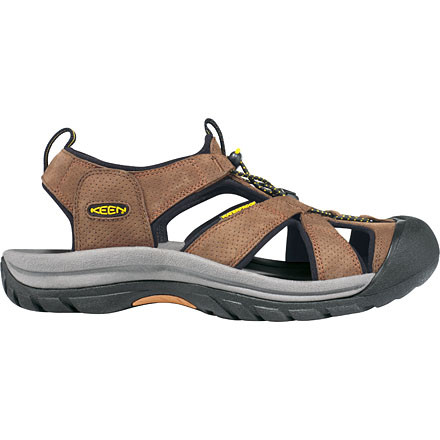 Detail Images
Waterproof leather uppers give the KEEN Men's Venice Sandals a classy look while preparing them for the occasional rafting trip or lake swim. When you're living in a city where the streets turn into rivers when it rains, you need to be ready for a sudden summer cloudburst, even if you're kicking back on a nice sunny day. The Venice Sandals' leather stays supple after a drenching, and their closed-toe design provides plenty of protection around town and on the trail. KEEN also gave these sandals an Aegis microbe treatment to keep your feet from getting funky after you wear them every day of the summer.
Lighter than I thought. The drawcord adjuster is extremely effective. Whether you are a fan of the styling or not, there is no arguing the comfort, versatilely, and quality is 5 star.
I love these even more than my Keen Newports. They are super comfortable, look outstanding and are well ventilated. They run true to size as well. Thank you, backcountry.com!
I have never had a pair if shoes that were a size 9.5 and did not fit. My toes rub against the front of these. Keen should check their sizing. Seems lame to hsve to pay to return sandels that are built incorrectly.
I've had this pair for a year now. I've bought them for kayaking but have also used them for everyday summer use including going here and there, taking them into hot springs, and hikes and such. I haven't been easy on them by no means and they are still holding up the same as day one. I waited all winter to put these bad boys on. Over all they are pretty durable, my only complaint is on the fashion side, they aren't too appealing. My friend has a pair of the Newports and has had the same usage and same positive experience plus his look better when running around. So if you are specifically buying these for their look or price you got it but if you want the apperance go with the Newport.
I have a pair of Keen Newports but wanted something cooler since my feet are always hot and these do great. Still the toe protection and support but with much better air circulation.
I love my Keen Venice sandals. They are comfortable and have great support. The only thing I would change is getting a pair that have an open toe for more air to circulate. I wear them in the yard, shopping, going out to dinner, camping, etc., and when they get dirty I just throw them in the washer. They come out looking like new. Great sandals.
GREAT sandals but beware of sizing changes....
Having had a pair for about 2 years it was time to order a replacement pair for the eventuality that my 1st pair will eventually wear out.

The only problem is that the sizes are NOT the same as what they used to be. My older size 11 was noticeably larger than the new pair I ordered (though they both said US size 11 on them). Thus, buyer beware that the sizes for these may have changed over time and the size that used to fit may not any more. Had to return them.

Thus, GREAT product and would certainly buy them again...but, again, beware that the sizing of these may be different than what you're accustomed to...(even if doing a direct replacement for the same make/model of Keen's sandals).
My sandals went with me all over Costa Rica. Climbing hills for Ziplines. Sliding through muddy jungles. Looked great, good fit, felt great!! Cleaned up nicely. Lots of compliments on them. I am a large footed woman that appreciates a strong, yet pretty sandal. gg
Best Answer
What are you even asking here? Is there no possible way you could have added just a few more words so that what you wrote represented a complete thought?
width wide? ....

Nope.

This sandal doesn't come in wide sizes (but the standard sizes tend toward the wide side).
I normally wear a New Balance size 10 EEEE....
I normally wear a New Balance size 10 EEEE. Is there a Keen Sandal that would fit me?
Thank You
Best Answer
Yes the 10sxw is the only one that will work for you. http://www.keenfootwear.com/search.aspx?q=venice. Special on-line order only.
These are just great sandals. They allow more air circulation than the Newports, but are still very stable and comfortable. They don't run quite as small as most Keen sandals, so if you need them to be tight on your feet (e.g., doing a lot of hiking, being in rivers or going through mud) you probably don't want to up-size. Otherwise, they can easily be tightened. If you know that you are going to frequently be getting them wet, I'd consider the Venice H2.
Splashing around the water last weeked, this is THE shoe, comfortabel and drys quickly, only drawback, the fit seemed too loose, so I kept cranking it tighter......
how come you dont include the weight for...
how come you dont include the weight for sandles ?
Is that 12 oz per sandal so it would be 24 oz total
so comfortable!
perfect sandal for heavy duty and light!
I love these as much as I love my other Keens. Very comfortable. Thinking about getting another pair for when I wear the first pair out.
I've had a pair of Newports for a long time and decided to get another pair of Keen sandals. These are great, they are lighter than the Newports but with all the support, very comfortable right off the bat, and are well made. Don't hesitate to buy, you won't be dissapointed.
I have a narrow foot..any recommendation
I have a narrow foot..any recommendation
Best Answer
Bob,The Keen sandals are made off of a medium width last. They are pretty versatile in fitting a little narrower as well as wider due to the elastic sides. If you are a C width I would suggest trying a Keen Newport H2 http://www.backcountry.com/store/KEN0002/KEEN-Newport-H2-Sandal-Mens.html (the Newport is a little more closed off). If your foot is really narrow B/A range these sandals will not fit your foot securely. Mahalo, Sumo
Unanswered Question
What sort of orthotic type support do the...
What sort of orthotic type support do the Men's sandals have (mid under-foot section)?Paul
I bought these as a gift for my boyfriend and he loves them. Wears them daily and we both wear keens when we are mountain bike riding. The most comfortable sandals you'll ever put on!