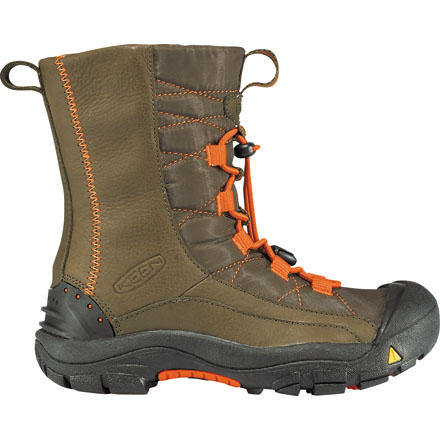 This is about the 10th pair of Keens to enter out household after discovering the brand about 5 years ago. I bought these for my daughter.
I wasn't disappointed. The fit is typical of Keen and run a bit small so order up. The addition of a zipper on the side in along with the bunge cord in the front make these super easy to get on and off.
They keep her feet nice and warm. She has not had any problems with them leaking at the zippers.
Kids are KEEN on their new boots from Santa
My kids often wear Keen shoes but needed something fun, warm and water resistant for the wet winter in Alabama. Santa brought both of them these boots - they love the colors (pink and green) and the fit. Most of the time they end up being worn without socks here. Fits about the same as the shoes. Definitely would get them again and seem like good quality for the money.
Snow boots he can walk in!
Besides the fact that my son loves the way these boots look, they fit him well, and don't have the big, clunky feel that snow boots usually deliver. No more shuffling and clomping around - he can actually walk in these. We'll be back!
Got this for my 10 year old boy and he loves them. We had record snow in Northern VA this year and these shoes kept him warm and dry. Snow is now gone and we can't get him to stop wearing them...it will take warm weather first. We are a Keen family through and through!
Not recommended for slushy conditions-not completely waterproof
I bought these boots for my 7 year old son at the beginning of November 2009. He has now worn them for three full months. We have found that these boots work fine for snow, but as soon as it starts to get slushy the water leaks in where the zipper starts at the bottom. His feet often get soaked to the point where I have to wring out his socks..... I will look for truely waterproof boots next time.
Bought these boots for my 10 year old daughter. She is very fussy regarding looks and feel but she absolutely loves them. They are warm, waterproof and they look cool.
These boots are warm and extremely comfortable. They may run a little bit large/wide. I wear thick socks with them and I love them!

-Stephanie
My son loves them, easy to put on take off. Waterproof, lightweight, stylish. Very happy with my purchase.
I boutht these for my 7 year old son and he loves them. We love that they are warm and that they are easy to put on and take off as they have a side zipper. They are also super funky looking with the Keen rubber toe and orange laces. Great boot.
Unanswered Question
Are the boots running the same fit as the...
Are the boots running the same fit as the shoes? If you were a ten in the shoe you will take a ten in the boot?