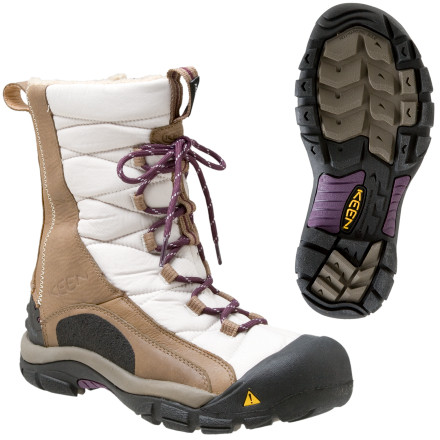 Detail Images

Community Images
Write your question here...Do these boots...
Write your question here...Do these boots have inner liners?
No, the Soft wool linings keep feet and ankles warm and dry. The 200g of PrimaLoft® insulation ensures warmth and comfort in cold conditions during active use; 400g in toes adds even more warmth and the Waterproof leather and nylon uppers withstand the abuse of winter So you'll be nice and dry and warm. So you don't need removable liners.
Comfy, but not warm enough
I bought these boots for the snow. I didn't buy them for walking the dog or running errands around town, I wear them snowshoeing and this weekend wore them at the X games standing in the snow all day. They say they are good to -35F but I have my doubts. While they are super comfortable, they do not keep my feet warm. Also, I have trouble with the zipper as others have mentioned. That being said, I do continue to wear them I just have to be careful if I'm wearing them for a long period of time in deep snow.
Unanswered Question
Write your question here... What temperature...
Write your question here...
What temperature rating do these boots have?
I love these boots..warm, easy to take on and off, and I had no problem with the ankle/calf area being too small. Although these aren't the cutest boots ever, once you put your pants over them, they look fine. They do pull your socks down though so make sure you have some nice high socks to wear with these.
Really warm and comfortable!!!
Great store, great shoes!
I've got them few months ago. Love them! Warm, dry, good looking too! Always thought, that shoes doesn't have to be ugly when warm and functional!
Backcountry is a great store, very reliable, shipment was fast and everything was as it is supposed to be!
Thanks!
These boots are warm and I don't need to wear gaiters with them when I wear snowpants. However, for hiking around they are not superb. The laces are basically for show and don't tighten. I have a narrow foot and so I wish the laces were more functional. They are great for going around town if you get cold feet.
These boots are very fun looking and warm. The zipper is a little tough to pull up at first, but as I wear them more often it has loosened up a bit. I like them because the remind me of Luke Skywalker boots! I would recommend them to anyone! 2 thumbs up!
Unanswered Question
I have a high toe box and a narrow foot....
I have a high toe box and a narrow foot. Which women's keep boot is better. I was thinking I could tighten the shoe more with the winthrop. Also, how is it sized?
Unanswered Question
I have a high toe box and a narrow foot....
I have a high toe box and a narrow foot. Which women's keep boot is better--the vail or winthrop. I was thinking I could tighten the shoe more with the winthrop. Also, how is it sized?
I absolutely love these boots! Had to send the first pair back, just a little too small. They are the warmest most comfortable boots I've owned. Thanks for the great site.
Very comfortable, but a bit hard to pull the zipper all the way up. If zipper pulls come with it, I would rate it a ten. Super warm and waterproof, ideal for King of the Mountain, sledding and making snowpeeps!
I live at the top of the worlds steepest driveway! While my car can't get up it in the winter, I have no worries walking up it in these boots - they are fantastic. They fit true to form. No room for big thick socks, but you don't even need them. They are wicked warm and super cute with the most amazing traction. Nice work making a snuggly winter boot so damn fashionable!
Nice boots, but should've come with a zipper pull
When I first received these, I was a bit skeptical. They looked a bit goofy and clunky, but I love Keens, and I knew they wouldn't disappoint me. I tried them on, and I loved them. Incredibly comfortable (and I ordered many different kinds - did not like the Solomon's at all - very uncomfortable), and they fit me like an old pair of gloves (or boots). I really like how the boots are snug against my heels without slipping.I took them out on 18" of snow, and they kept my feet toasty. These boots had the warmest rating of all the boots I tried on. I did have some slippage when I was climbing a steep hill, but many would. I'm usually a 5 without socks (sandals), 4.5 dress shoes, 5.5 regular shoes, and 5.5 or 6 running shoes. The 5.5 I ordered was perfect. The only thing that's a design flaw is that it's missing (and why 4 stars and not 5) a pull tab for the zippers. I just stuck some string on it so I can grip the zipper better (like a jacket zipper). Other than that, I really do like the boots. Very comfortable, snug fit, warm, and Keen-like.
I absolutley love keen footwear. The only...
I absolutley love keen footwear. The only problem is you do not make womens shoes in a large enough size. Your size 11 fits sometime but not always which I then have to go to a mens shoe which is to wide. Could you and would you please take it up woth your designers to make a size 12 or 13 in womens shoe sizes so that I and many other women whom I know personally can continue to wear. Your design of shoe is fantastic it is only the sizing that is an issue, I have a narrow foot so you understand the dilemna when purchasing a mans shoe. The colou choices also in womens wear is so great it bothers me to not be able to take part in them. Thankyou Sherri Jowitt
I definitely feel your frustration. The best thing to do is shoot Keen an email and let them know of your concern. They're great people and are open to any constructive thoughts.Good Luck
Ideally I fit into a size that doesn't exist. The size 8.5 packed out a tad so to make me heel stay in place best when snowshoeing (so I don't get a hot spot) I wear thicker socks. The size 8 is too tight. I probably should wear a shoe with a little bit more specific lacing adjustments then this for snowshoeing though.
But these boots are very warm and very easy to put on. I love them. Someone on here said they have good traction on ice, but I think that it could be improved. If you walk very slowly on ice they are great, but could use a little bit more gripping on the ice.
Can be used on light snowshoeing and light hiking adventures, but if anything more extreme- I would use footwear that has a less loose/comfy fit, and a more dialed in lacing setup.
just waiting for the snow....
Can't wait to try these out on my -40 winter bike rides...
Little big around the shins but i guess all the more room to be tucking the thermals into and of course will keep the bottom of your trousers out of the snow.
I got the half size up as recommended - and maybe didn't need to as i have narrow elfen feet apparently. Will stick with them though to allow for extra sock-age. Have you ever noticed how cute shoes look in the shop when size 5/6 are displayed?....trying on a size 10 usually makes me want to perform foot surgery - so i say good job Keen - even in a size 10 i don't look like i am ready for my first moon landing.
Just got my boots and they fit perfectly! I'm surprised by how light they are, and they have enough room for thick socks too. They're cute and I can't wait to try them out in the snow.
these boots are great for cold, snowy weather. i wear them with a pair of jeans around town on snowy days, never get cold or wet. they are great for hiking and snowshoeing in the snow as well. keen managed to make a clunky winter boot cute!