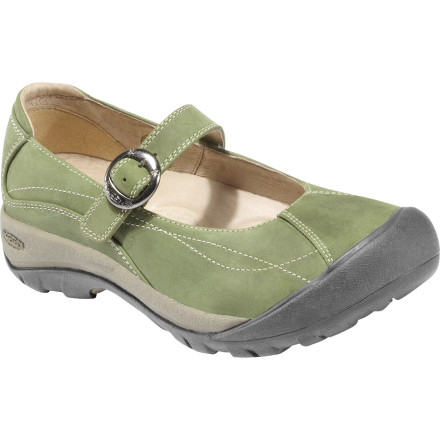 Detail Images
The Keen Women's Toyah MJ Shoe combines style and comfort with its fashionable design and supportive construction. The Toyah features a waterproof nubuck upper to handle anything from rain to spilled coffee, and a removable EVA footbed for arch support and cushioning. The adjustable instep strap creates a feminine look you can wear to the office or to the pub, while the rubber outsole provides durable traction.
Nice shoe. True to Keen sizing
I ordered a size smaller in this shoe based on the reviews and I am now having to send them back because they are too small. I should have stuck with the same size I normally wear with keen. I ordered an 8.5 my normal size in other shoes and they are too small. Should have stuck with size 9 for Keen!
Sizing turned out to be true-to-size
Familiarity:

I returned this product before using it

Fit:

True to size
Based on other reviews, I ordered 1/2 size smaller than usual size. It was too small so I'm exchanging for my regular size. Otherwise a great shoe!
Unanswered Question
I am on my third pair of Keen sandals ......
I am on my third pair of Keen sandals ... the pair that I have is the Whisper size 9. How does this relate to the Toyah MJ Shoe? Can you please help?
I bought these in an 8(my regular size) and then had to return them because they were way too large. When I got the 7.5, I realized that they were just too wide and heavy for me. I did really like the color of the dark earth ones, though so I was sad that they didn't work out. Size down with these shoes.
, ☃bcs_badge_alumni_label☃
Keen Toyah MJ street shoes: watch out if you have narrow feet
They are as petty as all Keen shoes, but I guess these will not work for you if you have narrow feet.

As someone already said in another review "they are wide like a big boat", and I can tell it is true!

I consider I have a wide feet, and I followed the most recent advice regarding size, so I went with my usual Keen size. But they were like one full size bigger than expected, not only in the length but also they were too wide.
I need a pair of comfortable shoes I can...
I need a pair of comfortable shoes I can wear at work in a library. I think these would be nice. However, I'm worried about the size. I have a pair of Keen Venice, size 10 that is perfect on me. I ordered a pair of Keen Whisper size 10 last summer, but they were so narrow or small or something, that I couldn't fit my foot into them! Is the Toyah closer in comparison to the Venice size or the Whisper size?
Hey Deb,

The Venice is a C width, Whisper B,

The Toyah MJ is a C+, I would recommend a 9.5 as the length of the Toyah MJ is a little longer than the Venice.

Jerry
, ☃bcs_badge_alumni_label☃
I also have a Keen Venice, size 7 and they fit perfect - that is my regular shoe size. I would recommend going half or one size down. Maybe you can order both and just return the ones did not fit you in. If you have narrow feet, these may not work well for you.
Bought 2 pair for my wife, different colors. She loves them. They run pretty true to size.
Steered the wrong way on sizing dilemma, but great shoes
I love these shoes, but I took the advice of some of these posts and bought them a half size smaller than all my other KEEN MJ shoes, which are usually Calistoga. Wish I hadn't; they're a bit too small in length, and now they don't have the madder brown in my regular size. I found these to fit the same as their other MJs. I'm bummed.
Took this pair on my two week trek through Germany, Austria and Italy...these shoes held up, looked cute and kept my feet very happy! Thank you to the customer service rep, I think her name was Michelle, that helped me find the perfect shoe!
Super cute, but SUPER WIDE
These shoes are super nice and the style is great. I am a size 8, and the size 8 length was just a bit too long. HOWEVER, these are for wide feet only! Wow, they are super spacious in the width. I have normal to slightly narrow feet, and floated around in these. Sadly, had to return them.
hello from UK I am a very 'keen' KEEN fan...
hello from UK
I am a very 'keen' KEEN fan having had many pairs since discovering them 7 years ago. The new Europe division do not seem to offer as many designs as US outlets so I am forced to order from US. I am uncertain re sizes as I have had mixed experiences. US 8 usually fits...can anyone advise re Toyah? Several people suggest taking one smaller size, I usually take one larger size. It's a problem to return them from Uk if the size is wrong!! Many thanks
Annie in UK
Best Answer
Hello Annie,

Indeed the Toyah MJ runs bigger than most KEEN's, but by only a half size. So if you had a Toyah, Presidio, Briggs or a Calistoga MJ in an 8 you will need to go down a half size to a 7.5. The Toyah MJ runs wider also do to the open forefoot.
If you still are confused let me know what KEEN shoes you have now and sizes and I can tell you how the Toyah MJ will fit compared to them.

Thanks, Jerry
I have many years of wear in my keen sandals but never invested in the street shoes. I just bought a pair and I am already ordering the other three colors. Cute, cute, cute! I usually wear a 10 in the newport sandal, but these I wear a 9.5.

No break in was necessary and my fascitis is nonexistant in these shoes. I can walk 7 miles through Rome and be able to walk when I get up the next morning.

Yes the shoe seems wide where your ball of the foot is, that's because your natural foot spreads out when you walk and you need that room for a healthy foot. I cannot say enough good about these shoes!
what size would I need if I wear a 41 or...
what size would I need if I wear a 41 or 9 shoe normally? Anyone help me there ?
Best Answer
Margaret,

Your normal street shoe size (a 9, it seems, if you're on the US system) should fit just fine. If the shoes arrive and there is an inconsistency or you don't like the fit, backcountry.com is really good about prompt returns on sizing issues, and you should be able to easily acquire a size you prefer.

Happy trails!
what size would I need if I wear a 41 or...
what size would I need if I wear a 41 or 9 shoe normally? Anyone help me there ?
With Keen I generally recommend going down a half size if it's there.
wide like a big boat, but comfortable, and cute, as long as I don't wear anything narrow in the leg that shows off how wide these are. The bunions have all the room they could ever need, and then some.
Nice arch/overall support: I haven't even felt the need to put in my inserts yet.
Just bought these today. It was a choice between these and merrell qform footbed--picked these cause they ran true to size and felt comfortable. They r as comfortable as athletic shoes but have some style to them--cute on. I work as an occupational therapist so I'm on my feet running around alot. I think my feet, knees and low back r gonna b much happier now!!!
Another quality Keen product
Another really comfortable pair of shoes from Keen. No breaking in ever needed. Unfortunately this style seem to be bigger than normal so I advise you order a size smaller. Very wide fitting. I ordered the smaller size hassle free with Backcountry.
O.M.G. my feet have never been happier!
This is seriously the most comfortable shoe I have ever owned...my first pair of KEEN shoes, I am breaking them in for a trip to Europe, but truth be told, I don't have to break them in - they were comfortable from the second I put them on!

Great arch support, nice wide toe box, cute enough for work but rugged enough for outdoor activities. Just pure foot heaven.

Thinking of grabbing another pair in a different color!