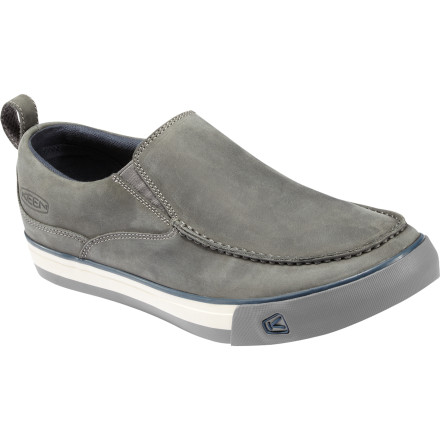 When you slide your feet into the KEEN Timmons Slip-On Shoe you'll be instantly transported to a land of milk and honey (or beer and pretzels). Soft nubuck leather upper is classy and easy to clean should you spill beer or honey on it. A vulcanized eco-friendly construction and natural gum rubber reduce the environmental impact of this comfy casual shoe. The removable KEEN.CUSH PU and memory foam footbed support the sole of your foot for all day comfort.
not as comfortable as i was hoping. I bought them to be my "everyday" shoe. I like the look but they haven't been as comfortable as i had hoped. I still wear them a few times a week looking for that "break in" moment.
Pleasant surprise! ..... instant comfortability!
Is the gargoyle color pictured above...
Is the gargoyle color pictured above actually grey in color? there is a review that states otherwise
Looking at the pictures on Zappos it is defiantly a black color, Not solid black but defiantly a black color.
I have them and they are more grey. I am on here debating if I want to buy another pair. Definitely my favorite shoe.
Gargoyle is Black NOT grey
My son loves the shoes, they fit true to size, but I'm disappointed in the color. We were looking for grey shoes and these are BLACK! The pic above is the color we were looking for & expecting. Haven't decided if we will keep them yet or not. :(
"Soft n' comfy ... like my Hush Puppies."

Love these kicks. True to size, easy to slip on with great stylin'. They get more comfortable by the day.
Picked these up for a slip-on to make airport security checkpoints a little easier. Once I reached my destination, they were the first shoes I reached for every day. VERY comfortable, well made, and the fit is true to size. I don't think these look wide on my feet, as commented, but everyone is different. I've had several people ask about them (Gargoyle color). Color depicted is spot on. Planning on picking up the brown ones too. Very much recommended.
Why is the brown picture labeled slate...
Why is the brown picture labeled slate black?
Hey Lee,

That is the name of the brown, slate black. The color of slate black is the same as the picture.

Jerry
Felt a little clunky and they looked wide. Otherwise I think they'd be great.