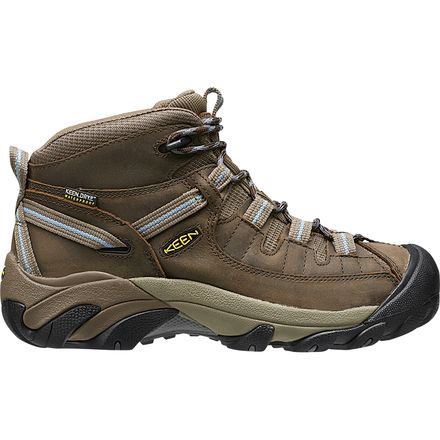 Detail Images

Videos

Community Images
Description
Just the right balance.
Keen calls its Women's Targhee II Mid Hiking Shoe "four wheel drive for your feet," and, well, it's the truth. Sturdy, breathable, and light, this mid-height shoe lets you hike, backpack, scamper, or scramble far from the world of pavement.
Waterproof leather and a mesh upper blends protection and breathability
S3 Heel Support Structure holds your heel just where it needs to be for stable footing
ESS Shank protects feet from bumps and irregular terrain
Carbon rubber outsole with multi-directional lugs provides traction on the trail
A protective toe cap makes painful toe-stubbing a thing of the past
keen makes great stuff
Familiarity:

I've put it through the wringer

Fit:

True to size
use for long hikes steep hikes. no rubbing blisters. great protection and just enough flexibility. perfect boots. must wear good socks.
Comfy for wide feet
Familiarity:

I've used it several times

Fit:

True to size
Comfortable, but there's too much room at the heel. I have to make sure that they're laced tight and wear a heel cup for a snug fit. I wouldn't recommend these for long hikes or backpacking trips. After 2 hours, my feet are sooo sweaty in these boots.
Unanswered Question
I am 40 yrs. old and my awesome father booked a jam packed trip for he and I to go to the Grand Canyon to celebrate my "half time". Unfortunately, one month ago, I severely sprained my ankle. I am finally out of my "air Jordan boot", army girls so affectionately call it, but am still in my lace up brace. Absolutely NOTHING is standing (or gimping) in my way from enjoying this trip, however I am looking for sound advice as to a specific boot that I can wear with my brace that will keep me grounded and without a bunch-o worry on my vacation. Any serious advice would be greatly appreciated. Cost of boot or half boot is not a factor.
Love these boots!
Familiarity:

I've used it several times

Fit:

True to size
I ordered these and they arrived 2 days later! I wore them straight from the box to work. I'm on asphalt and concrete 10 hours a day. My feet feel great and they've stayed warm and dry! 9.5( my usual size) fit perfectly! Highly recommend!
Perfect hiking shoe
Familiarity:

I've used it several times

Fit:

True to size
I ordered this shoe not too long ago and have used it only a few times, but those few times have been great! Each time I've gone out with these it's been rainy, slushy, and overall just gross weather outside. These have held up perfectly! Kept my feet dry and warm, and fit perfectly. Highly recommended!
Rethinking Targhee II
Familiarity:

I've used it several times
I bought my 1st pair of Keen Targhee II's while hiking the AT in 2012. I loved them and have purchased 3 more pairs since then. BUT, this pair (same size) gave me shin splints after 2 short hikes so they are going back. Am I disappointed!
A Cut Above The Rest!
Familiarity:

I've used it several times

Fit:

True to size
I purchased these and a pair of Superfeet Orange insoles for my wife for our trip to Glenwood Springs, CO. We hiked for 3 hrs to Hanging Lake up steep rocky inclines. Not one turned ankle or one blister. She said her Keen Targhee's are by far the most comfortable hiking boots she has ever worn!
Best hiking boots I've tried
Familiarity:

I've used it several times

Fit:

True to size
Okay, to be fair...they are the only hiking boots I've tried. I love hiking, but until now had just worn tennis shoes on my hikes. When my husband and I decided to plan a trip to Ireland that included many days filled with hikes, I realized it was time to make the hiking boot investment. I did loads of research on which boots were the highest rated, keeping in mind the budget I was on. I was also looking for something that I wouldn't look terribly "butch" wearing. I found these, ordered them, broke them in for about 2 weeks, and left for Ireland. We hiked all throughout the Wicklow Mountains as well as the Cliffs of Moher, sometimes in pouring rain. I should add, I have bunions on both feet, which sometimes make shoes uncomfortable to wear. These boots kept my feet dry, warm, and they were totally comfortable! I didn't regret this purchase for one moment!
Super flat
Familiarity:

I've put it through the wringer

Fit:

True to size
Unfortunately I tried these out as hiking boots and realized they weren't for me after an 8 hour hike up Algonquin in the Adirondacks. Even though I have very flat / wide feet these were apparently too flat even for me as they caused pain in my arches. On the positive side I find them to be very waterproof and durable. Instead of their intended purpose I now use them as a winter boot for walking around in slush and light snow. I will be sticking to my tried-and-true Merrels for hiking.
Right out of the box...
Familiarity:

I've used it several times

Fit:

True to size
You can literally buy these one day and hike the next. I bought 1/2 size larger than normal shoe size and the fit is perfect for up or down hill. These are great boots. I plan to get at least one great year of trail use from these. The Targhee II is an excellent all-around boot. If you're looking for super waterproof, spend more money. I did not appreciate that these were shipped with a 5-hour energy drink. (Does one really need 8333% of the daily recommended B12?)
Not good for intense hikes/rain
Familiarity:

I've put it through the wringer

Fit:

True to size
I wore these boots starting in Maine on the Appalachian Trail. I loved them for my short hikes before the trip, and bought two pairs. They seemed to be water proof, but after two weeks in the rain in Maine, they just stayed wet. They weren't breathable, and my feet were rarely dry. Within two months the bottoms started wearing off, and the laces broke. I would recommend these for dry, less intense hikes because they are really comfortable. But they didn't seem to hold up for adverse weather, and hiking on a lot of rocks.
Love these boots!
Familiarity:

I've used it several times

Fit:

Runs small
After planning a very last minute mountain hiking trip, I realized I didn't have appropriate footwear(the boots I had didn't fit correctly) so a week before the trip, I bought these. I wore them to work everyday hoping to break them in a little, turns out, I had nothing to worry about. These are by far the most comfortable boots I have ever owned, after hiking straight up (and down), no blisters or hotspots and because of the wonderful wide toe box, my toes didn't hurt either(did I mention the extremely steep trail), they also provide plenty of ankle support. As advertised, they are waterproof, I sank in ankle deep mud/water multiple times and my feet stayed dry, they don't breathe as well as other hikers I've had though so definitely wear wool socks. They do run small, I usually wear 8 but got 8 1/2 instead, any smaller and they wouldn't have fit. These boots are my first pair of Keens but definitely not the last!
not so waterproof
Familiarity:

I've used it several times

Fit:

Runs small
Very comfortable. I was sad to find out that there were not as waterproof as advertised. I ended up having to get a full size larger than what I normally take but once I found my size they are so comfortable.
I could live in these things
Familiarity:

I've put it through the wringer

Fit:

True to size
These boots are literally the most comfortable shoes I own. I can hike for days in these things and not get a single blister. Just be sure that if you're going to be sweating a lot, wear wool socks (no need to double up pairs, either). Also, when sizing, make sure that your toes have room to wiggle, and that they can't reach the end. There's a lot of good support, and I've never had a problem with my ankles in these boots. I will definitely buy another pair when mine kick it!
Maybe I have a faulty pair?
Familiarity:

I've used it several times

Fit:

True to size
The reviews here are so positive, that I am now thinking I might have a faulty pair? I just got back from a couple days of moderate to intense hiking and I feel like these boots let me down. I wore them all week while on this hiking trip as well. No major rubs or blisters (but I am careful to address those quickly with bandaids/moleskins to avoid them). I found that they were not breathable at all, and oddly enough, they still let water in after wearing them in the rain and stepping in a few muddy/puddles. It wasn't pouring, just a steady, light rain and the puddles weren't very deep---I was disappointed in their waterproofness. I also found them very slippery on wet rock. I will say that they are pretty comfortable right out of the box, but the cons have outweighed the pros for me.
Great for summer hiking!
Familiarity:

I've used it once or twice and have initial impressions

Fit:

True to size
I was looking for a good summer hiking shoe that gave me extra ankle support and this is exactly that. The sides have mesh which allow for your feet to breath minimizing any soggy socks. I'm also notorious for tripping on my own feet so the toe box is super nice and came in handy more than once on my first hike in them. Some shoes have given me blisters in the past the first time or two I wear them but no this pair. Great!
Excellent Support and Comfort
22 miles in 2 days! My girlfriend is now a dedicated Keen customer for life.
Two friends and I own about 15 pairs of Keen boots, shoes and sandals between us and we love them. Having tried and been disappointed with 4 different brands in a two-year period, I tried on my friend's Keen Targhee's and was converted there and then. I ordered my own pair (half a size up from my normal size) and when they arrived I put them on and started walking, they were instantly comfortable. We walk an average of 40 miles a week and after six months of that the boots show no signs of giving up, the insides showing hardly any signs of wear at all. Not a pinch or an ache which is a first for me; I love the wide toe box (but the boots do not look too "clunky" at the same time) and excellent arch support. They are very light and have kept my feet dry, even after wading through a deep puddle, although my socks were slightly damp after trudging through sopping wet high grass for a period of time but that might have been perspiration either. I would highly recommend these boots and I would also like to mention that we were very impressed with Backcountry's and Keen's customer service when we contacted them after receiving a faulty pair of boots; it was not a straightforward exchange and they really helped us out so 5 out of 5!
Cute, light, comfortable for moderate hiking, a little less padding than I expected.