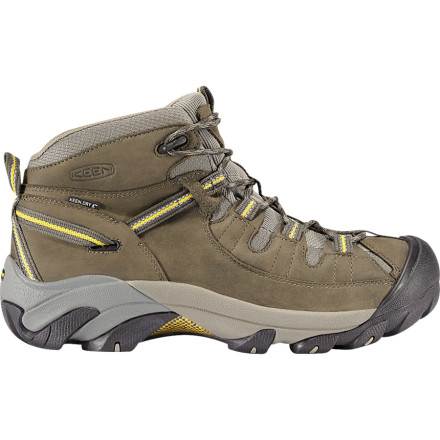 Detail Images

Videos

Community Images
Description
Burly trails beware—the Keen Targhee Mid II Hiking Shoes are on your case.
Lacing up the Keen Men's Targhee Mid II Hiking Shoes is like shifting your feet into four-wheel drive. Their 4mm lugs grab rough terrain, while the waterproof and super-breathable eVENT insert keeps your feet dry. The dual density, compression-molded EVA midsoles cushion and absorb shock so you can return to the trailhead without achy feet. The mid-height cut protects your ankle from rolls and twists, and Keen's S3 heel support structure cups your heel so you experience less slippage and less blisters.
Great product
Fit:

Runs small
This was my first pair of Keen boots. I had been looking for a lightweight pair of hiking boots and wanted something made in USA. While these are 100% made in the USA they are assembled in the USA so that is a plus.
I am a wilderness guide and spend a lot of time in my foot wear in all kinds of conditions.
I have only had these boots for two weeks and they feel great.
The soles we of particular concern for me as I want to make sure they have good traction on wet surfaces and they had been performing well. The winter season is coming so I will see how they feel on snow and ice soon.
As of now I am very pleased with this pair of boots.
One note, I took the advise posted and ordered 1/2 size larger than what I am and they fit perfect.
Little to no break in period.
If your looking for a comfortable pair of boots to hike in these seem to be a good value.
Great boot
Familiarity:

I've put it through the wringer

Fit:

Runs small
This is my second pair of these boots. I still have the first pair I bought to go to camp with my daughter 5 years ago. I needed a new pair to wear everyday but didn't have the wear of my old ones. They new ones fit just like the old. No break in period. Great in all kinds of weather.
Good boots
Familiarity:

I've used it once or twice and have initial impressions

Fit:

True to size
Went hiking with boots out of the box. Had a little toe jam on a steep downhill. May be a little hot. All in all seem like a good boot. Got them for day hikes and short backpack trips.
Great boot for the price!
Familiarity:

I've used it several times

Fit:

True to size
My girlfriend bought me these for my birthday and I love them! I wore them on vacation to the Big Island of Hawaii and wore them 3/5 days, hiking in hot, humid weather as well as cold, dry weather and they held up phenomenally . On wet rock or in mud, I always had traction. They provided great ankle support and were just super comfortable overall. A lot of the reviews talk about how "these didn't hold up to me hiking 10 miles a day every day for 6 months" but that's fine because I'd gladly buy a pair of these every 6 months. If you want a solid boot that's great for weekend adventures, then this is the boot for you. I typically wear a size 12 shoe and my feet are a little wide and a size 12 in these boots fits perfectly.
Unanswered Question
Long story short. I purchased a pair of Targhee II in preparation for the grand canyon around November 2012. I like them well enough to have my wife pick up a 2nd pair a month later. The 2nd pair was different - same everything but it was different. I went back to the store (Gander Mtn) and complained soon they when thru there stock and found a pair like my 1st pair. I have not been able to find what I like since. Any thoughts?
Can't really go wrong here
Familiarity:

I've put it through the wringer

Fit:

True to size
It's a great boot or I wouldn't be on my third pair. That being said.. I'm on my third pair. Let's get to that later, first the highlights.. its a great boot! It's comfortable, it fits well and offers all the support you could hope for from a mid. Keen really stands behind their product, I mean come on they sent my replacement laces! The laces are fantastic they're textured and that really keeps them in place and tied. When my laces finally gave out I asked Keen where I could buy them, they simply asked for my shoe specs and address and a week later I had new keen laces. The one year warranty on the shoe itself however is about right on the money. Assuming you're a high mileage hiker you may likely only get spring, summer and fall out of these before the sole starts to separate. (a little gear aid seam grip applied to the sole when it first starts to separate will buy you extra boot life) If you primarily do day hikes in your local state park once or twice a month and you don't leave them caked with mud in the garage this boot could last you years. Did I mention it's a back saver, here a year ago I damaged a disc in my lower back, started wearing my Keen's as everyday footwear, and it markedly diminished the pain in my back. How much do we love them? Both my wife and I sport Keen Targhee II's when out on the trail.
Wide, comfortable, good fit.
Familiarity:

I've used it several times

Fit:

True to size
Just purchased these last week after wearing various Merrells for over a decade. I tried these because of the large toe box and wide fit, I'm hoping they won't blow out like my last Merrells did. I am not a big fan of the tread so far, the large blocks seem somewhat slippery. The fit is great, and so far I like the lacing system. My feet have lots of room with no slip. Great reflective trim makes them show up well at night. I'll review them again later...
i bought these for my father-in-law as he travels around different state parks hiking around all day. He loves them! great fit and perfect for walking in the whole day. Forms to foot and a comfortable fit.
These boots have been perfect for me
Familiarity:

I've put it through the wringer

Fit:

Runs small
I just ordered my 4th pair of Targhee's. Each pair has been terrific to backpack in. Yes, they do wear out eventually. I have gotten hundreds of miles of hiking out of each pair, a lot of that in New England. I like the wide toe box. I have found that the sizing does run somewhat smaller than expected, but I order one size larger than what I order for shoes and it has worked out very well. Contrary to some of the reviews I've read here, mine have never fallen apart but the tread is soft and very grippy - so they wear faster than some other treads - like car tires. The only criticism I have is the lacing loops, they are some kind of fabric that eventually wears through and then the boot is no longer useful - not even for lawn mowing. If they made those loops more durable then the boots could be useful for lighter duty even when the tread has been worn down. So I would recommend these to anyone. Just get the "right" size.
Good Boot for the Price
Familiarity:

I've put it through the wringer

Fit:

True to size
I got pair of Keen Targhee II for almost half off and I have had them for about a year and a half. I've used them for a daily boot as I worked at an outdoor facility, taken them on several day hikes, and taken them on a 55 mile backpacking trip on and off the trail through the Sawtooth Mountain Range. I've worn them in rain, snow, and hot summer days and I have been relatively comfortable through all of it. They are a good lightweight boot, and I felt that they were very versatile in their function. As many others have said, the soles did begin to show signs of early wear within the first few months of wearing them, but they have held up in this condition for well over 100 miles of hiking and backpacking. I was also disappointed at the waterproofing of these boots. Whenever I was making a creek crossing or even if I was just walking through a wet field of tall grass, I noticed that my feet would begin to get wet at the toes. Despite all of this, I think that they are a durable boot and a decent value for the price.
Best boots I have ever owned.
Familiarity:

I've put it through the wringer

Fit:

True to size
I am on my 3rd pair of Targhee II's. To be clear, they are my daily wear and light hike boots and the 1st pair lasted 2-3 years. I work outside and in some tough environments and these boots can take a beating. Warm and dry in all but the coldest days. I have 5 pair of Keen boots & 2 pair of shoes and a pair of sandals and NEVER had and issue. Boots run true to size. I will note that I have a wider foot than most and these shoes fit me great. I suspect complaints of premature wear below are due to improper fit.
DO NOT PURCHASE FROM KEEN!!
Familiarity:

I've put it through the wringer

Fit:

Runs small
These are absolutely terrible boots that don?t last, the customer service rep even told me that the tarhegee II was not made for hiking. How is a hiking boot not made for hiking? the soles came off at just about every point on the shoe within 30 miles, and when I contacted them they made me go through all these hoops, they finally agreed to send a new pair of boots but a different model ( I cant recall which one). upon receiving the boots in the properly named box, I assumed it was the boot I was told I was going to receive. after hiking 30 miles in white mtn. national forest I contacted them again and told them my boots were falling apart. It turns out they sent me a less expensive boot from the ones I originally bought. they insisted that I send them pictures of the inside of the toungue to observe the tag. the funny thing was it was just a white square ( it was like this as soon as I bought it, but did not suspect any foul play would occur) with that and the fact that the boots were already destroyed, I sympathized with them that this in fact was the boots they sent me and this was the wear that had occurred. they then started to accuse me of lying to them and trying to scam them for a free pair of boots and really insulted me. I could not believe what I was hearing from them and the situation I was in. after that I vowed to them that I would make sure I would do what I can to make sure other thru hikers would not go through the same ordeal. I was very displeased with the whole experience.
how much does a pair weight?
how much does a pair weight?
Hey Daniel, thanks for your question. A pair weights 2 lbs. 2 oz. Hope this helps!
I have several different pairs of Keen hikers. My Targhee II's are about 2 years old and going strong. They are built to be lightweight, so don't expect to torture them year after year. They are best suited for light hiking and are waterproof to the ankle. Comfortable but inexpensive boot for a winter jaunt, or for an all day excursion. I find them to be true to size, perhaps a bit wide, but laces can take out extra room.