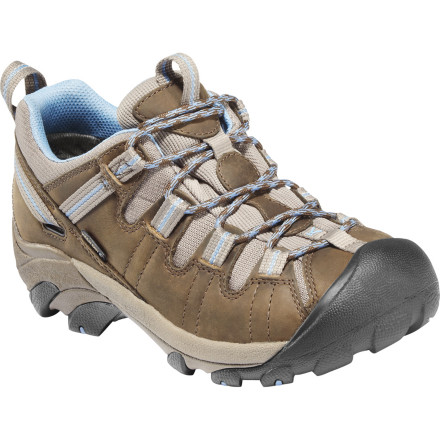 Detail Images

Videos
Description
Go discover new trails in the Keen Targhee II Hiking Shoes.
Try out a refreshing new day hike in the Keen Women's Targhee II Hiking Shoes. They'll keep your feet dry with waterproof breathable eVENT inserts as you stomp through puddles. The full-length ESS shank and S3 Heel Support Structure provide great stability on those super steep sections, and the Secure-fit Lace Capture System keeps your laces nice and tight.
This is my second pair of Keen Targhee II; I loved my first so much that when I needed a replacement I just ordered the same ones as replacements.

Right out of the box I was able to put them on and hike to the top of Vermont, no problem.

I love that they are waterproof and have a roomy toe box - you can tighten the laces to fit your foot easily.

A great day hike boot.




Great Shoes
Familiarity:

I've put it through the wringer

Fit:

Runs small
These are a great pair of shoes. Hiking snowy alpine trails during a melt and then later the PNW coast really put the waterproof feature to the test.; my feet stayed dry despite all of the slush and mud. They hold up really well, too.

I found them to run small. I normally wear a 6-6.5. The 6 is cramped to the point of blistering and the 6.5 (which usually tends to be a bit too roomy) is still snug if you wear a thick sock. Went with the 7 so that I could wear thicker wool socks for added comfort.
unfortunately, no luck
Familiarity:

I've put it through the wringer

Fit:

Runs large
Keen is a great brand but these shoes were no good. Though they give great support, my toes overheat uncomfortably if I wear them in any season but winter. Also, breaking them in, though it isn't terrible, it's not a joy ride at all. I wore them backpacking several times hoping they'd get better but they never did. I finally replaced them after a year.
Wish I could keep them but?.
Bought these in a size 9 M which is my normal size. They have a great, roomy toe box and felt good as soon as I put them on.

But, the heel is too big for me and my foot slipped no matter what sock, insole combo I used. I walked around the house to test them out and felt it would be a mistake to try them on a steep gravel road with the heel slipping. I need a shoe that fits a bit more snug .
Great Hiking shoe!
Familiarity:

I've used it several times

Fit:

True to size
These are comfortable, sturdy hiking shoes. Keens run wider then most brands so they are great if you have wide feet. They breathe really nice so will be great in summer heat
Ahhhh
Familiarity:

I've used it several times

Fit:

True to size
Took these right out of the box and hiked Camel's Hump, 6 miles. No breaking in needed at ALL. Super comfy to scramble in, stay dry, and look great!
I wear these all the time! Whether it be at work(12 hour night shift spent on feet), walking around town, hiking. Great support and awesome stability.
KEEN Targhee ll Hiking Shoe - Women's
How much does the Keen Targhee-ll weigh?
How much does the Keen Targhee-ll weigh?
13.74 oz/390.22 g for each shoe, or roughly 1.7 lbs per pair.
Great Shoe
Gender:

Female

Familiarity:

I've put it through the wringer
This is my 3rd pair in 5 years of the Targhee by Keen. I love this shoe. After reading the reviews I decided to order a half size up this time, (I am a Womens 8, I ordered a Womens 8 1/2), This was not necessary. They have not changed the shoe. The 8 1/2 is too big. I would not recommend ordering up a size, otherwise this shoe is great for all 'walks'of life.
I bought two pairs of KEEN shoes: these and the Newport Sandals. I immediately loved the sandals, incredibly comfortable but for some reason these boots were a bit tight for me. I guess this specific style runs a bit small so I would recommend getting 1/2 or a full size up.
My job needs me to be on the go... when I got the shoes, i was doubtful that it was gonna be comfortable in it knowing that i will be walking all through out my shift, but I was surprise that i was so comfortable and it gave so much support that at the end of the day, i didn't feel worn out.... bottom line- I just love it :)
I bought the KEEN Targhee II a couple years ago and love them. Super comfortable, wide toe box, no break in time, rugged, and genuinely waterproof. I sill have them and use them. My only complaint about them is that perhaps they are a little hot, but this is expected with a waterproof shoe. As the other reviewers mentioned, I usually wear a size 8 to an 8.5, and in the Targhees I was a size 9. When I saw the Targhees were on sale a few weeks ago, I decided to pick up another pair and figured another size 9 would be fine. These 9s are significantly bigger than my old 9s. They are at least a half size, perhaps even a full size larger than my old ones. Perhaps KEEN has changed the sizing on these shoes. I would now say they ran true to size.
Photo of Dark Brown is VERY deceiving
I am thouroughly disgusted. I just got my order of Kenn Tanghee II Dark Earth/Allure. The color is NOTHING like the photo. The shoes I received are practically black - nothing like the photo shown. Now I get to go through the hassle of returning them and ordering something else. If you order the Dark Earth color . . . be prepared that the brown is a very, very black brown.
This is my second pair of the Targhees. Granted, I wear them a lot but both pairs have had the seams come apart within a year. They are comfy, which is why I tried a second pair. Won't buy them again.
Ive had these for over a year while i dont wear them often, when i do its for the entire day. They are great for wet muddy conditions and the rugged sole hasnt let me down - BUT-They really hurt my feet on the outer edge. I think its the insert, its rather flimsy compared to my other Keen's (i Have 6 pairs)
I took the leather type insert out of my Presidio's and now these Hikers are just fine. Maybe others wouldnt have this problem as i know i am very picky on comfort.
Decent, but wear too quick
These shoes are great for a while, but they wear too fast so I will not be buying them again. Particularly, the sole starts coming apart pretty quickly (especially if you hike on lots of bare/jagged rock like I do). Once the sole starts coming apart, waterproof-ness is totally lost (the ridiculous amount of cactus needles I've stepped on probably doesn't help the waterproofability either!). My feet get wet now just walking in very shallow wet sand. That said, they fit and feel great. If Keen started using more durable vibram soles I might try this shoe again.

Edit: Just realized I wrote this about the Women's version and not the Men's. I had the Men's. I'm sure the concerns are equally relevant for both versions.
I generally love Keen shoes. But this style was very tight across my instep. It didn't have Keen's usual big toe box. I couldn't wear it for walking much less hiking. Was very disappointed and returned it.
Keens are very comfortable but.....,.the...
Keens are very comfortable but.....,.the soles detach and they're seldom waterproof, regardless of the "system". What's the true 411 on these?
I've had good luck with some Keens - both the Klamath boots and Alki Lace shoes has been great. However, I have gotten a bad one as well in the Alamosa hiking shoe. I've never seen a shoe that degraded so quickly. Like you mention, the sole delaminated in chunks, and it was just simply trash. For that reason, I have a hard time buying Keens in general, even though they are super comfy. I have heard great things about the Targhee shoe, however. But, depending on the build, you could get a hold of a bad batch.
Love my new Keen! Great for light hikes, not to bulky but provides that extra umf that regular tennis shoes does not. Very happy with these shoes!