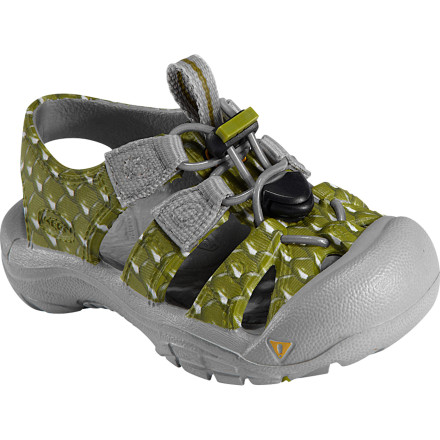 Protect your baby's little toesies with the KEEN Infants' Sunport Sandal. When his or her crawl grows into slow, drunken-looking steps, it's time to go outside and work on the hiking legs. A few steps in the front yard are a good start. The anti-odor anatomical textured footbed and toe protection of the Sunport will keep your baby's first few steps pain-free, and the non-marking outsole will keep your floors streak-free.
Love keens, but not these sandals
Bought these to replace my daughter's Keene newports. The new ports are a combinations of fabric rubber and foam. We expected these to be of a similar make, but these are all rubber almost like Crocs. This wasnt a problem initially, but we are returning them because they blistered her feet on the sides of the ankles.
I like this sandal for my kiddo because it is easy to wash and dries quickly. This is the second pair of this sandal we have purchased. Had to get the flame pattern the second time which is kind of dorky but I like the sandal so I went with it (flame pattern is the reason for the 4 stars instead of 5).
Perfect for protecting little toes.
My little girl has super fat feet. These fit well but did leave little marks in the holes. But they seemed to be comfortable, no tripping, and no stubbing her toes. Flexible sole. 100% rubber so no waiting for them to dry if she wears them in the water.
Awesome shoe! Size close to true, but size up if in doubt.
Perfect for busy little feet. Size up if in doubt or if a wider foot. The whole shoe is made of eva, so it's not as strong as traditional keens, but as compared to crocs, they're superior, with toe protection.
My son is between sizes so I bought these a little big so he could use them all summer. They stay on his feet and he loves to run in them. After he runs through the mud we can just wash them off and they look like new again.