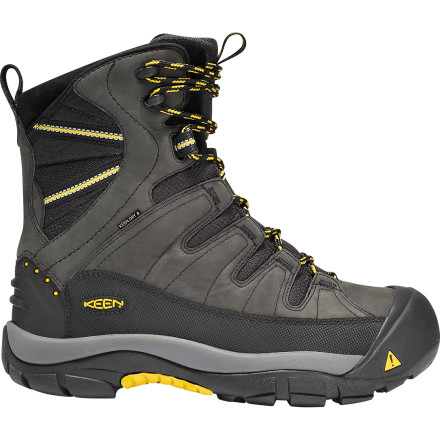 Community Images
Whether you're strolling through downtown Breckenridge or hoofing it to the train in a whiteout, the KEEN Men's Summit County Winter Boot blocks the cold, wet weather with a KEEN.DRY waterproof breathable membrane and toasty warm KEEN.WARM insulation. KEEN also added more insulation in the toe area to keep your sensitive digits comfortable. The Dual Climate rubber outsole solidifies in cold weather to give you a better grip on slick sidewalks and icy driveways, and the molded rubber Shellback heel support gives you a rigid platform for snowshoeing or winter hiking.
hiked the AT wednesday in southern PA for 4 hours in steady rain, 35 degree's wearing these. Did not walk through streams or rivers or any large puddles. At 1 hour they began leaking. By the end of the hike water was literally sloshing around the inside on the left boot. They are not waterproof. Am returning
Just one of the best. Keen takes warmth to a whole new level. These boots have kept my feet so warm and yet they don't sweat a drop. I have worn them around town, shoveling snow, to football games and snowshoeing. They are light and yet sturdy. They provide just the right amount of warmth with a medium thickness hiking sock like the Smartwool Phd. The duel climate rubber outsole grips changing surfaces without flinching. If you are looking for a go-to winter boot with the ability to keep up with anything life throws at you then these are perfect.
Like the boot and the way it looks. Light, comfy but still breaking in. Haven't had a chance to get out in snow or cold weather yet (mid January here with temps in 40's to 50's) but will in Feb. Laces seem a little small for how much you've got to pull on them which is the only criticism so far.
My husband is very pleased with the boots! Highly recommended.
These boots are pretty decent I got it in brown. They are very light and comfortable, as well as warm. I tried it in the snow and it did fairly well, the leather got wet much quicker than my liking. I'd recommend using snow seal or something of the like to make the leather water proof. I am very happy with the traction of these boots, much better traction that my other much expensive boots. These boots do run quite wide, I wear wide in all kinds of boots and the regular in these were way wider than my feet, I added a set of gel insoles under the factory insole which added my comfort and a much better fit. The reason I gave this 3 stars are, one which I mentioned earlier and the second and most important to me is the toatal lack of anckle support. I got these in hopes of having good anckle support, however this not only does not provide any, but the way it is made, it digs into my anckles and hurts quite a bit. Oh and they look huge from outside.
later addition: They have done quite well in cold and water. No water penetration yet. anckle support is still crappy. raising it one star to 4.
I am a hunter, are these boots good for...
I am a hunter, are these boots good for hunting and do they keep your feet warm while just sitting and being still vs. moving around all day?
These would do very well. These are fully waterproof, super comfortable for hiking around, and have keen.warm insulation all throughout the shoe, from the toes to above the ankles. Great traction on snow too.
My son finally convinced me to drop the sorrel type heavy felt liner boot and try this Keen. My son is an avid agate hunter, and swears by these boots. I am a logger though, and it is cold in upper Minnesota. I gave it a try, and was stoked that something this light and comfortable could keep me warm. It's t he best thing I have invested in a long time. The boot is superb!
I got a pair of Summit County Boots for...
I got a pair of Summit County Boots for X-mas last year. I pulled them out of the closet for this winter and noticed the stiching on the right boot looks like its coming apart. Can i take them back to a store that sells keen and get a replacement pair. I don't think i had them on maybe ten times. Thanks Jere
I'd contact the manufacturer. Most merchants will only take back what they sold, with a reciept to show for it.
If you bought them from here (BC), just do a return, they cover what they sale for the life of the product. See return policy for more info.
i own a pair of these boots and was also...
i own a pair of these boots and was also planning on buying a pair of mountaineering boots also but i was wondering after hiking in these could these be used as mountaineering boots?
Hey Jake,

The sole on this boot is not stiff enough for a crampon, so I would not recommend it for mountaineering.

Jerry
i own a pair of these boots and was also...
i own a pair of these boots and was also planning on buying a pair of mountaineering boots also but i was wondering after hiking in these could these be used as mountaineering boots?
These boots are light weight and warm. I have only used them half a dozen times, but I am very happy with them so far.
A Very Capable Little Boot
A very capable little boot. Put it through its paces right out of the box. A cold pre-freeze hike, 2000 feet of altitude gained and lost, 6 inches of the muddiest, steepest terrain southwestern PA has to offer. I ended this with a 2 mile road march, and what a great product.

The night was around 25degrees and my feet never EVER felt even close to cold. The grip was fantastic. There were absolutely not any hot spots on which to rub. Great support, they felt as though I'd worn them for 200miles, not just 5. My only complaint is kind of counterintuitive. The toe box on these is so massive that the downhills the forefoot tends to slam around. But I am sure proper socks and lacing would cure this. A great winter boot.

Also, I have not tried to strap crampons on them yet, does anyone know if this is possible with these. Not for steep ice, but for general frozen surface climbing?

Climb-ON!!
Just got these the other day, and all I can say is that I absolutely love them. Keen has kept their tradition of making great footwear. No break in time at all and extremely comfortable. These boots come rip ready to roll out on the trail or in your snowshoes. I cant wait till snowfall to really give them a test!
I am traveling to Afghanistan and will be...
I am traveling to Afghanistan and will be there a year & need the best winter boot that is available. I have narrowed it down to 3 choices, The North Face Baltoro 400 III, Keen Summit County & Baffin Terrain With Icepaw Technology Men's Winter Boot.

Which one would be most suitable in that environment?
Best Answer
James,
I hike all winter in the Wasatch range in Utah using the Keen Summit country. As long as you aren't doing anything extremely steep and icy then i would recommend this boot. it stays very warm and dry considering the low cost of the boot. If you are doing any serious mountaineering however, i would recommend an actual mountaineering or ice climbing boot with an aggressive toe such as the La Sportiva Trango Extreme Evo Light GTX Boot or the La Sportiva Trango S EVO GTX Mountaineering Boot or the (most popular)La Sportiva Nepal EVO GTX Mountaineering Boot (which is worth every penny).
Feel free to contact me via email at Tritchie@backcountry.com if you have any other questions.

Thanks bro,
Tim Ritchie
Backcountry Gearhead
Will these boots work well with strap on...
Will these boots work well with strap on crampons?
Best Answer
I have these boots, and they are probably too soft for crampons. You want your crampons to be really tight if you're using strap style, and I think that you would definitely feel them digging in through these boots. I hope that helps!
I agree with Brad. Without a sturdy shank these would be too flexible for full crampons. I would suggest something like micro-spikes for use with this boot.
I can confirm that these boots work very well with old school SMC hinged crampons and scottish crampon straps. I went up Mt Whitney last week with 2 feet of hard pack snow on the Swithcbacks up toTrail Crest and had no issues with the crampons flexing or not being rigid enough. In fact, this was the most comfortable ascent I've had wearing crampons by far. This boot is light and warm as opposed to the more traditional plastic shells I've used in the past that get old real fast with the cast like feel and heavy weight. The price makes them even more enticing. Obviosuly not for technical ascents, but if you're looking for a good all around Winter boot at a great price these are excellent !
Not too heavy, warm, sturdy and has good grip. Can't ask for much more.
I have several pairs of Keen shoes and...
I have several pairs of Keen shoes and light hiking boots. I am usually 8 or 8.5 but all my Keens are 9 and fit me just right with light to medium socks. I'm trying to decide if 9 would be right for this winter boot or if I should up another half size to work better with thicker socks.

My second question is; Does anybody know how "KEEN WARM" insulation compares to 200/400/600 gram insulation ratings?
Just received Keen Deltas (another winter boot) I also wear 8.5. These size 9 insulated fit perfect. They're like the best broken in hiking boot I've owned. I love them. This morning was 4 degrees in Wisconsin and my feet were toasty on my walk with the dogs.
I bought the Summit County boot a few weeks before a winter trip I knew I would be in snow in. I just had to retire a pair of North Face GTX Lifty's that were amazing on winter trips and figured I would try the Keen's out. My feet were wet and cold from day 1 which made the next 3 days not very enjoyable. Spent 2 whole days at camp in my sleeping bag because they were so wet. Will be returning and looking for something else. Going back to something with gortex regardless.