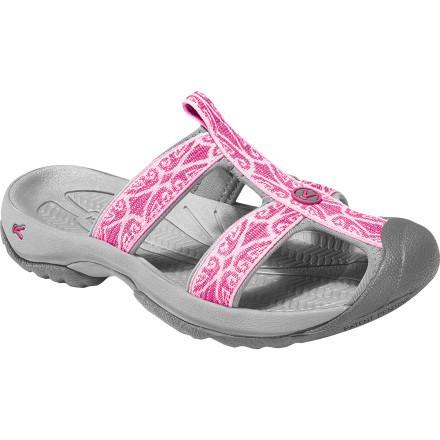 The Keen St Bart's Sandal is a laid-back flip-flop named after a laid-back Caribbean island. The St Bart's Sandal has a cushy EVA footbed that molds to your foot and a hydrophobic (water-hating) lining, so if your sandal gets wet,the lining will be dry before you know it. Keen's signature toe protection shines, even in the St Bart's flip-flop design
I bought the black/gargoyle in size 6 they do run a little big but they are slides so I didn't mind. I wear them to the beach. I had a childhood injury to my big toe and the toe protection not only protects my toe but makes me feel a little less self-conscious, and I still have the comfort of sandals. The toe protection does hold in sand but easy to dump out when on more solid ground (when no one is around I just go barefoot) they are easy enough to slip on and off. A great shoe I would recommend unless you have a narrow foot.
I liked the look of this shoe but I returned them because my second toe is longer than my big toe and it just wouldn't stay where it should in the shoe. Otherwise I love KEENS!
In my opinion, this shoe isn't up to the KEEN quality. I have many pairs of KEEN shoes in all different styles and types and this pair doesn't measure up to the quality. Not only does the shoe feel as if it is made of cheaper material, it is about a half size larger than other pairs (KEEN sandals) that I have. I haven't decided if I will return at get a half size smaller or just return.
Comfy but Not Performance Oriented
I have a wide foot and high arch and I still find this sandal to be a bit too roomy. The sturdy sole has great nonslip tread and they do manage to stay on well even on the beach. They're my #1 "go to" summer footwear.

While I personally think they look rather odd (but in a cool way) on my feet, my feet are very happy in them. If you're someone who actually wants to be active, these are a great choice. They are far superior to any flip flops sold and seem to be designed for people who need and like to walk. Break out from the masses and wear real sandals!
Slides that slide right off
These sandals were cute and functional, but too wide for my rather narrow foot. My foot slid right up and bumped into the toe bumper on every step, or else came out of the shoe. Also, the design is a little asymmetrical and it felt odd when I walked in them--like I'd suddenly become duck-footed! I returned them because of the fit problem. The insole was extremely comfortable. These would be great for someone with a medium to higher volume foot, but not for us skinny-paws.
I love these sandals. They are great, comfortable, easy slide ons and fit well. I now have 6 pairs of Keens and will continue to buy them.
The St. Barts are awesome. They're super comfy and they don't make my feet smell. They give me great arch support and I can walk in them forever. I definitely recommend these.
I didn't think these sandals were what were pictured. I returned them, they looked very cheap.
I bought these sandals because my employer requires that our footwear protects the toes and these sandals fit the bill. They are attractive enough to wear with a skirt and very comfortable. They are quite supportive. I like how easy they are to slip on and off. They do flip a little (like flip flops) but it's not a problem if you don't mind that—I don't. They are sized a half a size too large. Fortunately, I knew this before I ordered, so mine fit just right. I'll probably be buying another pair next summer, maybe in a different color.
I love, love, LOVE these shoes. So comfy! They are my favorite shoes now. They are like having shoes on, as they are protective of the front, but feel airy like a sandal. They don't work so well on soft, sandy beaches though - sand collects at the toe. Minor negative compared to the positive aspects!
Women's St. Bart's Sandal
One of my girlfriends and I bought the same Keen sandals (not this style) at a local store and we loved them so when her birthday came along, I searched the web for a good deal and different styles of Keen's and I bought these sandals for her on this site which has a lot more of a selection than the local stores - and the prices are lower than other websites. The delivery was faster than expected as well which is always nice!
Great shoe to chase little boys around in!
I'd love to give some great kayaking story, but I bought these shoes in anticipation of our trip to Disney World. I've worn them for a week straight but they didn't need a break in period at all. I wore them today chasing my three little boys around a park for 3 hours—we got caught in a storm and were in sand, mulch and grass. I can't think of any shoes that would have been a better choice for today!! They'll be the only shoes I pack for Disney, they are awesome.
I have really enjoyed these sandals—they are not as clunky looking as some of the other water sandals, but still offer more protection for your feet-very comfortable-would highly recommend!
These are the most comfortable sandals I have ever owned. No need to "break in", they instantly felt like they were made for my feet. I have wider feet and they were not tight at all, it seems that someone with a narrow foot may find them too wide.
I love the St. Bart's sandal!! They are so comfortable, fit perfectly and are very true to size. I am so glad I found these and will definitely buy them again! I also love the kiwi color that I chose.