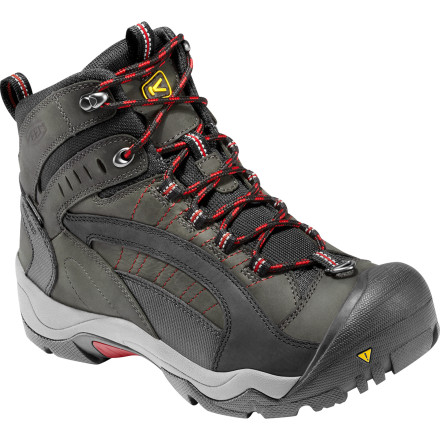 Community Images
It's so cold that the thermometer on your front porch can't even tell you how cold it is anymore, but that's not going to stop you from getting out of the house to enjoy the pristine quiet of winter. The designers at Keen built the Revel Boots to keep your feet feeling good in frigid conditions, so you can enjoy the outdoors while your toes still think they're in bed.
Breathable KEEN.Dry membrane keeps moisture out
Keen.Warm insulation wraps your feet in warmth so your feet stay toasty in freezing conditions
Heat Trapulator shields your feet from heat loss at the soles
Wool felt footbed adds warmth and comfort
TPU shanks give you stability and support for long winter hikes
Aggressive lugs give you heavy-duty traction on icy and snowy terrain
I'm really happy with these boots. So comfortable and warm!
I'm pleased with these boots in most all respects and particularly the wide toe box. Like most I ordered ½ size larger than normal. Not a big deal but Dark Earth color ordered and received (judging by lace stitching) looks remarkably like Dark Shadow shade, though not as green yet definitely not the lighter tan pictured. Guess that's why it's called Dark Earth. Am satisfied with purchase and hoping for longevity of last hiking boot bought back when. BackCountry good to trade with.
Very Satisfied. AK tested.
Being a fan of Keen and needing a pair or boots for the winter, I chose the Keen Revel based on my past experience with Keen products and reviews of the boots. A very good decision. I have skied over 30 days this winter in Japan, Washington St., Canada, and Alaska and have worn these boots every minute of my waking hours when I was not in my ski boots and my feet have been extremely happy. They have slogged through water, slush, wet snow, dry snow, deep snow, over ice, and sub-zero temps and the waterproofing capabilities and insulation/trapulator have performed flawlessly. The only time my feet felt remotely cold was while snowmobiling on a frozen lake in Alaska for a couple of hours but that is well outside their intended purpose so I will cut them some slack! I rubbed some NikWax leather waterproof on them when I first bought them (not sure it was necessary) and not a single molecule of H20 has leaked through. My feet have stayed toasty warm in all conditions wearing only lightweight and mid-weight socks. One reviewer says he wears his all day at work (presumedly indoors) and claims he does not overheat but I find them a bit too warm to wear inside for extended periods. The sole has always provided excellent traction in all conditions. As for sizing, I am always a 9.5 or 10 and am wearing the 10, the same as my other Keen boots and sandals. I highly recommend this product!!
Just thought I'd give my two cents as to the sizing on these. I measure exactly a size 9 and have an average to slightly wider than average foot. I first got these in a 9.5 and they fit fine with light or mid weight smartwool socks. However, I wanted to wear these with my heavyweight smartwools as this will be my cold weather set-up. I found that Size 10 fits great with heavyweight socks and fine with the mid weights as long as I cinch the boot tightly. So, if you want a proper fit, go a half size up. If you want to wear a heavy sock or two layers of socks, go a full size.
So comfortable it's scary!
Gender:

Male

Familiarity:

I've put it through the wringer
I picked up a pair of these a while ago and they rock! The traction is excellent on ice, snow, gravel, pavement, you name it! They're warm where it counts thanks to the wool felt footbed and heat trapulator (go on, say it again: TRAPULATOR!), but I've also been able to wear them all day at work without overheating my feet. They are super light and impressive all around.