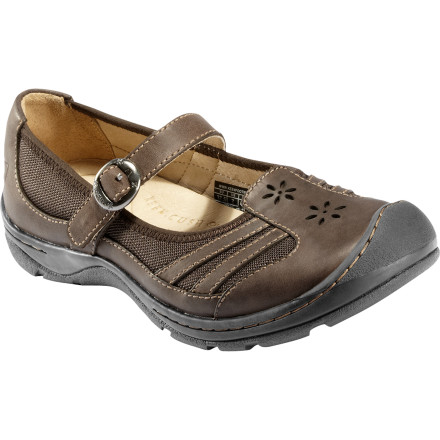 Put on your favorite flowy dress and the KEEN Paradise MJ Shoe. This full-grain leather shoe feels cush when you head out to see a band and have cocktails with your girlfriends. A removable KEEN Cush footbed is made of memory foam, recycled PU, and cork to provide comfort in the spring, summer, and fall. The Mary-Jane style and low-key flower cutouts add sweet detail.
Very cute and comfortable
I took the advice of the other reviewers and got a half size up (in black). I'm usually a size 8, and the 8.5 fits perfectly. I've been wearing them with casual skirts and dresses, and they're very cute. I wouldn't suggest wearing them with anything too dressy, though, as the toes are a bit big. The extra toe room makes the shoes very comfortable, but it also makes my feet look a bit duck-like from some angles.



Overall, the combination of cute and incredibly comfortable have made them my favorite casual shoes.
Black fit appropriately; Brown too small
Don't ask me how this works but the Black fit correctly and the Brown was too small.
true they run small,but boy are they comfortable!!
I ordered a half size up which proved to be the right choice. i bought these to wear with dresses to work because heels are no longer an option (sniff sniff). they are extrememely versitile as i can wear them with dresses or pants. I can wear them all day (7am-12am) and not feel the need to shed them under my desk and walk around the office barefoot. thank you KEEN for a lovely shoe!
Cute shoe, but runs small. Well, for US sizes. I normally wear a US 8. Based on the reviews below, I ordered an 8.5. Still too small. Checked the size tag on the inside of the shoe. The EU size on this particular shoe is listed as a 39 (I wear a 39.5 EU shoe). Had I checked the EU size for this particular shoe (there's a link just below the "Select Options" drop-down menu, above right), I might have gone another 1/2 size up and saved myself the hassle of having to return it. Fortunately, Backcountry's return procedure is relatively hassle-free.

So, as a suggestion, if you're vacillating on what size to purchase, compare the EU sizes on your other shoes to the list here - it might help with the purchase decision. Can't wait to try the next size up...
I was looking for a shoe with a removable insole, because I just got a new orthotic. These work great, and have been incredibly comfortable from the very first time I put them on. Since I'm on my feet at work most of the day, that's a top priority.
I have the sandal version of these shoes and love them, as I do all of my Keens. So I saw these shoes and bought them without (obviously) trying them on. The first pair, in my usual size, was too short, so I ordered the next size. Sadly, they were stiff and hurt my feet in many places. I put on an older pair of Keens, which feel like gloves, and realized that if I can't walk around the house in shoes, I can't wear them at all. Sigh. They were so cute!
Best, most comfortable keens shoes ever. Perfect fit, true to size. Lovely soft foot bed with lots of support. Slightly narrower fitting than the similar Toyah.
These are awesome! I normally wear an 8 or 8.5 and ordered the 8.5. At first, I thought they might be a bit snug. But I've now worn them with some smartwool socks and they have broken in nicely and are a perfect fit. I have gotten compliments on them every time I've worn them, as they are super cute with just about anything. I wore them all day walking around the city recently and my feet never got sore. I used to have the older version of the mary janes (like the other reviewer here) but somehow I lost ONE of them and have been sad about it ever since. Never fear, these are even better than the ones before. I was concerned about the lack of waterproofing but I wore these in the rain the other day (I have the madder brown color which is really more like red) and they don't seem to be affected at all. Comfy, stylish, durable... WIN.
Different than older version
I have the older style of Keen Mary Jane's, from 2 years ago. In comparison these DO run half a size smaller and they are narrower. The older style fit more like a wide, this style is normal width. They feel like they may take a little bit of breaking in, also unlike the older style. However, I still think they will be a great shoe and I am exchanging mine for 1 size larger.