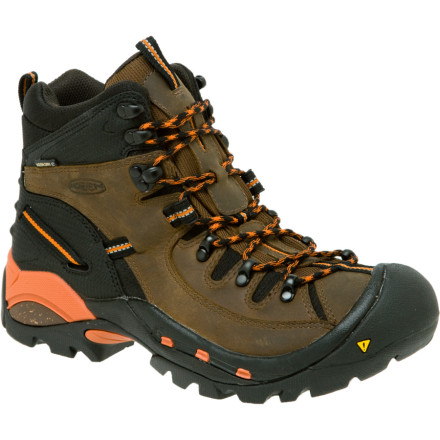 Detail Images

Videos
Hiking long trails takes lots of gear and sturdy footwear like the KEEN Men's Oregon PCT Hiking Boot. This burly leather boot includes a full-length TPU plate to give you all the support for carrying a 60-pound pack. A KEEN.DRY waterproof breathable insert keeps your feet nice and dry when it starts pouring rain on day six of your trip. KEEN used a combination of leather and synthetic materials to make the upper tough enough for serious trails with enough flexibility to keep you going for miles and miles.
Definite Keen Quality
Familiarity:

I've put it through the wringer

Fit:

True to size
These Keens have held up just how I have become to expect from them. Great quality, great fit and feel.
Great overall
Familiarity:

I've used it several times

Fit:

True to size
Great boot overall for hiking, camping, and backpacking. The grip on these shoes are excellent, even when I used them to hike a few trails that were iced over here in Colorado. These boots fit true to size and broke in fairly well. Enough room in them for me to wear a little thicker sock that I go to my mid-calves to avoid the ankle discomfort. Haven't had any situation when they were excessively wet, but they do stay fairly warm, even in this recent winter here.



*Update for these boots. Even though they're out of stock, this might give you a feel for how a similar KEEN boot might due in cold weather. Currently in Colorado, the pow is comind DOWN and I have had to trek outside frequently today. I can say that after a lot of exposure, I do start to feel the cold come through and the moisture, so they're entirely that secure from snow weather. Then again, that's not what they're made for in particular. But, that's an overall feel for them.
Great Boot!
Familiarity:

I've used it once or twice and have initial impressions

Fit:

True to size
I love Keen boots since they are so comfortable...I'm 30 lbs overweight and it a comfortable boot really makes a difference. This is my 3rd pair of Keens, and my first backpacking boot in 20 years. I've been breaking it in with several moderate day hikes, and have found that it didn't need a break--in period but was comfortable right out of the box! I did get heel blisters on a long uphill hike, but that's 'cause I have wimpy feet (it's happened many times before, and i forgot to put on moleskin before the hike). The PCTs have a lot more support and stiffness than their mid-range hiking boots, so this one's perfect for backpacking, at least for me. Highly recommended! M.
KEEN Oregon PCT Hiking Boot - Men's
Are these boot good for winter as my son...
Are these boot good for winter as my son is a mailcarrier and needs warmth
Perhaps a bit late for a response, but these are great for use in snow. I've hiked hundreds of miles thru snow in mine. Keep in mind, they are a bit on the heavy side. For someone doing a lot of "casual" walking, a lighter choice may be a good consideration. The new Keen Bryce WP Mids are much lighter.
Great boot
Gender:

Male

Familiarity:

I've put it through the wringer
I bought these boot in June of 2012 and the first week they were uncomfortable due to the leather being stiffer than all of my previous Keens, However once broke in I put hundreds of miles on them in many different areas of the country from Colorado to the Appalachian Mountains of Pennsylvania down to the Ozarks of Arkansas and they performed flawlessly and the only complaint that I have is the break in time. I also had to return them recently due to a manufacturing flaw in the glue that holds the sole to the body. This is a great boot all around and the only Keen boot I have ever experienced any issue at all with and I would suggest this boot to anyone wanting comfort and support.
Awesome support and comfort.
Gender:

Male

Familiarity:

I've put it through the wringer
I love Keen's but wondered about their hiking boots - this one broke in so quickly and 'babies' my aching feet. I've climbed in snow, ice and regular weather and the boots support me both uphill and down. Actually, my legs are not near as bad after coming down as they have been before with other boots. Love these and will probably buy another.
Not the Keen boots I love
Gender:

Male

Familiarity:

I've used it once or twice and have initial impressions
I have had a pair of lightweight Keen mid height boots for several years and over one hundred miles later I still love them. But I needed a pair of heavier and waterproof boots for backpacking and winter hiking so I thought the Oregon PCT would do the trick. Unfortunately, the boots are wider than my other Keens and the external reinforcement on the heel is at just the right height to jab the bone that protrudes out at the side at the base of both ankles. That made for an uncomfortable 6 mile hike on a rugged, rocky trail and had to return them. Bottom line: too wide for my narrow foot and the heel reinforcement is uncomfortable. Too bad, but nice to be able to return them!
Unanswered Question
Any one have an idea how these will hold...
Any one have an idea how these will hold up in the snow?
Just bought these for annual weeklong AT hike. Picked them for reputed comfort and solid reputation of "Keen" brand. While I cannot speak to the longer term durability of the boots ( I now have 75 miles logged on easy terrain), the comfort of the boots is undeniable. Bought them 1/2 size large and they are possibly the most comfortable boot I've ever owned. And that boast actually means something as I have been a longtime and continuing Lowa customer. Bottom line for me; comfort trumps durability everytime. I'll gladly buy more often than suffer sore and injured feet.
makes a good plant holder
Bought a pair . 3 months later leaked through toe [bad design keen] after 6 months sole started to delaminate and after a total of 9 months sole on right foot was almost all the way off.No comparison to my pair of brandy2 from wal mart.I put in super feet inserts they just started to delaminate but are still dry standing in water,there14 months old.Hope for Keen sake this was a bad pair
Solid Boot, few design flows for longevity
These are a great boot for short to middle distance hikes. Have had mine for 3 months and have enjoyed the comfort. Little heavy for any long distance backpacking. Overall the boot is well made, but I do worry if it can handle any sharp, rocky terrain with some of the designing on the boot. For example, the lock down strap wraps around the heal and is a thin nylon piece. It is in a vulnerable position to be nicked by rocks and other trail monsters that like to sneak up and get you. The heal has a lot of glue piecing the heal together, which over time is prone to coming apart and leaking. If you can get them on sale, not a bad hiking boot to pick up.
Solid, rugged, a few drawbacks
These replaced a pair of Garmonts that lasted maybe a hundred hikes. I loved those boots. They didn't make them again though, and their updated version didn't quite jive with my feet like the ones I loved so dearly. So I tried Keen for the first time. They haven't disappointed, but there are a couple of little issues.
1. Durability. Overall, they seem pretty solid. After maybe 1000 miles, the soles are still good, though they've lost some of their grippiness, to be expected. The laces are still going strong, most of the body is still solid on both boots. The issue is where the foot flexes near the toe box. I'm starting to see separation between the sole and the leather right where the ball of my foot flexes. Not catastrophic yet, though I'm interested to see if it gets much worse.
2. Weird seam at the heel. I never got blisters in my Garmonts, but my Keens have a pretty significant seam right at the heel/achilles line (running vertically) that has given me issues on longer hikes. I make up for it with thicker socks, but that's a drag in summer time.
3. Other pros: lacing system rules. Can be used in winter with no issues, they're rugged. They don't smell terrible after many hikes.
Overall, I'd recommend them with a couple of caveats. If they last as long as my Garmonts did, I'll come looking to Keen again when these wear out.
After a year they are still awesome
I've been in the Oregon PCTs for a little over a year now. Most of their use has been during backpacking trips. This is a heavy duty boot with excellent support. The rugged construction protects your feet very well and stands up to a ton of abuse. I didn't buy this boot expecting it to be completely waterproof and it isn't so no big surprises for me. The toe box has plenty of room to keep feet happy on long treks. I've not once experienced any numbness or hot spots with these since day one. As others have said they are comfortable out of the box but they do get better with age especially after the boot has formed to your feet. I sometimes find myself grabbing these for casual use around town, they are that comfortable. The only negatives I've found are the lack of waterproofing and a slight lack of traction on wet rocks. They'll still grip wet rocks but not quite as well as say a Vibram soled boot. Long story short, these are excellent backpacking and heavy duty hiking boots that will last a great while.
I must say when I first put these boots on they were great, true to size; I have another pair of Targhee II's and the sizing was correct for a 12. However I am currently in Afghanistan patrolling the friendly mountains and the first mission I took them out we had to cross a small wadi; water was no higher than the boot, and it happened. The oh so familiar feel of water seeping in through the toes. So for the next 10k I had to climb 7000ft mountains with wet feet, not so great. Maybe these were just a bad set, but I have had Keens in the past which suffered from the same problem, although at that time it was related to the e'vent waterproofing. These boots are stiff and have great support but keep out of water! I will be attempting to solve the leak problem by maybe patching around the toe with some shoe goo.
great boot right out of the box
i got my second pair of oregons(first pair sent back-to small-order a 1/2 size larger for perfect fit) and went on a seven mile hike the next day. now im not talking a leisurely level trail. im talking creek beds, mountainous rock getting to an overlook above the nolichuckey gorge. these boots felt like they had been broken in beforehand. my feet were never sore and were completely dry. i have never had boots that were this comfortable right out of the box. great support and breathabilty. wish i had found them sooner. just ordered my wife a pair!
Just bought these boots, have been wearing them for about a month and a half. I am thoroughly impressed with them, much sturdier than the Targhee 2 mids(which I loved, just not durable enough for the type of abuse I put them through). I probably have put a solid 70-80 miles on them already with not a single issue, and the break-in period was next to nothing(a common trend amongst Keens). Very happy with this boot so far!
Surprised at how good these are!
Let me start out by saying that I am a HUGE fan of Keens. I have a wide foot, and they are the perfect outdoor shoe for me. That said, I was quite hesitant to risk buying a Keen shoe for backpacking. I've always been told that they are excellent shoes but that you should go with another brand for carrying the weight that comes with a pack. But, my Asolo Fugitives that I've worn the last 4 trips were like walking on soles made of concrete, and I decided to chance it.
Let me just tell you that I never wanna wear the Asolos again! After about 20 miles of hiking in these, I am amazed at how comfortable they are! Their durability over multiple trips has yet to be tested, but these are so comfortable that I'd be happy to buy another pair even if these wear out more quickly than hoped!
Solid except for heel lock strap
As others have said, comfortable right out of the box. Prefer the feel of my Lowas but that is going to be a personal fit/feel type thing. Construction appears good with the exception of the gimmicky heel lock strap. A relatively flimsy feeling nylon strap runs from the heel to the eyelet on the outsides of the boot. The boot is stiff enough that tightening this up doesn't appreciably affect the feel but after only 2 outings, the straps vulnerability was demonstrated. Easily cut by rocks, etc. Reinforced mine with shoe goo and am hoping that it will hold up.
Addendum: after several snowshoe outings, have to agree with others that this is definitely NOT waterproof.
I have Morton's Neuroma which is easily agitated by narrow footwear since I have wide feet. I hiked for the last four days in my Oregon PCTs with a custom 1/2 length arch insert and no additional padding(four hours of that with a 64lb pack). Not once did I get that burning forefoot sensation which I had with some more narrow boots. My feet stayed dry and warm. Amped I found a hiking boot which will let me hike pain free. Looking forward to putting more miles on them.