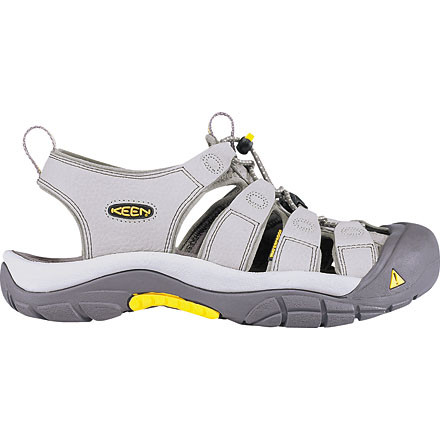 Detail Images

Videos
Mixing normal sandals and boats tends to result in broken, bleeding toes and furious boat owners. Keen developed the Newport Sandals in the sailing Mecca that is Rhode Island to solve these problems while retaining the comfort of sandals. A patent-pending toe guard protects your toes from deck rigging or rocks on shore. The Newport's soles are made from a grippy, non-marking rubber that prevents you from slipping and falling overboard or from being thrown overboard by black-mark-addled boat owners. The Newport's waterproof leather upper and anatomical last make it comfortable enough for extended wear on long bluewater voyages or just walking around town.
I've had a pair of the Keen Newport sandals in size 9 for about 4 years and love them. I wanted a new pair and ordered size 9.5 based on reviews saying they now run small. Unfortunately, even after going up 1/2 size, they are much too small. I've attached a picture with the old ones on the left and new on the right. You can very easily see the 9.5 are visibly smaller than the 9. Making the problem worse is the fact that the heel strap doesn't extend the full length of the sole, making the problem worse. I've had to return these shoes and won't reorder since I don't know what size would work and return cost makes this prohibitive.
Killer Sandals in and out of the water
Gender:

Male

Familiarity:

I gave it as a gift but have feedback to share

Fit:

Runs small
Have you ever caught yourself in a situation that causes your toe to get jammed? With these you will no longer have to fear that happening! The protection on top of the support is absolutely amazing! Whether you decide to go out on the trail to get in a nice hike/ trail run, or fish for that record setting catch out on the lake/ ocean you will not be disappointed! Be sure to go up the extra half size due to the toe box and you will be golden!
KEEN Newport Sandal - Women's
I just can't say how pleased I am with these sandals. Incredible comfy. It offers excellent support.
You can wear them for everything: hiking, walking, run errands, go to work, stay at home, etc.
Only advice is ordering 1/2 size up as many other people have recommended.
When I first tried these on, I was not only concerned about their clunky appearance, but they where also not as comfortable as I expected. I started wearing them and the more I wore them, the more comfortable they became. The cushioned footbed became molded to my feet. The look has grown on me, too. I actually think they look cute on my foot. They do make my feet sweat, as I had read they would, but that is just the nature of barefeet in leather shoes, I'm sure. Bottom line... Very comfortable pair of shoes, great for wearing anytime! Glad I purchased them, and from BackCountry at that. Great sale price and fast shipping.
Much more than just a Sandal!
Been wearing KEENs now for years, mostly the Newport! The Newport is a sensible, fun, practical, well made and long lasting shoe that I have worn day hiking, biking, teaching and living all day every day even in the winter.The bottom of the sole has decent grip for uneven and slippery terrain though the grip of bottoms do slowly wear. I switch to a KEEN Arroyo II for rough hiking or a Keen low top hiker in the winter when it is really cold and messy outside, be it around town or on the trail. The Newports as well as the Venice and Whispers also come in H2 versions with slightly lighter weight materials in the straps, making them dry out a bit faster than the non-H2s though ALL can get wet! .The Arroyo II has the same bottom as some of the hiking boots, with lots more grip, and though they don't look as if they can be used in water. I wore mine in the tropical Pacific even in the ocean, but don't expect the Arroyo II to dry out as fast as a Newport H2. . Only down sides of the Newports is eventually the grip of the sole wears down, and sand and small pebbles can get in and under your feet. Yet the Newport and Newport H2 remain my favorite of the KEENs and of any shoe!!! PS 66 years young!
Do these have arch support?
Do these have arch support?
Yes, the Newport and Newport H2 has arch support and even supports your Metatarsal arch, which supports the front of your foot.

The arch support is medium height in the Newport, (not as high as a Dansko)

Jerry
Keen Newport so comfortable
I love my new Keen Newport shoes!! I ordered a full size up and they are perfect. I wore them all day today. I had read they were not as comfortable as the H2 pair but I think they feel great. My son outgrew a H2 pair and I actually wear his pair all the time - but wanted my own because his are not really my size (too big).
Bought mine in NY in 2007, have worn them eversince in Winter and Summer on land and in the sea with and without socks!! THE most comfortable footwear I have ever worn. Sadly the heels have become so worn that I need to get a new pair. Living in Ireland means the tax on importing here doubles the price!! Have bought a lighter version sandal and Keen enclosed shoes, my partner has Newports and shoes for men, my sons have them, I think they are that good!! Have been unable to get the Newport H2 navy in colour in my size here, anyone know of a supplier in Dublin Ireland where I can get them?
Thank you Keen!!!
Keens rock, but don't roll
Recently had 2nd knee surgery following hockey injury and these shoes are STABLE. Also, comfy for walking and they look good for work with khakis. I highly recommend them.
This is the 4th pair of Keen's I have ordered and the first 3 fit perfectly...but not this sandal. I held it up sole to sole with my other shoes and this sandal is visibly shorter than the others. I am returning these for a 1/2 size bigger...unfortunately I will not be able to get the same color or style..I am going with the Venice H2. I love my other Keen's but I was disappointed that their sizing is inconsistent. I was really looking forward to wearing these.
I am going on holiday in October to Kuala...
I am going on holiday in October to Kuala Lumpa then Cambodia and I want a walking sandal that i can wear for the 3 weeks. I don't want to wear socks and the weather will be humid and at the end of the rainy season so I will be getting wet feet. I want a sandal that will be comfortable, dry quickly and not leave me with sticky, sweaty feet. Is the Newport sandal the one for me, if not can anyone recommend another style. Thanks
Best Answer
The Women's Newport sandal upper is leather. You will find it will take longer to dry than the Women's Newport H2 which it's upper is made with synthetic.
Both Newport's run small, by about a half size.
The Women's Venice H2 by KEEN is more open then the Newport H2, so this may help a little with sticky feet.
The sizing is a bit bigger than the Newport, but still a little small, so if you are a 8 to 8.5 get the 8.5.
KEEN makes another sandal that is even more open called the Hydro Guide. This comes in men sizes only, but they go down to a mens 4. Men sizes run a full size bigger than women, for example, women's 8 is a mens 7.
These are all closed toe sandals, your feet will get warm and sweaty in them, but when it's humid and hot out it's hard to keep your feet dry with out socks with any sandal.
Nice thing about the KEEN sandals, they all can be washed in a washer or by hand to help with the stink factor.
Unanswered Question
How are these shoes for walking in sand?...
How are these shoes for walking in sand? I'm heading to Egypt for a tour and am trying to find a comfortable yet cool shoe that also offers good support.
Thank you!
MY WIFE HAS LOVELY LITTLE FEET - SIZE 5...
MY WIFE HAS LOVELY LITTLE FEET - SIZE 5 OR 5.5. DO YOU CARRY ANY MODELS OF KEEN IN THOSE SIZES?
Sorry, I'm gonna have to pull the 'Snow-me-state' card on that one.
How heavy are these sandals? Someone...
How heavy are these sandals? Someone mentioned the H2; where do I find that?
These weigh in at 11.4 oz. Here is the link to the H2:

http://www.backcountry.com/outdoorgear/KEEN-Newport-H2-Sandal-Womens/KEN0004M.html#answer_173597
I got the leather Newports and couldn't be happier with them.
So what happens when these shoes get wet?...
So what happens when these shoes get wet? I'm totally scared that they will stink. When I was chasing the ducks around the other day before dark - I got a big nasty glop of duck poo on my shoe. I got it off, but realized that these may be too nice for all the stuff I put them through. Can you hose them off and they'll be ok? I'm not very gentle when it comes to clothing or shoes, but I don't want to wreck my nice present from my mom.
The leather is PU injected and also treated on the exterior, therefore, you can machine wash the leather and do all the city slickin', duck chasin' and $#ž+ kickin' your little heart desires.
totally fine. my mom loves them because she can wear them in and out of the water for canoeing. go ahead and use the hose.
These are very comfortable, although a little heavy (maybe I should have gotten the H2). They are very sturdy an secure for walking on uneven terrain, and just as nice for sidewalks and such. Easy on and off, and my sweaty feet don't get slippery in them. You might want to order a size up from your usual.
Great until you put on an H2 sandal
I bought these and returned them only because I traded them for the ladies H2. My mom bought the H2 because of size selection so I tried hers on......wow, they were much lighter and a tad more comfortable. The bony protrusion on my ankle is low, and the strap on the Newports rubbed on it, the H2's strap sits lower therfore no rubbing. Had I never tried the H2's I don't think I would have had bad comments for the Newports either...just fell in love with the other. I can't comment on the actual long term comfort, as I haven't used them yet...awaiting a cruise in 2 weeks for use. Will be doing lots of water excursions....from other comments I anticipate comfy feet the entire time!!!
I agree with many others...choose a 1/2 size larger. This was true for mine and my childrens.