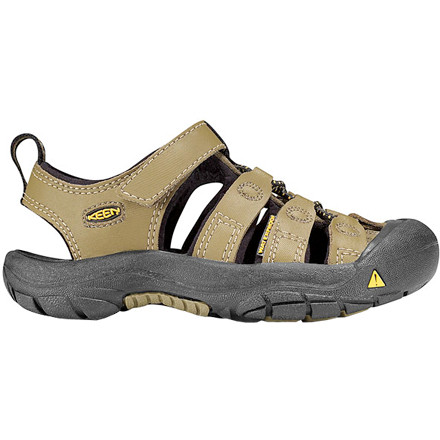 Community Images
Give your bambino the KEEN Kids' Newport Sandal for those summer days at the park or around town. KEEN gave this sandal water-resistant leather upper and a hydrophobic mesh liner so your little one can run through the sprinklers or splash in a fresh puddle without worry of damage to the sandal. The non-marking rubber sole gives your young'un traction on the playground without mucking up your freshly mopped kitchen floor, and the hook-and-loop buckle dials in the ideal fit.
Pass Them Down
Familiarity:

I've put it through the wringer
Bulletproof. Water sandals. Nuff Said. True to size.
Best kids footwear ever.
Familiarity:

I've put it through the wringer

Fit:

True to size
I have 4 pairs of these sandals in my house and 3 little boys; 3.5, 2, and 5 months old. The smallest pair of sandals has been worn pretty much everyday for 3 full summers and is still in great condition waiting for my 5mo to grow into them. My boys wear them in the water, through mud and sand, while on their scooters and riding their runner bikes through the bike park. They use them as bike brakes on the asphalt. They scramble up dirt piles on the construction sites near us, they kick footballs and rocks and generally hoon around like the little hooligans they are. These sandals hold up to it all, they go and go and go.



To compare, we've had Vans, Etnies, DCs, and Nikes in skate shoes and not one of those will live to see my third child. SOme have only survived 1.5 kids. I fully expect to be able to pass on all my Keen sandals to some other lucky kid after we're done with them.



In addition, they keep their little feet safe. Kids can tromp anywhere in these and you know they're not gonna get cut up or scraped.



Just don't do like I did and get 4 consecutive sizes in the same colour 'cos that gets real confusing!!!
Keen Kids Newport is a great sandal
My son loves his KEEN kids Newport sandal. He is a not a big fan of tying his shoes so these sandals offer a great second option to tennis shoes. He can play sports and hike in them. They dry quickly and have a great tread.
I think my kids are putting these shoes to the test. They wear them everyday and they have held up great under all the various conditions they have put them through.
How come the black pair of Youth Newports...
How come the black pair of Youth Newports on this website don't show the hook and loop/velcro closure like the other colors? I want this shoe without the velcro but I am afraid this is an error - is it? Also - is there such a thing as a Youth size 8? I thought Youth only went up to size 6 and then you would have to go to Men's sizes?
Hey Jules,
Yes you caught it. This is actually the toddler's shoe, and that is why the sizing looks so off. Kids shoes do only go up to a size 6 then you switch to Men's sizing. If you get the toddler's you will most definitely get the Velcro..anything else won't have that feature. Thanks for pointing that out..we are on it!
There doesn't seem to be any "wide" option...
There doesn't seem to be any "wide" option for Keen kids shoes - do they tend to run wide or narrow?
These tend to run wide, certainly. They also tend to run RAD!
These are my kid's favorite shoe for the summer, it has still worked as if they were new and it has been 5 months since the first day it was stepped on. (note: if used on a daily basis your kid's feet might get a bit smelly)
I bought the pink sandal for my granddaughter, and the blue one for my grandson. They both (and their Mom) loved them. They are comfortable and look good enough to even wear for church with their summer outfits! Thanks for a great product.
I got these for my 3.5 year old and she LOVES them!! She can run and play in them @ the park, but also can wear them if she's going to get wet too... She's worn them every single day since we got them a month ago. If you are hesitating, they are definitely worth the money.
these are the best summer shoe for kids. we have a little boy that is almost 3 and it is so nice to have a shoe that we can wash off in the sink and they will be dry in an hour. great for rivers and everything. they stay on very well.
My son wears a size 7 Men's shoe. I have...
My son wears a size 7 Men's shoe. I have always purchased these Keen Newport sandals for him every summer. Usually, I buy him one size up. Can I order an eight from here or do I need to order a men's shoe?
The problem you have here is there aren't many Keen men's sandals in a 7, most of Backcountry's size runs start at a size 8. In this case, I'd go with a youth size 8.